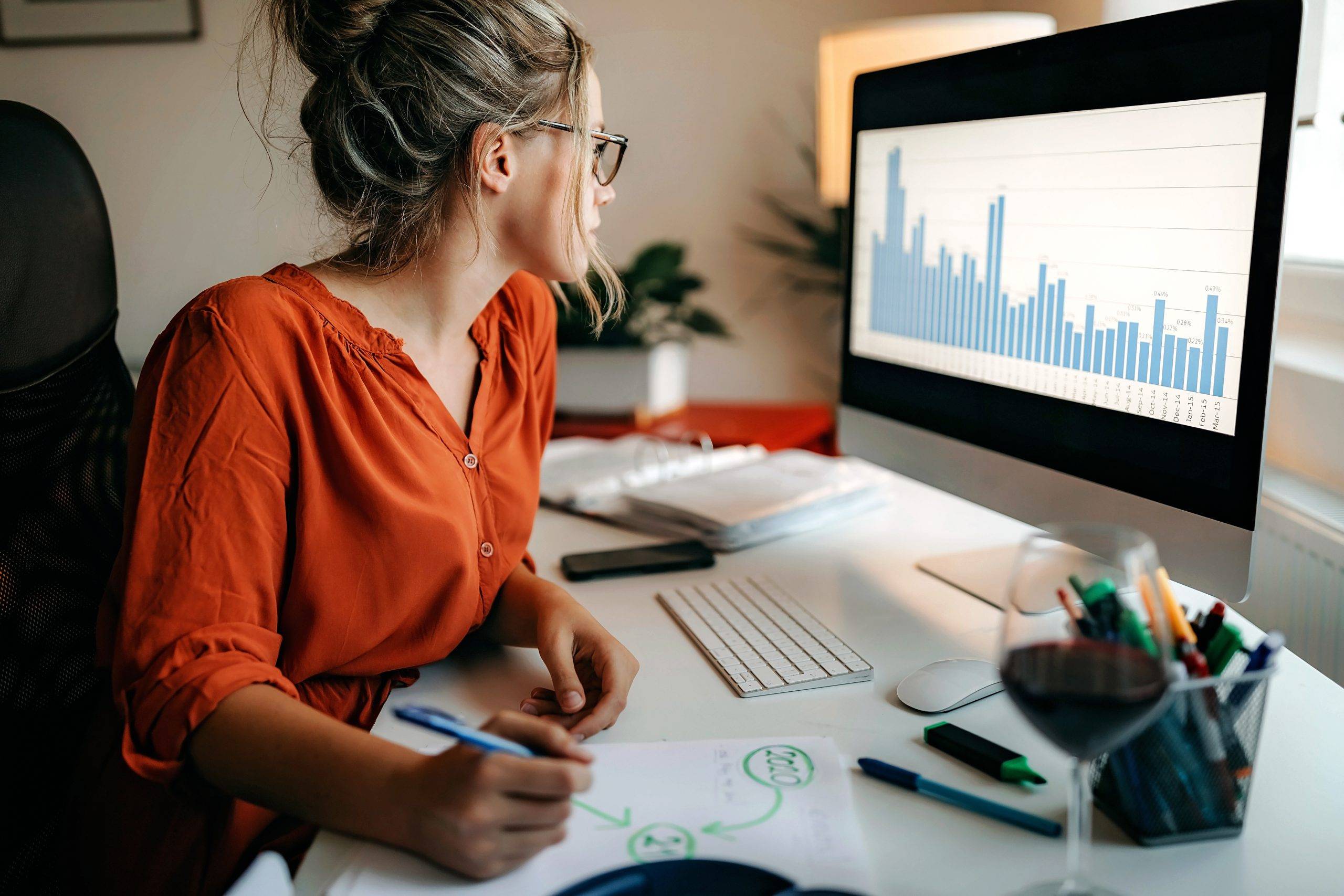 Concordia's Adult Accelerated Business Analytics and Change Management Online Bachelor of Arts degree debuted fall 2020.
---
Earning or completing a degree is hard work. So, doesn't it make sense to find something that your employer believes will be favorably impactful on the organization? Concordia University Wisconsin introduced its Business Analytics & Change Management (BACM) online Bachelor of Arts degree for Adult Accelerated students in Fall of 2020.
What is the Business Analytics & Change Management degree?
The word analytics is a buzzword right now in almost any industry. Whether projecting the future earnings of a restaurant reduced to curbside orders, or suggesting the impact of a debate on an election, analytics has become a driving force in understanding how businesses perform.
We live in a data age!
The demand for professionals with business analytical skills is growing. Most companies are generating, collecting, and storing information that is analyzed. This fast-growing career path has applications in every industry and for companies of all sizes. Change-Management leaders help organizations make changes after analyzing this data.  The bottom-line goal is increased profitability for these organizations. With all the changes in our society right now, possessing analytical expertise seems like an important attribute to offer an employer, doesn't it?
Why would an adult student study BACM?
If you have been working in any type of business, you may see a need to help use data and store information. You may possibly see executives acknowledge change is needed for growth but struggle to find information to execute the right changes. A BACM degreed individual can add value to any company. Many employers are seeking professionals with this degree.
John Fields, director of Concordia's newest program, adds "The Business Analytics & Change Management degree provides students with core business knowledge plus the analytical skills that employers are seeking in our data-driven world.  A Gallup poll predicted that by 2021, 69% of employers would prefer graduates with these skills over those without."
Who should consider Business Analytics & Change Management?
Students with partial degrees or technical-school degrees in business, math, or computer-related programs may be well-positioned for this degree.  However, any student with work experience in the businesses of today has undoubtedly been exposed to the concept of analytics. Those who see the opportunity and understand the need will be motivated to excel in this exciting new field. Fields explains, "Business analytics combines the disciplines of business, computer science, and statistics.  Students who have experience in these areas plus enjoy problem-solving and 'telling stories with data' are great candidates for this degree."
How does Concordia Wisconsin's BACM prepare a student to serve in the community?
The field of business analytics can be applied across a broad range of business sectors. Students will learn skills in Christian ethics, business intelligence, data collection, modeling, creative thinking/problem solving, change management, and collaboration which can be used in a current or new role.
A recent search on Handshake, the career service platform available to all CUW students, revealed recent job postings related to the BACM such as Analytics Data Engineer for Cognizant, Integration Developer for Menard, Inc, Tech Support Supervisor with Logistics Health, and SEO Specialist for Cars.com. In addition, this innovative job search tool lists numerous intern positions with the opportunity to be introduced to real-world analytics experience.
If you're going to work hard to earn a degree or complete a degree, doesn't it make sense to find something that your employer or your future employer believes will be favorably impactful on the organization?
Led by our Christ-centered values, we believe that the best business leaders demonstrate both uncompromising compassion and unmatched competitive skills. As a Concordia graduate, you can expect to excel as you develop a genuine, ethical mindset and a business analytical acumen that is unmatched in the market!
For more information about this accelerated degree in Business Analytics & Change Management or to apply for this program, contact CUW's Accelerated Regional Admission Counselor for BACM Kathleen Siedenburg at Kathleen.siedenburg@cuw.edu or 262.243.1866.
This blog was originally published on 10/02/2020. It has been updated to reflect current information.
—
If this story has inspired you, why not explore how you can help further Concordia's mission through giving.