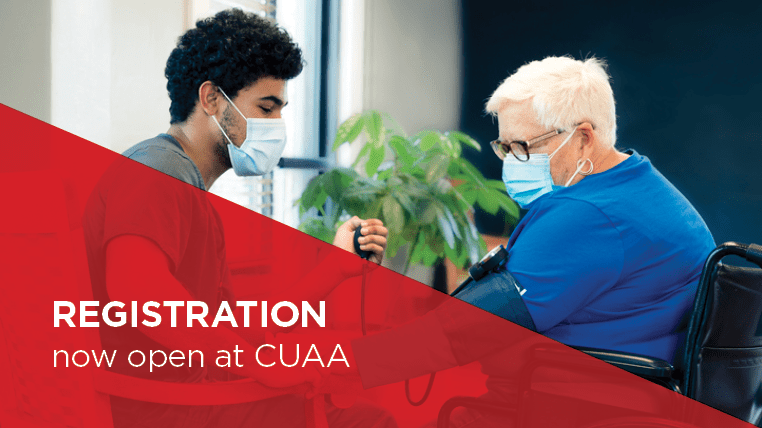 Do you want to become a CNA?
---
Become a CNA through Concordia University Ann Arbor
Concordia University Ann Arbor has received approval from the Michigan Department of Licensing and Regulatory Affairs Bureau of Health Care Services to launch a Certified Nursing Assistant (CNA) licensure program. Whether you're a member of the community or a current student, our program is ready to meet you where you are and help you reach your goals.
The role of the Certified Nursing Assistant
The role of a certified nursing assistant (CNA) is important in healthcare. While a CNA's day-to-day work can vary and depends on the setting, they have the opportunity to help patients with daily living activities and other healthcare needs. All of the CNAs work is done under the supervision of a Registered Nurse (RN) or Licensed Practical Nurse (LPN).
"Not all nursing schools require a CNA, but we find that the skills built through it are essential for every nurse," says Dr. Cindy Fenske, Assistant Vice-President of Academics and Chair of CUAA's nursing program. "It provides them with some comfort and confidence as they enter the rigor of our bachelor's program. The CNA just provides a really nice foundation for students."
CNA certification open to the community
Concordia University Ann Arbor's CNA program trains students to provide safe and effective care to residents in long-term care facilities. You'll learn about various populations of adults, including those with dementia, mental illness, developmental disabilities, and other issues that are common to long-term care facilities.
This program uses online, laboratory, and clinical approaches to prepare students to care for residents at long-term care facilities and other health environments.
When you complete the course, you'll demonstrate your skills. You'll also show that you respect and acknowledge the rights and dignity of your patients. Additionally, you'll need to understand abuse and help to improve the quality of life for people in your care.
When you've successfully finished the course, you are eligible to take the state certification test.
Why you should consider earning your CNA license
Ben Oliver, CUAA's Chief Simulation Specialist, is excited about this program. Oliver stated: "Most part-time care and/or tech positions require by state to have the CNA credentials. Overall, earning your CNA certification gives you a great foundation if you're interested in any medical field. For example, these skills translate easily to nursing, paramedic, physician assistant, occupational therapy, and physical therapy."
Additionally, CNAs are able to earn decent wages, with the national average being $15 per hour. Becoming a CNA lets you explore your interests within healthcare, with specialties that include geriatrics, psychiatry, home care, pediatrics, and cardiology, for example.
Finally, CNAs get to make a difference. When you're a CNA, you get to help patients with grooming, toileting, eating, and moving. Some of your patients might feel vulnerable, and your work helps them live their lives. Needless to say, working as a CNA is dignified work.
Do you want to know more?
Does the idea of earning your CNA license interest you? If you want more information on this program, you can contact Dr. Cindy Fenske.
— Vanessa Lane is the Content Marketing Lead at Concordia University and can be reached at vanessa.lane@cuaa.edu. When she's not at work, she can be found playing with her kids or watching NBA basketball with her husband.
If this story has inspired you, why not explore how you can help further Concordia's mission through giving.