Our CNA course trains nursing assistants to provide safe and effective care to patients in a variety of healthcare settings. No experience is necessary.
---
Certified Nursing Assistant in Training: Ashley Hannah
Concordia's Certified Nursing Assistant (CNA) training program is designed to prepare nurses to provide safe and effective care to residents in long-term care facilities. With the use of online learning aids, skills laboratory guided practice, the use of simulated practice situations, and up-to-date clinical training approaches, students – like Ashley – are well-prepared to meet the demands to work successfully as a nurse's aide.
Note: Ashley's responses are typed in italics.
Why did you choose Concordia University Ann Arbor's CNA program?
The Certified Nursing Assistant (CNA) program at Concordia University was an easy choice because I am also studying in the BSN program at CUAA.
What is the CNA program and what have you learned?
In the CNA program, you learn the basics of nursing, which is also the most important part of nursing. Most of your role as a nurse involves taking care of the patient and how you treat the patient. Being there for the patient's emotional well-being is just as important as the health of the patient. This program has taught me many valuable lessons on patient care. I have truly enjoyed so many parts of the CNA program.
What have you enjoyed most about your experience in the CNA program?
The simulations. The best day I've had in the program is when we participated in a disaster simulation with Concordia BSN students. In the simulation, a bomb had just went off and smoke filled the hallways. It was an awesome experience to feel like a true CNA by taking care of patients, checking vitals and making the patient feel comfortable, as well as helping out the nurses as needed. Although it was a bit stressful, it helped me understand the true role of a CNA. It made me really excited to continue my studies in the nursing program in hopes that I can help more people in different ways.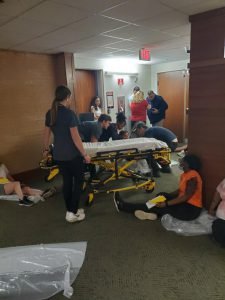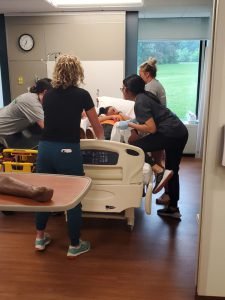 What are your ultimate career goals?
My ultimate career goal is to become a nurse and eventually pursue my master's as a nurse practitioner just like my mother. She inspires me every day and pushes me to always do my best.
What would you say to those who are interested in taking this course?
I highly recommend everyone take this course. It teaches you the basics of being a future nurse as well as ways that you can help the patient emotionally and how to become the perfect CNA. This class feels more like a one-on-one kind of class due to it's size, but it's great because all of the students get individualized attention, which is beneficial for our learning. I feel like getting that one on one experience is what truly makes this program stand out. The instructors are amazing and truly prepare you for what you were going to see in the real world. They explain that the medical field is not easy but in the end of the day helping people is the best thing that you can do. 
Register for the next CNA course
Take the next step closer to becoming a registered nurse and finish your CNA training in just a few weeks!
— Meg Hewitt is the Marketing Strategist for Concordia University Ann Arbor. She may be reached at megan.hewitt@cuaa.edu.
If this story has inspired you, why not explore how you can help further Concordia's mission through giving.