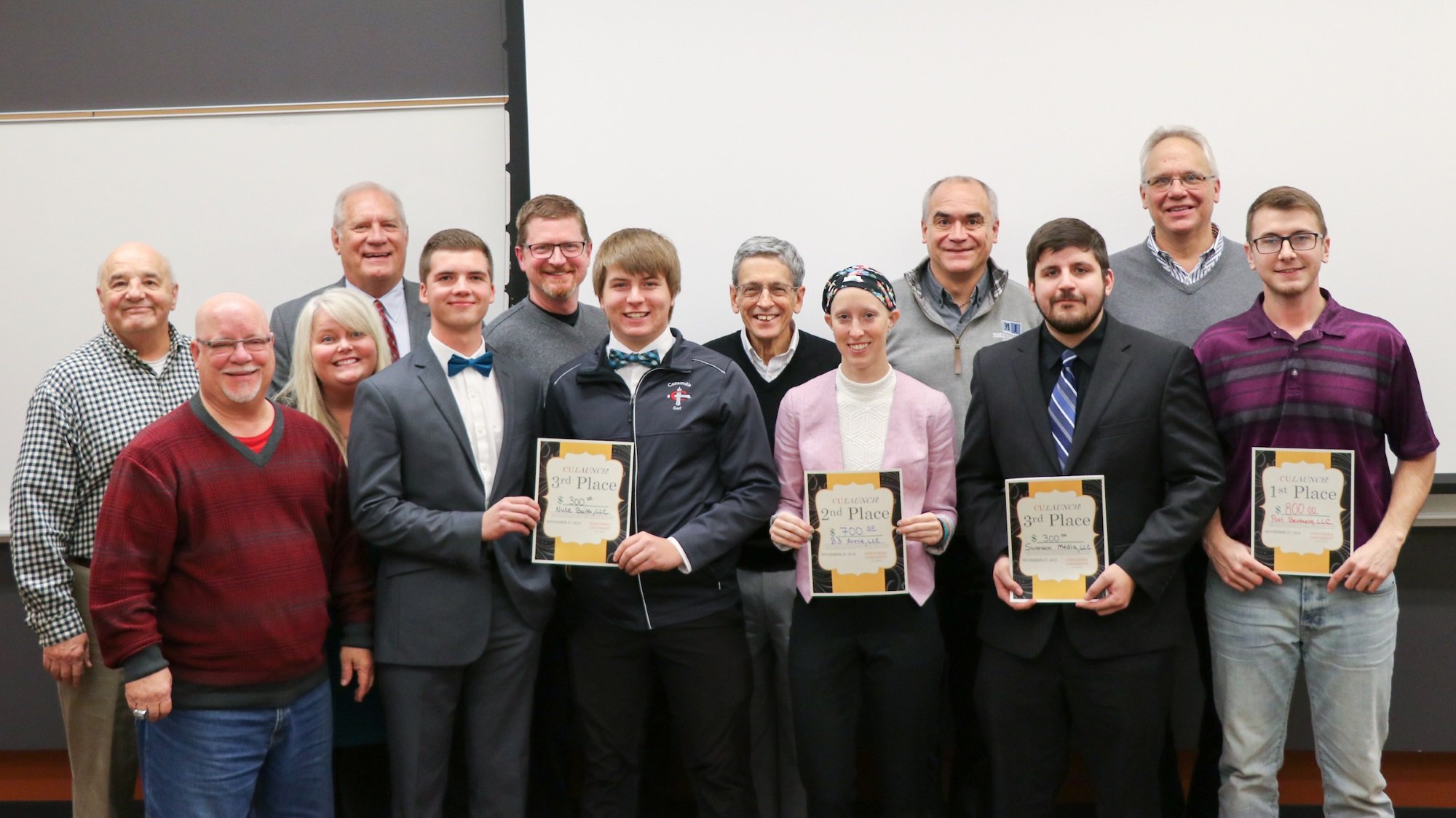 From fishing lures to motivational speaking, four teams of Concordia University Ann Arbor students funneled their passions and purpose into business pitches for a chance take home a portion of the $2100 in seed money at the 2018 CULaunch! entrepreneurial pitch competition on Tuesday, November 27.
---
This is the third year that CUAA's Haab School of Business has hosted CULaunch!, giving students from all majors and academic disciplines the opportunity to present their self-made business proposals to a panel of judges whom are business owners and entrepreneurs themselves.
The pitches included personal connections to their business, marketing strategies, overviews of the competition, implementation plans, financial projections, and financial needs. Students also shared the "secret sauce" of their companies and what made their businesses unique and marketable. Time was provided for the judges to ask questions and provide advice to each student.
The judges' panel this year included Dr. Rich Sheridan, CEO and Chief Joy Officer of Menlo Innovations and his co-founder and partner, Mr. James Goebel.  Rich and James joined CUAA's business faculty, Dr. Joey-Lynn Bialkowski, Professor Daniel Chlebos, Professor Jorge Gonzalez, Professor Gary Sanborn and Dr. Steve VanOostenbrugge.
This year's diverse group of ideas was so impressive to the judges, that they divided the prize so that everyone could have a piece. Below is a run-down of the entrepreneurial ideas:
First Place: Zachary Hazel ('19)
Pool Brothers, LLC
$800
Business Management
Together with his brother, Pool Brothers, LLC provides pool cleaning and maintenance throughout southeast Michigan that deliver excellence in service, prompt communication and money-back guaranteed quality.
Second Place: Annie Leiding ('20)
B3 Annie, LLC
$700
Exercise Science
Inspired by her alopecia diagnosis, Bald Brave and Beautiful Annie is a motivational speaking business offering coaching, nutrition consulting for those with autoimmune disorders, and young people facing challenge and adversity from autoimmune diagnoses such as alopecia.
Third Place (tie): Zachary Swanson ('19)
Swanson Media, LLC
$300
Mass Communications
Swanson Media, LLC is a digital media company aiming to connect and build community, especially among young people who are seeking inspirational and hopeful messaging.
Third Place (tie): Luke Konkel (left, '21), Nick Althouse ('22)
Nuke Baits, LLC
$300
Sport and Entertainment Business, Accounting
Nuke Baits, LLC creates custom baits for bass fishermen that is both affordable and sustainable. The two recently started a fishing club at CUAA.
Click here to learn more about CULaunch! and Concordia's Haab School of Business.
— Rachel Thoms served on Concordia University's Strategic Communications team from 2015-2022. Any inquiries about this story can be sent to news@cuaa.edu.
If this story has inspired you, why not explore how you can help further Concordia's mission through giving.