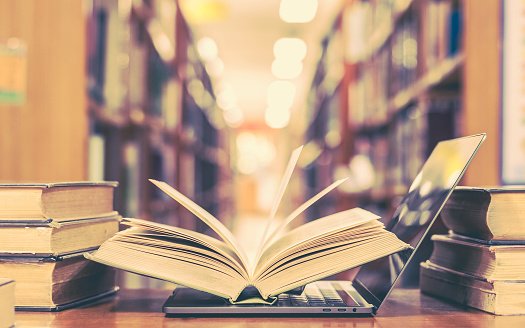 Digital humanities is a growing field, but what jobs can you get with this degree?
---
What can you do with a degree in Digital Humanities?
If you love the humanities, but are unsure about what jobs are out there, you might be surprised by the amount of opportunities.
Defining Digital Humanities
The digital humanities incorporate a variety of fields of study, such as history, theology, philosophy, English, to name a few. The digital aspect of the digital humanities requires students to use and design digital tools. Dr. Erin Laverick, Program Director for Concordia University's M.A. in Digital Humanities, states: "These tools allow people to research and explore ethical, social, and religious issues relevant to local and global communities."
Why you should consider a master's in Digital Humanities
Working in the digital humanities is truly interdisciplinary. Digital humanities could be a great fit for you if you are passionate about a certain content area, but also want to have a relevant skillset. It's true that there are a lot of bootcamps and courses out there that could help you achieve some of the skills you might want. But, a master's degree unlocks more opportunities for you.
One key benefit to a master's degree is the potential for a higher salary. While bootcamps and quick courses can be useful, they often lack the depth and time required to learn a subject well. Earning your master's in Digital Humanities tells your future employer that you took a deep dive into robust course content and research. Plus, each of your professors is an expert in their field, so you can be sure you're learning from the best.
What jobs could I get with this degree?
The sky is your limit with a Master's in Digital Humanities. These are just a few examples of jobs you can get.
Digital Humanities Specialist:
This specific role can be as broad or as specific as it needs to be. Some of your responsibilities include project management, managing digital archives, and developing workshops. You'll need to stay current with technological trends and data science. Oftentimes, libraries need a Digital Humanities Specialist. 
Web Designer:
If you'd like to hone your problem-solving skills in a creative way, you should consider web design. Betterteam states that proficiency in web languages and digital tools is essential for this role. Additionally, having a background in the digital humanities will prepare you to implement what you create. Web design is all about working with people to develop a concept that is then displayed on the web. Some other non-negotiable skills are:
Excellent visual design skills.
Creative and open to new ideas.
Adaptable and willing to learn new techniques.
Excellent communication skills.
Digital Communications:
The digital world we live in demands strategic, critical thinking and creative problem solving, especially around digital content and media. Many organizations need an expert in both communications and digital tools. Betterteam describes the role of Digital Communications specialist this way:
Develop and implement a communication strategy that includes media outreach and social media content creation
Research and write press releases, and content for the company website, infographics, blogs and newsletters
Arrange and coordinate press conferences, and plan events
Adhere to the organization's style guide
Work together with teammates and across teams to brainstorm content ideas
Build relationships with journalists and influential people outside of the organization
User Experience (UX) Designer:
Fred Beecher, Director of UX at The Nerdery, explains what UX designers do like this: "The short version is that…I humanize technology." Career Foundry listed these essential tasks for UX designers:
Conduct user research
Create user personas
Determine the information architecture of a digital product
Design user flows and wireframes
Create prototypes
Test products with real-life users
Archives Librarian:
Truity describes an archives librarian as one who "preserves important or historically significant documents and records." The day-to-day role depends on the organization, but here are some essential tasks of the job:
Authenticate and appraise historical documents and archival materials
Preserve and maintain documents and objects
Create and manage a system to maintain and preserve electronic records
Organize and classify archival materials
Digitize records
Direct workers to help maintain collections
Set policy guidelines concerning public access to materials
Find and acquire new materials for their archives
Curators or Museum Director:
Truity differentiates a curator from an archivist this way: "Curators lead the acquisition, storage, and exhibition of collections." Oftentimes, they have to negotiate the sale and acquisition of artifacts. Here are some other responsibilities:
Acquire, store, and exhibit collections
Select the theme and design of exhibits
Design, organize, and conduct tours and workshops for the public
Attend meetings and civic events to promote their institution
Clean objects such as ancient tools, coins, and statues
Direct and supervise curatorial, technical, and student staff
Plan and conduct special research projects
Use digital humanities to get your dream job
One of the cool things about studying digital humanities is that you can pursue your passion while still honing your job skills. Michelle Obama once stated that the humanities define who we are as a people. We would be honored to walk alongside you in your journey toward a greater understanding of what it means to be human in a digital world.
If you want know more about Concordia's Master's in Digital Humanities, check out our webinar.
— Vanessa Lane is the Content Marketing Lead at Concordia University and can be reached at vanessa.lane@cuaa.edu. When she's not at work, she can be found playing with her kids or watching NBA basketball with her husband.
If this story has inspired you, why not explore how you can help further Concordia's mission through giving.