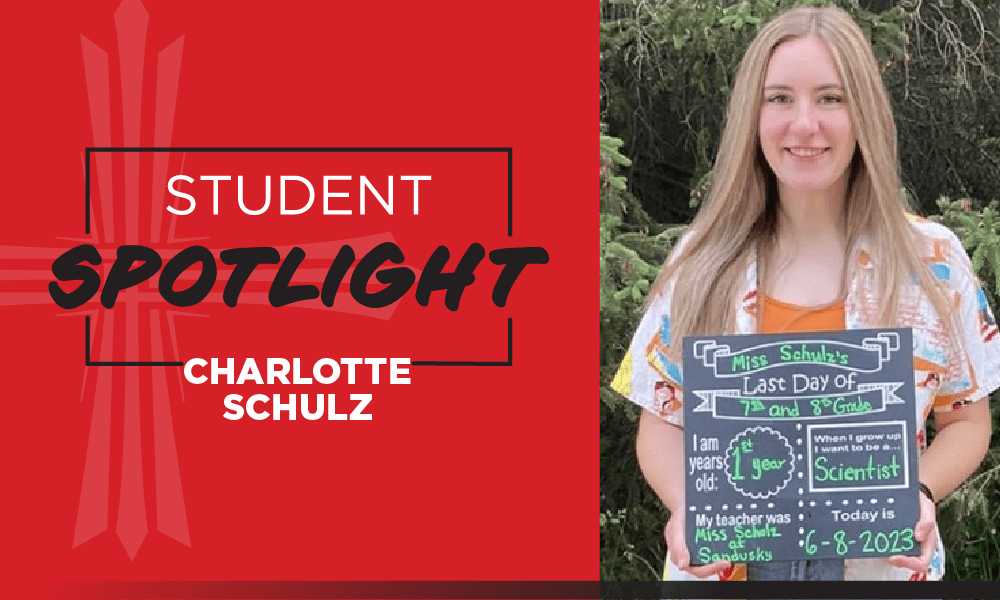 ---
Meet Charlotte, an uncommon student who has grown in both faith and knowledge as a result of her program at Concordia.
---
Charlotte has always loved the campus at Concordia University Ann Arbor. She has fond memories of attending numerous football and basketball games, going to Tool Time and feeling in awe of the Boar's Head performances that she experienced when her sister was a student here. Even though Charlotte didn't attend Concordia for her undergraduate degree, she always remembered the feeling of Concordia and was confident that she could still have the Concordia experience for my master's degree.
Now, as a graduate student, even though she lives a little over two hours away from campus, she still takes any chance she can get to go on campus and experience Concordia as a student. Let's find out why Charlotte hopes you too will become a Concordia Cardinal!
Why did you choose to come to Concordia?
I came here because of the great program they have for teacher certification. I could teach in my own classroom as a hired teacher and work towards both a teaching certificate and master's degree at the same time. I couldn't find an opportunity like that anywhere else!
What is it like being an online student in a master's program?
Although I wish I could be on the campus to see my professors and classmates in person, I love the flexibility of an online program. Concordia promotes working while in classes, so they were sure to set students up for success through every course. If I need anything, whether with help understanding an assignment or just simply life advice, my professors are only an email away and are glad to communicate with me.
How has your Concordia experience made you a better teacher?
I have not only changed as an educator, but I have become one, too! I am so blessed to have had the opportunity to teach while being taught myself. I started this program just freshly determined to become a teacher. Teaching is not something I always felt in my heart, but now, only a short time later, I am excited to see where this path leads me. It is crazy to think that I am already into my second year as an educator. I have learned so much about the education system, my local community, and about my content area, science. I have so many new strategies of teaching concepts to others and have become a confident public speaker. In undergrad, giving presentations was very intimidating. Now, I give six hour-long presentations every day confidently, with progress being made every day.
How has your faith grown throughout the program?
I have grown closer to God over the last year and a half. I pray a lot for my students, especially for them to have good home lives and a safe school day. I also pray that each of my students grows to know the value of an education as a stepping point to the life they want to build for themselves. I have opened communication with God a lot. I never thought I'd become a teacher, but now I am open to allowing God to use me for whatever work He needs done.
I am so blessed to have come to CUAA for my degree, since they openly proclaim Christ. I have come to my professors for numerous reasons, mostly for personal reasons. They have given me life advice, career advice, and have openly prayed for me and my loved ones. They have reminded me of my baptism and how I am part of a community that is larger than myself. The professors have known me by name, even without ever meeting me face-to-face, and have reminded me how God too calls me by name. I have never had an experience like that before. Although I never had a class in person, I am proud to soon become an alumnus from this program and this university.
Why should other prospective students pursue teaching certification at Concordia?
There is no other program like this. I have coworkers who went through programs that just gave them their certification, and they did not have the same wonderful experiences that I had. I graduated at the same rate, if not faster, than some of them, but I have an additional degree now. It makes me more marketable in my field, opens more career options to me, and has given me the knowledge and confidence to do my job well. I would recommend this program to others looking to become a teacher.
---
Want in?
Are you ready to become a certified teacher like Charlotte and experience all that Concordia has to offer?  Contact Dr. Sara Clemm von Hohenberg, Program Director, for details on how you can earn your Masters degree and teacher certification at the same time: sara.clemmvonhohenberg@cuaa.edu.
---
—This story is written by Sara Clemm von Hohenberg, Ph.D., Director of CUAA's MSCI with Elementary and Secondary Teacher Certification Program.  When not being a stage mom for her daughter or reading books to her son, you might find her on the pickleball court with her husband or baking up a new cookie recipe for her small group bible study friends.