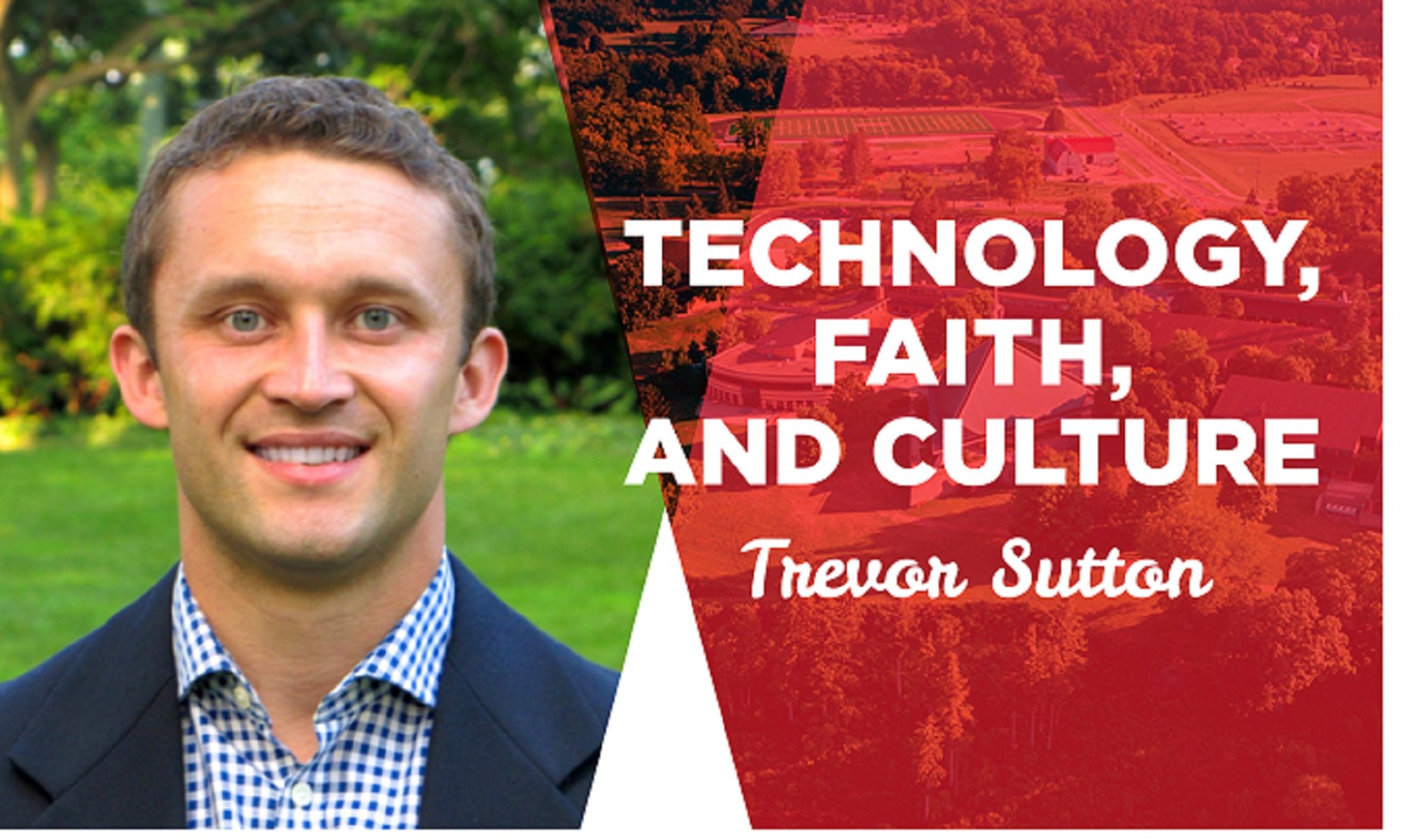 Rev. A. Trevor Sutton- pastor, writer, and speaker- will be teaching a special topics course for the Digital Humanities program this fall.
---
Digital Humanities special topics course
This fall, Concordia University Ann Arbor, will be running a special topics course in the Masters in Digital Humanities program. A special topics course is a required curriculum in the program. Therefore, it allows students the opportunity to be taught by other professionals in the field.
The course titled, 'Technology, Faith, and Culture' will be taught by CUAA alumni and pastor, A. Trevor Sutton. Before the course kicks off on August 29th, we wanted to learn more about Sutton and his passion for the humanities field.
Tell us a bit about your background
I am captivated by the humanities. Therefore, I have spent the majority of my life studying, teaching, or otherwise engaged in the humanities. I graduated from Concordia University Ann Arbor with a degree in English.
The tremendous liberal arts education that I received at CUAA prepared me for my divinity studies at Concordia Seminary. And then my graduate work in digital rhetoric at Michigan State University.
Currently, I serve as a pastor at a Lutheran congregation in Lansing. Also, I teach and write about theology and technology, while also completing a Ph.D. dissertation on the topic of theology and technology. Like the humanities in general, the work that I presently do is varied, yet interconnected.
What course will you be teaching?
I will be teaching a special topics course called 'Technology, Faith, and Culture.' I am very excited about this class. It will explore the important and timely topic of how digital media intersects with religious practices, communities, and culture. If you want to understand religion today, then you have to investigate the intersection between faith and digital technology.
What will students learn?
Students will learn to be digital religion researchers. This course will equip students to understand how digital media interacts with religion in all its forms. We will explore how rhetoric, design, and communication are being deployed in contemporary religious practices and communities.
A key part of this class will be working with research tools and methodologies so that students are prepared to be digital religion researchers. Basically, students will be able to navigate the critically important juncture of digital media and religion.
How does this course apply to digital humanities?
This special topics course is a perfect example of digital humanities. Students will learn a traditional humanities topic – religion – and how it plays a role in modern digital media. Religion, and especially the Christian faith, is a longstanding pillar of the liberal arts and the humanities. The digital humanities engage permanently relevant topics such as religion through the lens of modern digital media – and that is exactly what this course does.
RELATED: What jobs can you get with a master's degree in Digital Humanities?
Do you use the digital humanities in your day-to-day job?
I use the digital humanities every single day in ministry, research, teaching, and many other aspects of my life. It's applied any time that I use digital tools to study biblical texts, preach or teach with digitized works of art, or conduct research through a digital archive.
I engage in digital rhetoric when doing any sort of digitally mediated communication such as email, website design, blogs, or any other sort of multimedia work. My training in the digital humanities is essential to my work as a pastor, writer, and researcher.
In your perspective, why should someone pursue the digital humanities?
Students should pursue the digital humanities if they want to go beyond the mindless consumption of digital media. Suppose you sense that a seismic shift is happening in the world through digital media – social media, websites, the internet – but you're not entirely clear about what is happening. In that case, you need the digital humanities. Digital humanities provide the necessary tools, techniques, and theoretical frameworks for thriving as a human being in this digital age.
Interested in Digital Humanities?
Feel free to check out more about the digital humanities master's program and the courses offered below.
— Maddie Schueller is the Content Marketing Lead for Concordia University Wisconsin and Ann Arbor. In her free time, she enjoys listening to podcasts, anything music-related, and hanging out with her husband and daughter.
If this story has inspired you, why not explore how you can help further Concordia's mission through giving.