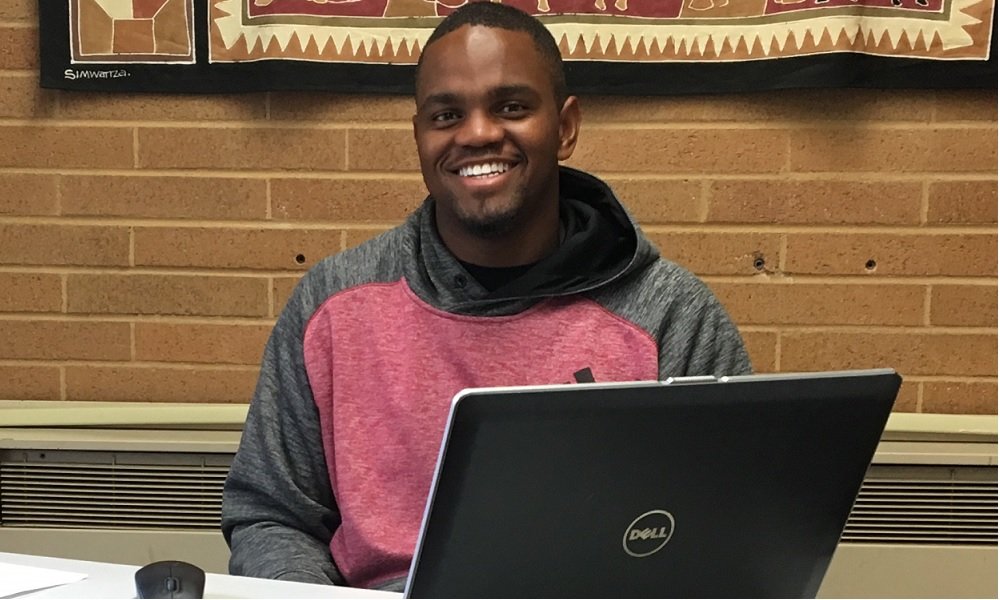 Students in Concordia University's SPAHE (Student Personnel Administration in Higher Education) program learn about institutions of higher education, how they operate, and how to best serve college students through student affairs research and theory. Many CUAA staff members enroll in the program to improve their own skills, and in turn, ground CUAA programs in higher education theory and practice. Why do they study what they do? Their reasoning digs deep into mission and purpose.
---
Student Personnel Administration in Higher Education Master's students show enthusiasm for higher education work. Graduate students learn how to best support student success across academic, athletic, and personal growth. Many of Concordia's own faculty and staff enroll in the program to improve their knowledge and skills in higher education. But it's not just about getting a master's degree; staff members explain why they chose their capstone projects and how much they care about the success and development of the student. Many highly trained higher education staff members work right here at Concordia–and they are constantly striving to improve the lives and experiences of students.
Jared Gosse, Manrey Saint-Amour, and Thomas Dobberteen, are three such Concordia staff pursuing a graduate degree in Student Personnel Administration in Higher Education. They are all working on capstone projects to improve their work at Concordia.
Jared Gosse
Jared Gosse is an Admissions Counselor and works with prospective students from their initial interaction with Concordia until they are accepted. He is a graduate of Concordia University Wisconsin.
Why are you taking the SPAHE program? I am taking the program to grow in knowledge of higher education and to help prepare me to have an impact on future generations that I come into contact with.
How has the program impacted you in your work?  It's made me think outside my comfort zone and has me think outside of just my office to what other higher education institutions work with. It's also helped me grow as a person intellectually and spiritually.
What is the purpose of your capstone project?  The purpose of my capstone is to help make our athletic facilities competitive against other universities/colleges. I also want to help make faculty/staff aware of the current facilities on our campus and how we can use the data collected from my research to improve and update new athletic facilities on campus.
How do you hope your project impacts or improves CUAA? Ultimately it's about the student. I want to make our facilities safer for student-athletes and give them the best opportunity to manage sports and coursework.  I'm also researching ways we can use the current space on campus for other non-sports programing, such as non-athlete facility use and expanded faculty and staff health programs.
Tom Dobberteen
Tom is the Graduate Admission Counselor for the Ann Arbor campus and graduated from Michigan State University.
Why are you taking the SPAHE program? In the 9 years since I graduated college, I was able to determine that while I still don't really know what I want to be when I grow up, I know I want to work in higher education. The SPAHE program was a natural choice to help me learn more about each area of higher education. The program faculty played a huge part in my decision to enroll in the program – it is an extremely caring and supportive program!
How has the program impacted your work? The program constantly reminds me that students are NOT customers, but people who are trying to accomplish their goals and better their lives. I believe that since starting the program, I have worked harder to deliver a quality experience to all students I interact with. The idea of graduate school can be scary – if I can do anything to encourage students or make the application process a more pleasant experience, it can help students start their graduate school experience on a positive note.
What is the purpose of your capstone project? The purpose is to develop a training handbook for new admission counselors that can be used by each department of the university's Student Enrollment and Engagement Team on both campuses and at all locations.
How do you hope the project impacts or improves CUAA? I went to Disney World in January and was blown away by the excellent quality of service the cast members provided – even during the smallest interactions. When I came home, I started researching everything I could from the Disney Institute to learn more about Disney's commitment to quality customer service – I wanted to create that type of experience here at Concordia! The more I researched, the more I realized that organizations that are leaders in their field, such as Disney, are all committed to quality training. I've had jobs where I was not trained properly and it can definitely have a negative impact on a new employee. My ultimate goal is for this handbook to help new admissions counselors transition into their new jobs faster and with less anxiety. If nothing else, I hope that the handbook will be a reference guide that new counselors can use as they are working to master the basic elements of their new jobs.
Manrey Saint-Amour
Manrey is a football coach and earned his bachelor's degree in psychology from Georgia Southern University. 
Why are you taking the program? Do you want to stay working in higher education? Yes, I want to be a coach working with students. I enjoy being a coach, engaged with hands-on development, but I also want to be the best mentor and advisor when it comes to development as the whole student.
How has the program impacted your work? It's preparing me to lead in the future. The program has given me tools to be the best leader I can be no matter where I end up. Whether this degree leads me to remain as a football coach, moves me somewhere else within higher education, somewhere else altogether, I know or I'm well equipped to lead.
Watching and helping a student develop mentally and personally from the first day they step onto campus until the day they graduate is so fulfilling and meaningful.
What is the purpose of your capstone project? The focus of my capstone is on personal character development. It's so important to develop the athlete outside football. "Life after football" is real. The ultimate goal of my project is to research ways the football program can better help with transition. I'll be calling former athletes to see if they are working in their field and what would have helped them while they were a student athlete. I want to improve programs already in place to help prepare student athletes for other life experiences…such as how to do resumes, career exploration, etc. We try to remember it is not just football, it's football AND life outside of football.
Why are you studying this? I just want to spark something more in the relationship between football and school. Athletics is so much more than just sports. Within athletics there's conflict resolution, group work, theory, religion, and more. The ages of 18-22 can be really impactful and the graduate program highlights how truly important the time in college can be. As coaches, it's really important we have been trained in developing the whole person because this is a pivotal time in mapping out a person's life.
How do you hope your project impacts or improves CUAA? Knowing my project could be used, it motivates me even more to work hard and make sure it's grounded in research. It helps me focus and do it right. I like being part of a graduate cohort a lot and we support and push one another to succeed.
Final comments? Yeah, I just want to say that the coolest thing about coaching is development. Seeing how an athlete grows and improves from day one of practice until the last game of the season is so rewarding. For me, it's the same thing on the inside. Watching and helping a student develop mentally and personally from the first day they step onto campus until the day they graduate is so fulfilling and meaningful.
Are you interested in learning more about the SPAHE program? Email Tom at Thomas.Dobberteen@cuaa.edu
—
If this story has inspired you, why not explore how you can help further Concordia's mission through giving.