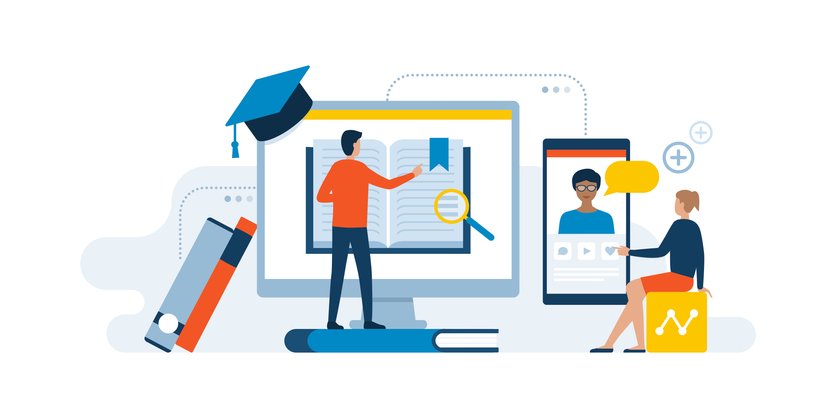 Digital Humanities is a rapidly growing field that blends life-long learning with the development of 21st century technological skills required for the global job market.
---
What is Digital Humanities?
PC Mag referred to Digital Humanities as "the most exciting field you've never heard of" in a post back in 2017. If it's so exciting, why haven't we heard of it? Probably because the digital humanities are happening all around us. 
Dr. Erin Laverick, Concordia University's Digital Humanities Program Director, explains the emerging field this way: "The digital humanities prepares students not only in honing their content knowledge of a particular field such as history, theology, philosophy, English, and more. It also teaches them how to use and design digital tools. These tools allow people to research and explore ethical, social, and religious issues relevant to local and global communities."
What does this actually look like, though?
Dr. Laverick continues: "You may be a history major and love spending your time in the digital archives. For example, you might want to look through the Library of Congress. Have you ever considered who built that site that you use so often? People with knowledge of history and digital archival design all played a role in building the Library of Congress digital archive."
The advent of social media, smartphones, and other digital advances means that more humanities content is available to us than ever before.
Why Should I Study Digital Humanities?
Studying the Digital Humanities prepares you to work in an integrated environment. In the information age, much of the work is in spaces where there is a need to develop strong content that is also data-driven. Debates in the Digital Humanities quotes Kathie Gossett from Old Dominion University. Gossett asserts that the Digital Humanities need to be interdisciplinary. Digital Humanities breaks down barriers between local content areas, like English and history, and global areas, like humanities and computer science.
Earning a Master's in Digital Humanities prepares you for work where the old and the new intersect.
In almost every field, understanding your user, your customer, or your intended audience is essential. As our world becomes more global, we communicate with more and more people. This means that the ability to use multiple modalities in order to communicate is increasingly necessary. Dr. Laverick adds, "What excites me about the digital humanities is this field of study focuses entirely researching and digitizing to communicate with an audience. The opportunities for exploration are endless and much needed in the job market and academy."
What Does a Master's in Digital Humanities Look Like?
Students who study Digital Humanities at Concordia University take the classes 100% online. This program is 30 credits, and the courses are offered in 8-week blocks. One major benefit to the way this program is set up is that these classes are offered asynchronously. This means that you can take them at your own pace with required check-in meetings.
You'll be collaborating on projects with professors and coworkers throughout your time in this program. Some of these projects include using and creating digital tools. Other projects involve interacting with and creating digital texts. Lastly, some projects involve conducting research.
Dr. Laverick highlights in her webinar that you don't need to be an expert computer scientist to develop an app as a part of an interdisciplinary team. On the other hand, if you like to code, you don't need to be an expert in literary criticism. You can still collaborate effectively with your colleagues. As you near the end of your program, you can choose between a practicum or a traditional thesis for your capstone project.
Earning a Master's in Digital Humanities prepares you for work where the arts and sciences, the old and the new, intersect.
What Kinds of Jobs Can You Get with a Master's in Digital Humanities?
The career paths are endless when you study Digital Humanities. Some possible options are museum curator, archival researcher, or web and software design. Additionally, other options include digital pedagogical design, art and media specialist, and grant writer. 
Steve Jobs once said of the software industry, "A lot of people in our industry haven't had very diverse experiences. So they don't have enough dots to connect, and they end up with very linear solutions without a broad perspective on the problem. The broader one's understanding of the human experience, the better design we will have." 
Those who have studied humanities know the value of engaging with different perspectives, analyzing culture, and studying language. Earning a Master's in Digital Humanities from Concordia University will challenge your critical thinking as you prepare for a vocation of interdisciplinary collaboration in your community.
Check out other new academic programs at Concordia University Ann Arbor.
— Vanessa Lane is the Content Marketing Lead at Concordia University and can be reached at vanessa.lane@cuaa.edu. When she's not at work, she can be found playing with her kids or watching NBA basketball with her husband.
If this story has inspired you, why not explore how you can help further Concordia's mission through giving.