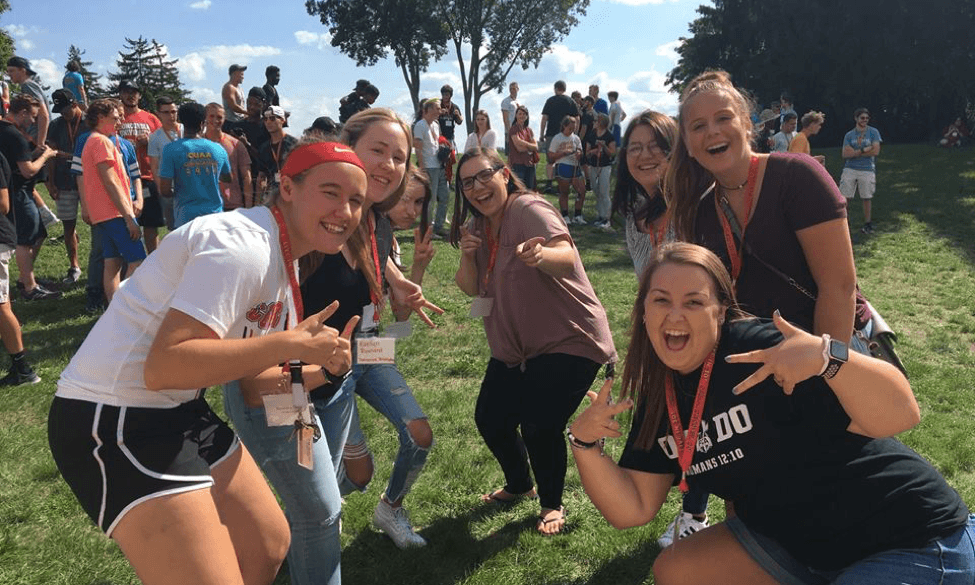 At the beginning of every year Concordia University Ann Arbor hosts a weekend event for new incoming students to get acquainted with the university, prepare for the fall semester, and meet new people within the Concordia community.
---
When I was a freshman at Concordia, this weekend was one of my most memorable of the entire year. I met so many people and participated in fun activities all while learning about CUAA.  This year will be my third time as a student leader for the event—here are some of the things new students should know! 
Get to know Concordia
This will be your new home for a while! Fall Welcome Weekend is a great opportunity to familiarize yourself with campus, even if you have already been here for a couple weeks with an athletic team or another extra-curricular.
Meet new friends!
This is hands down one of the best reasons and outcomes to be involved in the weekend events. Fall Welcome Weekend is where I met some of my closest friends who are still my friends to this day—it's a great time to bond and get to know each other. 
Get to know your schedule
You'll have a chance to go on a scavenger hunt and find your classrooms and meet some faculty along the way. Make sure you keep an eye on the schedule so you don't miss it! 
Have fun!
The academic year will soon be in full swing, enjoy the last few days of summer as you settle into your new home. There isn't any homework or other requirements right now, relax and focus on the events—like a the East vs. West Conco Color Blast at the end of the weekend! 
Learn about Concordia's resources
Concordia is an uncommon place, we have a lot to offer to incoming students that you can learn all about during the weekend such as, where to get study help and where to find campus safety.  You're going to be taking in quite a bit of information during the weekend—don't stress! Ask your leader if you can't remember something. 
Know the rules!
CUAA was recently rated one of the safest campuses in the Midwest. Learning the rules will help you know what to do in any situation. 
Get to know the faculty and staff!
There will be lots of people involved in Welcome Weekend. Since we are a smaller university you have the opportunity to meet many of the faculty and staff, especially at the faculty meet and greet lunch. This allows you to make connections to the people who can help you when you have a problem, concern, question, or idea.
Connect with your Resident Assistant (RA) and Transition Leader (TL), or know the resources for commuters!
You will have the chance to get to know your RA, and learn about residence life along with what to expect this year. If you're a commuter you will have the chance to hear about some of the resources for you around campus. 
Professional dress fashion show
Learn all about what to wear for important work events, like your first day, interviews and more in this event sponsored by Career Engagement Industry Relations. This is a fun way to learn things you'll need to know as you prepare for your career.   
Serve!
At CUAA students, we are developing in mind, body, and spirit. Service is a big part of that on campus, we have many clubs and mission trips which focus on it. During the Welcome Weekend you will have the opportunity to serve the community for a day of service, which means getting involved at one of the many different locations. 
Do you have more questions about 2019 Fall Welcome Weekend? Click link for more information or contact Student Events & Career Engagement Coordinator Alisha Anderson at Alisha.Anderson@cuaa.edu or 734-995-7508.
— Esther Schulze is pursuing her bachelor's degree in Marketing and Art. She will graduate in 2020.
If this story has inspired you, why not explore how you can help further Concordia's mission through giving.