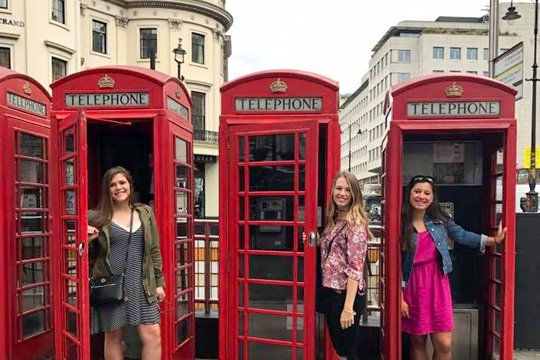 When Dr. Mark Looker first began in 2003 to offer to Concordia University Ann Arbor students a study abroad opportunity to London, he had two goals in mind.
---
The first goal was to compel students to look outward, beyond campus, and understand the world outside of Concordia. The second: to spark inward growth, so that students might return to campus and engage in new types of interactions with their fellow students, professors and the broader Christian Church.
Fifteen years later, Looker, a professor of English at CUAA, has continued to make good on his objectives. The most recent group of CUAA students, joined also by students from CUW, returned on June 5 from their three-week learning expedition to England with memorable experiences, newfound confidence, and broadened horizons.
"I feel I've gained a whole new perspective of the world in which we live," said junior nursing major Aubrey Alfano, one of the eighteen students who participated in the 2017 study abroad experience. "I loved the time I spent overseas, but I think traveling and experiencing a different way of life also makes you prouder and appreciative of where you come from."
The group spent a total of twenty-one days in The United Kingdom completing one of the two courses offered—Twentieth Century Arts and Culture and Urban Society—and additionally taking in sights including Abbey Road, London Zoo, and Shakespeare's Globe, and popping down to France for a brief excursion to Paris.
Topping Alfano's favorite moments of the trip was the group's visit to the White Cliffs of Dover. Alfano and her fellow CUAA travelers spent time stopping at prime viewing spots to take in the scene and then hiked to Dover Castle.
"I've never seen a sight so breathtaking before," Alfano said. "It sure made me want to go and explore more."
Among Looker's top moments each year are the stops at Westminster Abbey and St. Paul's Cathedral to observe the historic sites where Christians have worshiped for more than 1,000 years.
"I can tell the students ahead of time that it's going to be a moving experience, but they don't fully understand that until they're sitting there awestruck in the pews," said Looker. "It gives one a different sense of the continuity of the Christian church and the communion among us."
It is those observations – of students growing in confidence as they navigate a foreign city on their own or having a literary or historical connection come to life, for example – that keep Looker intent on continuing the opportunity year after year.
"I can and do go to London often by myself, but what I love about this trip is a chance to engage with students on a different and more personal level than is sometimes possible on campus," Looker says. "There's a kind of intensity that's hard to duplicate in a 15-week course."
Read more about Concordia's trip to London from a student perspective in Aubrey Alfano's personal blog and learn about Concordia's many study abroad opportunities for students here.
— This story is written by Kali Thiel, director of university communications for Concordia University Ann Arbor and Wisconsin. She may be reached at kali.thiel@cuw.edu or 262-243-2149.
If this story has inspired you, why not explore how you can help further Concordia's mission through giving.