Susan Pickering Rothamel is in the process of retiring and closing up her store, USArtQuest, which is possibly the largest independently owned art paper distribution, wholesale, and retail store in the U.S. Concordia was one of three universities to be gifted a significant portion of her inventory.
---
Susan Pickering Rothamel considers it a true blessing to be able to make a living in the arts and to share the gift of creativity with others.
The Chelsea artist and business owner has built a celebrated career as a mixed-media collage artist and supporter of other artists' endeavors.  She is the inventor and product developer of several art materials, like Perfect Paper Adhesive and Prills and Mica Tiles, which are used by artists all over the world. She is the author of three books, "The Art of Paper Collage," "The Encyclopedia of Greeting Card Tools & Techniques," and "The Encyclopedia of Scrapbooking Tools & Techniques," and has been featured on multiple nationally recognized television networks or programs, including HGTV, HSN and QVC. She also founded a 501c3, called Alternative Art and Business Learning Environment (AABLE), which engages the special needs community in the production of arts and craft products.
Perhaps most well-known, however, is Pickering Rothamel's identity as the founder and owner of USArtQuest. While now in the process of closing, the store was possibly the largest independently owned art paper distribution, wholesale, and retail store in the United States.
Now, after 30 years, Pickering Rothamel is stepping into retirement and closing up shop. She has gifted a significant portion of her massive paper inventory to 22 different K-12 schools and districts, nine nursing homes, and three universities, including Concordia University Ann Arbor.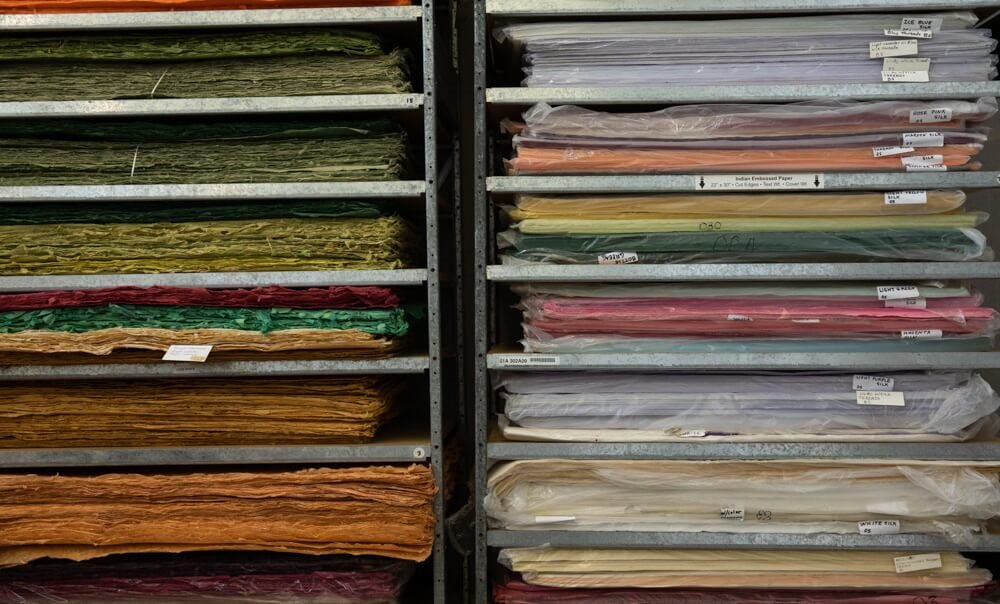 A palette of paper donated in support of Concordia's mission
Before she started donating or selling her inventory earlier this summer, Pickering Rothamel estimates that her shop and warehouse contained half a million sheets of art paper from 26 countries. She worked her entire career to build the impressive collection and says that in all of her research she never found another store in the United States that held as vast an inventory.
Concordia University's Art Department received four palettes full of donated paper. Each of the 4×4 wooden pallets was stacked at least 5 feet tall, filling a rented U-Haul truck, says CUAA Assistant Professor of Art Chris Niemiec.
"Sue's generous gift will carry Concordia well into the future," says Niemiec. "It's an incredible inventory that she's supplied us with and we're exploring ways for us to engage the community with this gift as well."
Pickering Rothamel says she included Concordia among her list of recipients because she believes in CUAA's mission and wants to inspire future generations to be creative and leave a legacy of generosity with their art.
"We are just tickled to death that we were able to support these organizations and further education for other people being creative," Pickering Rothamel says. "I am a firm believer that art and creativity promote invention, and invention, in turn, promotes engineering and science and all the other disciplines. I really see this as something that's missing among our young children today. That's my ultimate goal: to really push that creativity."
Studying art at Concordia University Ann Arbor
CUAA's art program, which is housed in the recently refurbished Kreft Center for the Arts, offers two undergraduate degrees: a Bachelor of Arts in Art and a Bachelor of Arts in Digital Media Design. Students enrolled in the programs benefit from the personal, Christian care that is characteristic of a CUAA education and learn the skills necessary to be competitive in the field.
"This generous donation of paper provides a great opportunity for students, such as myself, to dive into creative exploration of a variety of textures and hues that we did not have access to before," said Sarah Ambrose, a senior art student at Concordia. Ambrose took the lead on organizing the donation in the 2D art studio last week before classes for the fall 2021 semester began.
"The potential here is endless," said Ambrose. "I'm happy students have access to it."
Want in?
Learn more about Concordia's art offerings:
— This story is written by Kali Thiel, director of university communications for Concordia University Ann Arbor and Wisconsin. She may be reached at kali.thiel@cuw.edu or 262-243-2149.
If this story has inspired you, why not explore how you can help further Concordia's mission through giving.