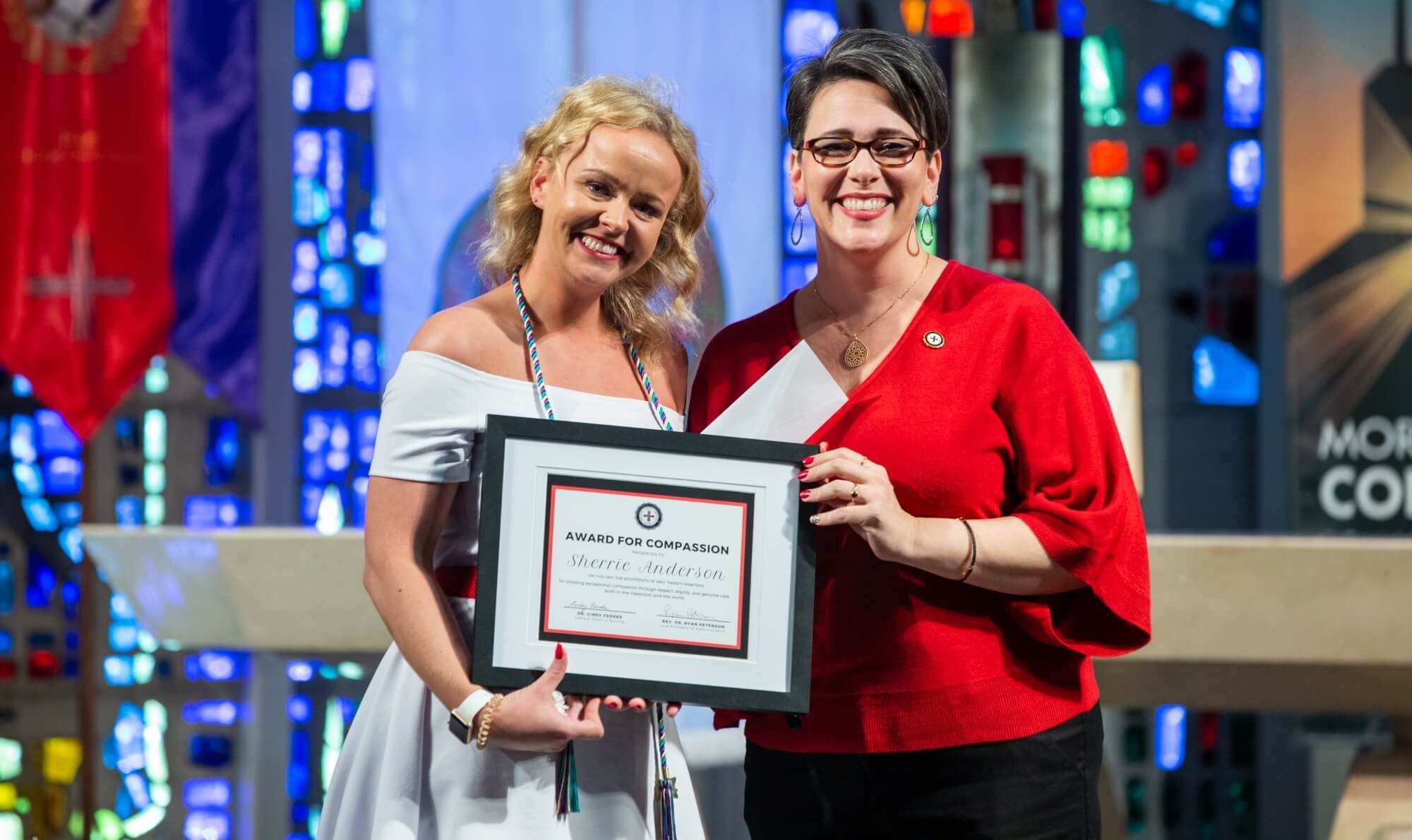 On Saturday, May 18, Concordia University Ann Arbor School of Nursing celebrated the Pinning Ceremony for the Beta Class, the second co-hort to graduate from CUAA's newest academic school.
---
Each semester, Concordia's nursing faculty and staff nominate students from the graduating cohort who best represent the core values of the nursing program: service, excellence, compassion, and integrity. An additional award, the Nightingale Award, was created as a tribute to Florence Nightingale who embodied nursing her life's vocation. The recipient of this award exemplifies that same character and calling.
Click here to see all of the Spring 2019 School of Nursing award recipients.
Compassion Award: Sherrie Anderson ('19)
Presented by Kathie Pereira
Compassion is defined as the feeling that arises when recognizing another's suffering and feeling the need to relieve it. Compassion is at the core of this student's reason to become a nurse. This journey wasn't an easy one. Doubt and fear would often creep up, but she persevered because she was driven by a fire in her heart to help others.
To her, patients are more than their symptoms or assessments. They have a story to tell and she listens. She strives to be the advocate for that patient that can't advocate for themselves. To be the hands of the patient that can't use their own. To be the voice of the patient that can't speak.
I had the honor of being her clinical instructor for med surg. I would go around to each student about mid-morning and ask them about their patient. I would get answers like, "My patient is a 65yo man with COPD. We're trying to wean him off oxygen, but he gets very winded with exertion and eating. PT is going to work with him once he becomes more stable." Her report went something like this, "He's a very nice 67 year old man who is retired from Ford. He and his wife just celebrated their 40th wedding anniversary and they have 7 grandkids. They live in Canton right over there in the sub behind Boston Market."
"Why is he here in the hospital?"
During her time as a student, she served as an SNA officer. Her faculty advisor said her heart is not only for her friends, classmates, patients, and instructors, but the community as well. She is described as "bubbly, energetic, polite, and so very sweet" with a constant smile that is so uplifting! I'm proud to have her as a member of this highly regarded profession and extremely proud to be her fellow alumni.
I am so incredibly delighted to present this year's compassion award to Sherrie Anderson.
Click here to learn more about Concordia's School of Nursing.
—
If this story has inspired you, why not explore how you can help further Concordia's mission through giving.