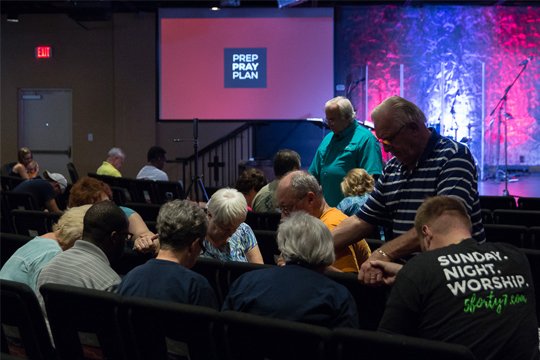 As thousands of people are scrambling for a flight out of Florida and its neighboring states in the days before Hurricane Irma's impending strike, a Concordia University Ann Arbor student is among them.
---
Blake Wright, a senior in Concordia's family life education program, boarded a flight earlier this morning that is transporting him out of the path of the most powerful Atlantic Ocean storm in recorded history to Detroit, where he will then catch a ride to the Ann Arbor campus to meet up with his fiancé and friends.
"At first I wasn't aware of the magnitude of the situation," said Wright, who is minoring in youth ministry and worship arts. "But when I heard that we were guaranteed to have at least three to seven days without power, and when I saw people raiding grocery stores for food and supplies, that's when it kind of hit me that this is serious."
Wright was in Florida to complete an internship at theCross Mount Dora, a Lutheran Church located in central Florida. He was originally planning a trip to campus that would have him flying out on Tuesday, but when he learned of the Category 5 storm, he decided to move up his flight at the urging of his concerned fiancé and parents.
"It was a tough decision to leave," Wright said. "Honestly, my first thought was that I want to be here for clean-up afterwards, specifically for the elderly people in the community here."
On Thursday evening, theCross took steps to help some of those community members prepare. The church held an event, "Prep, Pray, Plan," and invited parishioners and community members to ready themselves for the hurricane through worship and prayer. People could also request help boarding up their windows, gathering supplies, or cleaning up debris after the storm.
The church is raising money to aid in relief efforts. More information about the effort can be found atwww.thecrossmountdora.org/irma.
Wright is scheduled to return to Mount Dora on Sept. 17. He said he's eager to be of service once he returns.
"We talk a lot at Concordia about service," Wright said, "and this is a very real opportunity where I can show God's love through service to those who will be affected by Irma."
— This story is written by Kali Thiel, director of university communications for Concordia University Ann Arbor and Wisconsin. She may be reached at kali.thiel@cuw.edu or 262-243-2149.
If this story has inspired you, why not explore how you can help further Concordia's mission through giving.