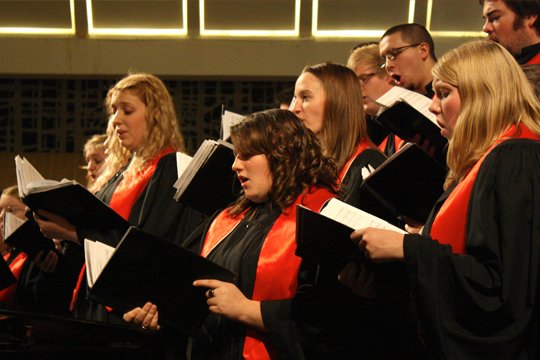 In anticipation and celebration of the 500th anniversary of the Reformation, Concordia University Ann Arbor's Concordia Choir will be taking part in a spring Central Europe Performing Tour, and university alumni and friends are invited to attend.
---
Registration for the May 16-27 tour closes Nov. 10. The 12-day tour will include stops in Poland, Czech Republic and Germany.
Highlights of the tour will include a visit to Auschwitz Concentration Camp, exploring the city of Prague, dinner in the mountains of Salmopol, walking where Luther lived in Wittenberg, visiting Castle Church and touring castles throughout Germany.
"The timing of this trip makes it particularly meaningful," said Dr. Brian Altevogt, CUAA's director of choirs. "To stand outside the Castle Church in Wittenberg 500 years after Luther nailed his 95 Theses to the door in 1517 is something we will never forget and someday share with our grandchildren."
The trip cost includes airfare, sleeping accommodations, most breakfasts and dinners, entrance fees for sightseeing tours, an expert guide, gratuities for drivers and guides, and travel protection.
For more information, or to reserve a spot, contact Altevogt at brian.altevogt@cuaa.edu.
"We take the University mission to heart, recognizing that in order to prepare student for lives of service to Christ in the Church and in the world, they need to travel the world," said Altevogt. "In this tour, we celebrate our Lutheran heritage and we celebrate the Gospel, using the tremendous musical gifts given by God in service to His people."
— Rachel (Ferry) Thoms is manager of campus communications for Concordia University Ann Arbor. She may be reached at rachel.thoms@cuaa.edu or 734-995-7403.
If this story has inspired you, why not explore how you can help further Concordia's mission through giving.