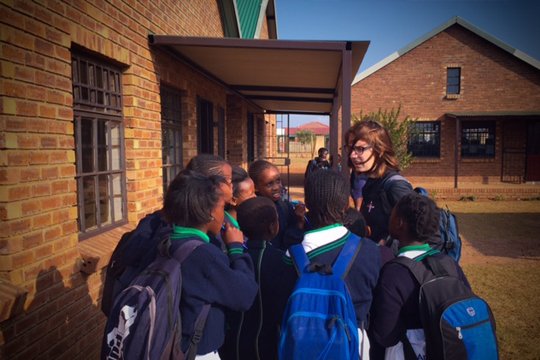 8,500 miles and a world away, three Concordia University Ann Arbor students are fulfilling a degree requirement through a special University connection.
---
On Monday, May 16, Anna Kruger, Hannah Walsh, and Liz Iltis, each entering into her senior year at CUAA, flew to South Africa to begin a month-long field work experience at St. Peter's Confessional Lutheran Church and School in Middlelburg, South Africa.
During their first week, the students were accompanied by CUAA's Director of Campus Ministry, Rev. Randy Duncan. Duncan is a long-time friend of Rev. Mandla Khumalo, pastor at St. Peter's Lutheran. The two connected through their passion for missions during their time as pupils at Concordia Theological Seminary in Fort Wayne, Indiana.
Duncan has since returned to the United States and shares his excitement about the opportunities that surround the Concordia students as their first-world lifestyles intersect with a third-world experience.
"They are making a major difference at St. Peter's, they really are," said Duncan. "Within the first couple of days they were already teaching and leading the students through their religion lessons."
The CUAA students are completing a field work requirement as a part of the Family Life major. During their time at St. Peter's Lutheran, they will be teaching in the classrooms, helping with the youth at the church, supporting families in the community with lessons on nutrition and life skills, and assisting the needs of the principal, pastor, and nurses of St. Peter's.
The Family Life major prepares students with academic and practical training that is necessary to develop and implement programming to build and equip strong, healthy families. Aligned with the major, Family Life students select a minor field of study in community services, children's ministry, youth ministry, or as a child life specialist.
"This is an incredibly transformational experience for our students; they are stripped of many of the usual comforts," said Duncan. "God's work is powerful, and I know they aren't going to come back the same."
— Rachel Thoms served on Concordia University's Strategic Communications team from 2015-2022. Any inquiries about this story can be sent to news@cuaa.edu.
If this story has inspired you, why not explore how you can help further Concordia's mission through giving.