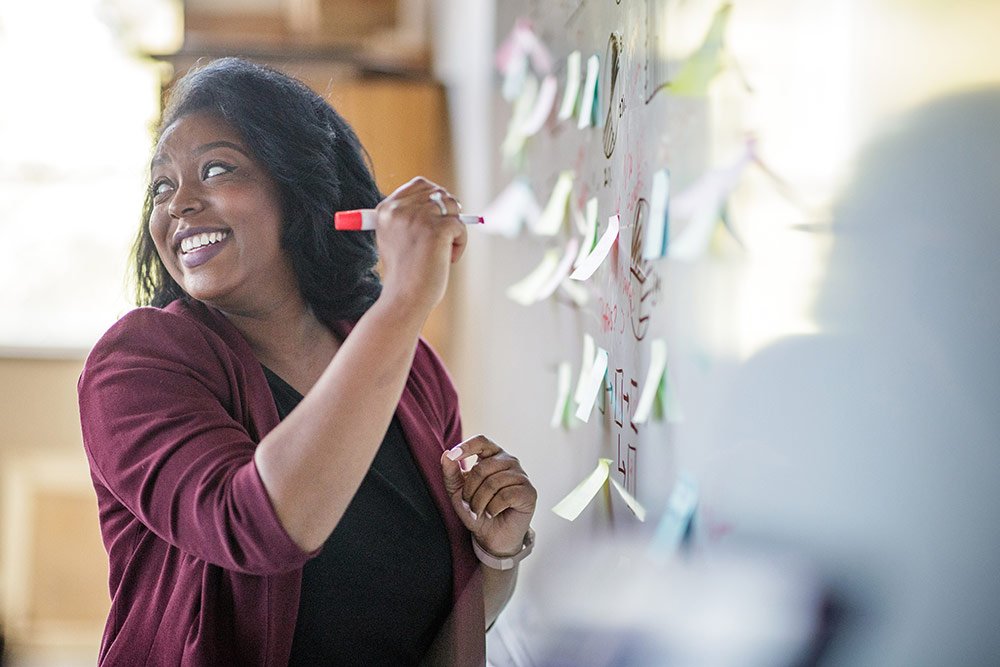 As more adult students look to continue and finish degrees through virtual and online accelerated degree programs of Concordia University Ann Arbor, students are finding passionate instructors who take very seriously the mission to influence students as they seek to impact their world through an uncommon education.
---
Passionate instructors make a world of difference
The commitment to educating the whole person shines through at Concordia University.
Adult students need different things
Many adult students have been away from the classroom for some time. Some have been in and out of the classroom. Figuring out how to best serve a group of students with various educational experiences can present challenges to instructors.
The joy found in helping students, though, is a common objective. Robert Murtha explains,
"I spent a number of years in industry, so my experience is quite wide.  I try to give the students the benefit of that experience which they will not find in a textbook.  This may highlight how to become more valuable to their organization, which will be recognized, and result in promotions. Each step makes these students even more valuable to their organization."
Janet Medlock adds, "I went to graduate school as an adult and I know just how valuable my time was while working full time and raising a family.  I appreciated the "cut-to-the-chase" type of instruction and also appreciated going to school with other adults.  I have also taken online courses and know the importance of communicating with the instructor and other students in the online modality."
Walking alongside adult learners
For many of Concordia's instructors who work with today's adult learners, helping students connect their coursework with relevant experiences in the work world is a common theme. Retired Concordia University Green Bay Center Director Ann Rice teaches the Student Success Strategies course. She has helped a multitude of students.  Rice observes:
"I enjoy teaching online courses for Concordia  It provides students and me the opportunity to stay current with new technologies while students achieve their goals. Adult students are typically more motivated to achieve their goal of a college degree. They have experienced real world challenges and obstacles on their roads to success. They are able to immediately apply their learning to everyday situations at home and work." 
Providing culturally relevant and equitable support
Dr. Tanya Johnson who leads Concordia's Project Invest program in Early Childhood Education adds:
"As an adjunct instructor, I believe it is imperative for me to provide equitable support that meets adult learners' individual needs.  This support comes from a place of being intentional and culturally relevant to help facilitate theory to practice."
Success strategies for adult learners
As students work with these passionate instructors, the Concordia University mission to help students develop in mind, body, and spirit is a consistent theme throughout the instruction.  Ann Rice stresses the importance of Student Success Strategies:
"Student Success Strategies is the perfect course for students to start their educational experience at Concordia University.  There are weekly discussion questions of relevant Bible passages that engage students in faith-based learning.  Students also submit weekly journal entries with activities focused on helping them be successful.  I provide positive and meaningful feedback wherever students are on their educational journey."
Passionate instructors connect Scripture and service to the classroom.
Edgar Hoffman keeps it direct and simple in his classes. He says, "The Bible contains many references to money.  I use those references to bring our Christian faith into accounting and finance classes."
And Janet Medlock takes a common approach as do many of our instructors. Medlock states, "No matter what the topic is that we are discussing, the theme of the course and many of the materials are about service to others.  In courses where I am able to choose the readings, I look for leaders who have made a difference in the world and are true humanitarians."
Hard work breeds confidence
Concordia's instructors' experience and love for teaching shines. They encourage students to develop the traits to be successful. Additionally, these instructors recognize the habit and attitudes necessary to earn degrees. Murtha has seen students grow in confidence:
"Hard work will carry them.  Many don't feel comfortable with math for example.  I can teach shortcuts on what tools to access. Most students feel at the end of a business class so much confidence in this area they thought they didn't have. They take their new-found confidence straight into the work place." 
Passionate instructors courage self-advocacy and perseverance
While Rice has seen student improvement when students are willing to seek assistance:
"I provide students with meaningful feedback on assignments to prepare them for college-level learning.  Students who have been out of academia for a while may need assistance with course-writing expectations such as APA requirements and paper formatting.  A desire to learn and grow is probably the most important attitude a returning adult student can possess. Time management, prioritization of daily tasks, and having a positive attitude toward their education are key skills students develop."
Meeting each student's needs
Medlock, who has worked with adult accelerated graduate business students with their capstone projects frequently encourages her students through individual contact:
"Several of the students come in and are overwhelmed with the prospect of choosing a topic and getting the research done in a 12-week course. I meet with them individually and we talk about ways in which they can access data that will allow them to do the research to deliver a quality paper."
An Uncommon experience at Concordia
And finally, and what for many is truly uncommon, Concordia University instructors understand the added value from presenting real-world education with an eye toward Christian values and principles.  Janet Medlock sums it up best when she says:
"I went to a religious-based university for graduate school but I don't believe I ever heard any real reference to the teachings of Christ or anything written in the Bible. Concordia has impressed me so much. All of the faculty meetings start with a prayer and the faculty often refer to teachings in the Bible.  I truly feel that this university walks the talk. I find that so refreshing and I have found the staff to be so inclusive."
Want to know more?
As you consider options in accelerated adult learning, contact Concordia's Admissions for assistance and guidance in finding your passion and achieving your individual goals. Take advantage of the benefits of learning from these passionate instructors of Concordia's virtual and online degrees!
—
If this story has inspired you, why not explore how you can help further Concordia's mission through giving.