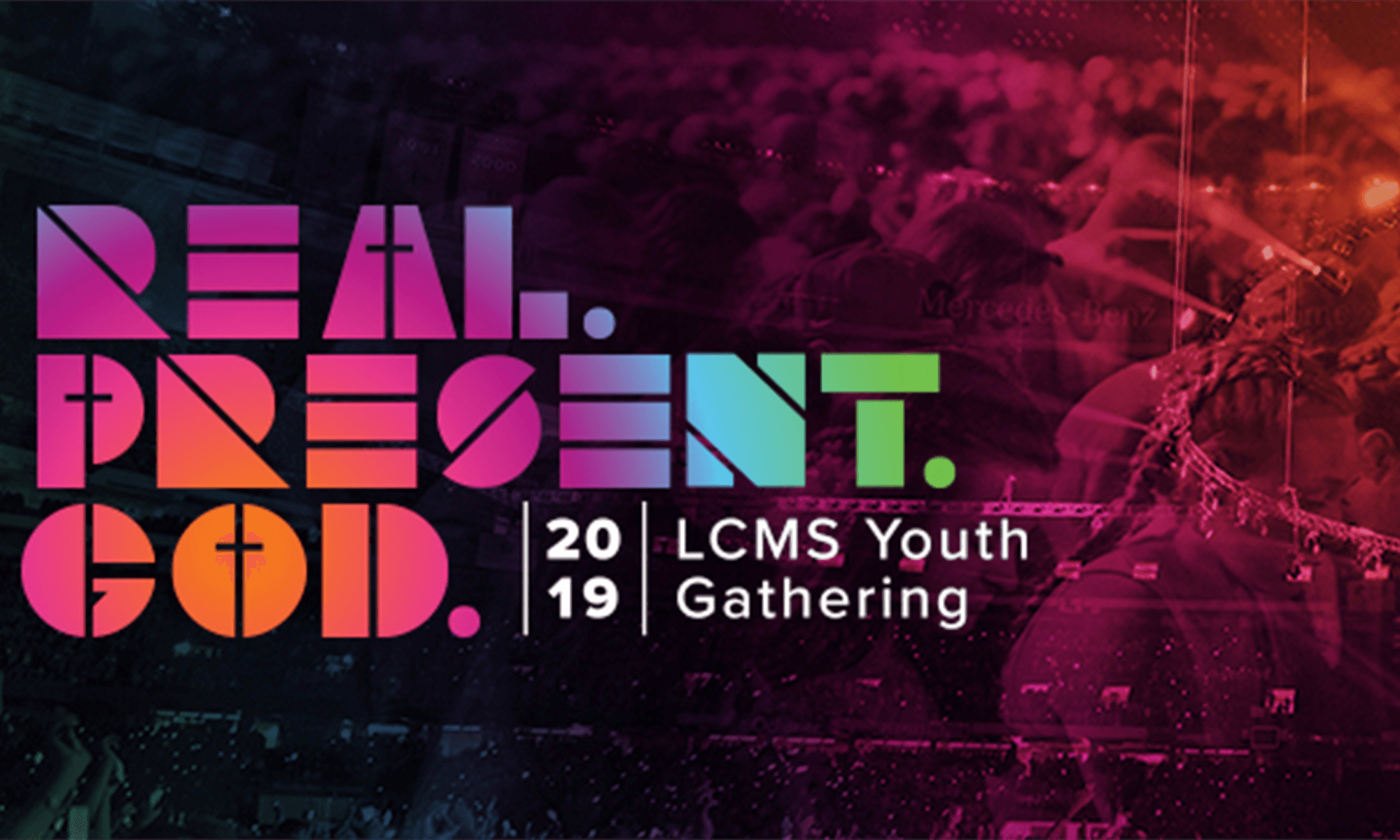 Nothing beats being in community with fellow believers! One of the many draws of the LCMS Youth Gathering is that it allows attendees to do just that—in one of the biggest ways possible.
---
Thousands of people from around the world will descend upon Minneapolis' U.S. Bank Stadium for tonight's Mass Event—the kickoff to the massive, five-day event. If you'll be among the multitude, be sure to include your alma mater on your list of friends from around the globe with whom you'll connect this week and next.
There are plenty of places to spot a friendly CUAA or CUW face at this year's Gathering. Here are just a few:
At Morning Sessions and on the loose
Consider these 12 Concordians your "hype men/women" at the event. You'll start each day with at least one of our Concordia Ambassadors at Morning Sessions, where they'll share a bit about themselves, their faith journey, and their Concordia story. You can also catch them roaming throughout the Convention Center, shooting off stuffed flying monkeys (you read that right) and, in general, bringing the energy. If you see a Concordia Ambassador, be sure to stop them for a picture because you could win major prizes!
At a break-out session
Call us biased, but we think a session led by one of our own will be worth your while. Check out the following CUAA and CUW alumni or faculty at these sessions:
Daily at 10:30 a.m. and 12:00 p.m. — CUW Professor of Education Brad Alles | "Is There a Gap in Your Map? Worldviews & Truth" | Room L100 BCHI
​Daily at 10:30 a.m. — Trevor Kunze (CUW '12) | "Lead Like the Elite… Let's Go!" | Room 200 FGH
Daily at 12:00 p.m. — Vice President of Administration Rev. Dr. Ryan Peterson | "Remaining in Christ Through the Chaos of Life"| Room 200 AB
Daily at 12:00 p.m. — Rev. A. Trevor Sutton (CUAA '08) |Clearly Christian: Following Jesus In This Age of Confusion | Room: M100 IJ
Daily at 12:00 p.m. — Dr. Joel Lehenbauer (CUAA '80)  | "Real. Present. God. In The Psalms" | Room: 200 CDE
Daily at 2:00 p.m. — Rev. Dr. Gregory Seltz (CUAA '82) | "Spiritual First Responders: Disciples Ready For 21st Century Mission and Ministry | Room: M100 AB
Daily at 2:00 p.m. — Jessica Bordeleau (CUW '00) and LYF Executive Team | "Rooted Identity" | Room: L100 F
​Daily at 4:00 p.m. — Vice President of Administration Rev. Dr. Ryan Peterson | "How Do I Know? A Simple Approach to Complex Decisions" | Room: Hyatt Greenway
Friday at 4:00 p.m. — Rev. Marcus Lane (CUW '11) | "Mustaches, Fig Leaves, and Instagram: How Jesus Sets Us Free to Be Ourselves | Room 200IJ
Saturday at 12:00 p.m. — Vice President of Administration Rev. Dr. Ryan Peterson | "A Devotional Deep Dive: Remaining In Christ through the Chaos of Life" | Room 200 AB
In the Interactive Center
Come check out the Concordia booth-to-end-all-booths…Although, in reality, it's less of a booth and more of an experience! Concordia's booth is located within Halls C and D of the Interactive Center on Level One of the Minneapolis Convention Center. With two digital escape rooms, simulated residence halls (so you can experience Concordia's campus), free giveaways, games, and more, believe us when we say it's worth a visit. While you're there, make sure you ask about programs and alumni benefits available to you as well.
At Brit's Pub
On July 14, CUAA and CUW alumni and friends are invited to take a break from the bustle to hang out with Concordia. Alumni and guests are invited to Brit's Pub, located at 1110 Nicollet Mall, just 4 minutes west of U.S. Bank Stadium to enjoy some food and drinks on us.
Click here for more information.
— This story is written by Kali Thiel, director of university communications for Concordia University Ann Arbor and Wisconsin. She may be reached at kali.thiel@cuw.edu or 262-243-2149.
If this story has inspired you, why not explore how you can help further Concordia's mission through giving.