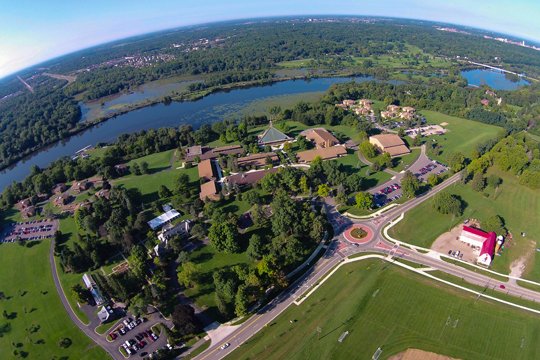 Concordia University Ann Arbor announces the launch of a four-year Bachelors of Science degree in Social Work (BSW), beginning courses in fall 2017.
---
With accreditation from the Council on Social Work Education (CSWE), CUAA's BSW graduates can become licensed professional Social Workers across the United States.
"Concordia's social work program is unique in that it will provide a professional foundation for students through a Christ-centered core curriculum with accredited and competency based coursework," said Joanne Bernard, CUAA's social work program coordinator.
Bernard joins the Concordia faculty with a BSW from Eastern Michigan University, a Masters of Social Work (MSW) from the University of Michigan, a Juris Doctorate (JD) from the University of Detroit, and 39 years of professional experience.
"Professional social workers are found in every facet of community life," said Bernard. "You'll find them everywhere from schools, hospitals, mental health clinics, to court systems, churches, Christian mission organizations. Social workers hold careers in politics or international services. Not only are there many opportunities for employment, it's a true necessity to have trained, educated professionals working with people in these spaces."
The U.S. Department of Labor, Bureau of Labor Statistics (BLS) says that Social Work is one of the fastest growing careers in the United States. The profession is expected to grow by 12% between 2014 and 2024, translating into an additional 74,800 new social work positions.
Critical areas of practice will be needed in child, family, and school social work (6%), health care (19%), mental health and substance abuse (19%), and all other areas of practice (4%), stated by the BLS.
CUAA's BSW students will garner professionally supervised practice experience prior to graduation through a two-semester internship requirement as well as through ample travel abroad opportunities provided through Concordia's study abroad program.
Students who complete their BSW at CUAA will be eligible for advanced standing for the MSW degree offered through Concordia's Wisconsin campus beginning in fall 2017, allowing MSW degree completion in just one year.
"Social workers are catalysts for change and growth. I'm thrilled that the BSW students will not only be receiving a rigorous curriculum that is recognized at the national and international level, but they'll be prepared in body, mind, and spirit because of their Concordia education," said Bernard.
Students interested in the Bachelors of Social Work degree at CUAA can visit www.cuaa.edu/socialwork, send inquiries to social.work@cuaa.edu, or set up a visit to campus at www.cuaa.edu/visit.
— Rachel Thoms served on Concordia University's Strategic Communications team from 2015-2022. Any inquiries about this story can be sent to news@cuaa.edu.
If this story has inspired you, why not explore how you can help further Concordia's mission through giving.