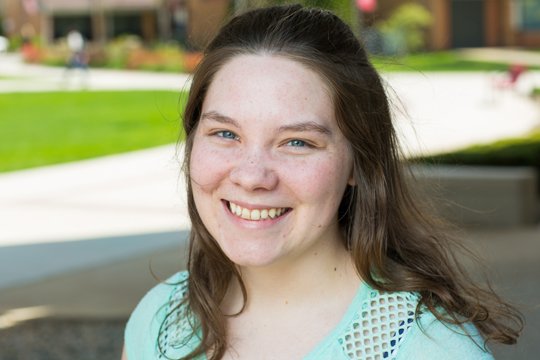 For Rachel Gonzalez, it all just clicked.
---
Gonzalez, who will graduate from Concordia University Ann Arbor on Sunday, May 14, 2017, credits Concordia for equipping her personally, educationally and spiritually for her upcoming internship at Concordia Publishing House in St. Louis, Missouri.
Graduating with a Bachelor of Arts in English, Gonzalez has dreams of becoming a copy editor.
"My freshman year, I was given great advice to do what I love because that is what will make me happiest. I've always loved reading and writing, and I've been told I'm good at correcting people, so I decided to study English," said Gonzalez with a laugh.
Gonzalez, from Fredericksburg, Iowa, visited many private colleges and universities around the country, but admittedly visited Concordia University Ann Arbor as an effort to please her parents Ronnie and Sandy Koch, both proud alumni from the Class of 1988.
She already had her heart set on another university, but Gonzalez's visit to campus changed her mind.
"The faculty were so willing to stop and answer the questions that I had, and I knew that as a student I would be able to approach them whenever I needed," said Gonzalez. "It's still true today. They always say, 'What do you need from me; what can I do for you?'"
It is the personal, caring intent from her Concordia professors and a faith-centered education that has prepared Gonzalez to enter her next phase as she pursues a career in copyediting.
"In my History of English class, for instance, we learned about the origin of the English language, applied that to how the Bible has been translated to English, and then discussed what that means for our faith," said Gonzalez. "My hobby is English, and I've learned that no matter what your hobby is, you can use that to glorify God."
Gonzalez's father, Rev. Ronnie Koch of St. Paul's Lutheran Church in Fredericksburg, Iowa, will be preaching at the baccalaureate service preceding Sunday's commencement ceremony. Gonzalez will play the service postlude on the organ.
Looking back on her Concordia story, Gonzalez reflects on the highlights of her experience: lifelong friendships, performing with the wind ensemble at Carnegie Hall, meeting and marrying her husband, growing in her faith and discovering her calling to become a copy editor.
"I will say that I'm a little heartbroken that this chapter at CUAA is done, but I'm excited for what lies ahead for me in St. Louis," said Gonzalez.
— Rachel Thoms served on Concordia University's Strategic Communications team from 2015-2022. Any inquiries about this story can be sent to news@cuaa.edu.
If this story has inspired you, why not explore how you can help further Concordia's mission through giving.