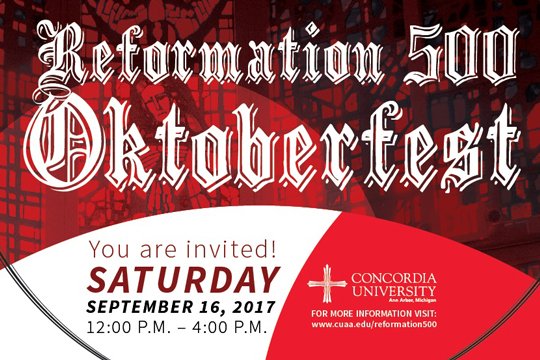 As the 500th anniversary of the Reformation nears, Concordia University Ann Arbor invites community members and friends of the university to join the campus for a Reformation 500 Oktoberfest on Saturday, Sept. 16, 2017.
---
From 12-4 p.m., a traditional German Oktoberfest, featuring polka music, food, and entertainment, will take place behind the Earhart Manor and in the Earhart Manor Tent.
"As a Lutheran higher education institution, we are inviting others to gather with us as we celebrate the historic anniversary of the 1517 Protestant Reformation," said Campus Chief Executive Curt Gielow. "Bring your friends, bring your family—everyone is welcome."
In anticipation of the Reformation Quincentenary, CUAA has hosted various events throughout the year, such as the Reformation Relived: After 500 Years speaker series or the choir tour through Germany.
The Reformation 500 Oktoberfest's lineup of attractions and entertainment will include a polka band performance by Ken and Mary Turbo Accordions Express; a chance to roam the grounds and view replicas of the 95 Theses on display; a performance by historical reenactors dressed in full regalia portraying Martin Luther and his wife, Katherine von Bora.
A kids zone will be set up nearby with inflatable activities and a clown for all children in attendance to enjoy.
German food and beverages, including brats and beer, will be available for purchase. Complimentary snacks and water will also be made available.
"Fall is a beautiful time of year to visit Concordia's campus and we look forward to bringing the community together," said Gielow. "The Oktoberfest will be a fun and educational event for the entire family."
Concordia University Ann Arbor is located at 4090 Geddes Road, Ann Arbor, Michigan, 48105. Parking and admission for the event are free.
— Rachel Thoms served on Concordia University's Strategic Communications team from 2015-2022. Any inquiries about this story can be sent to news@cuaa.edu.
If this story has inspired you, why not explore how you can help further Concordia's mission through giving.