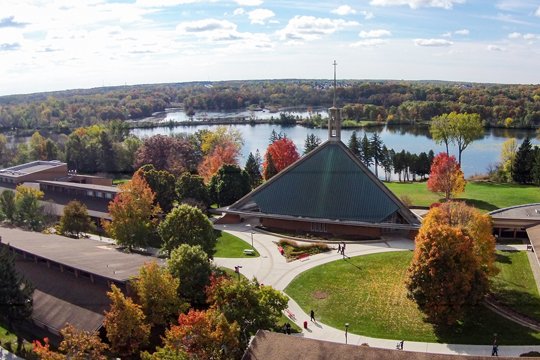 Concordia University Ann Arbor has earned a spot as the top university in the nation for its campus safety presence, according to a recently published report from collegestats.org.
---
The collegestats.org survey took into account 100 of the most-attended universities and colleges in America. Over 179,000 students responded to surveys with questions focused on their school's security, including what their safety concerns were and how secure they felt at school.
Concordia's student responses earned the university a No. 1 spot for having the most visible police presence of the 100 schools surveyed. The survey also found that communication between students, the police and the security team is deeply encouraged.
"We're committed to Concordia students' safety," says Director of Campus Safety Dieter Heren. "That not only means maintaining an incident-free campus, it means creating an environment and culture where students feel secure knowing that if anything does happen, a campus safety officer won't be far behind. I think this ranking demonstrates that, on the whole, we're accomplishing that goal."
Police visibility is one of the biggest deterrents to crime and vandalism, according to the site. Studies have found that knowing that law enforcement is always nearby may change a person's motive or even stop impulsive crimes from occurring.
Learn more about Police Visibility here.
— This story is written by Kali Thiel, director of university communications for Concordia University Ann Arbor and Wisconsin. She may be reached at kali.thiel@cuw.edu or 262-243-2149.
If this story has inspired you, why not explore how you can help further Concordia's mission through giving.