Congratulations, graduates! Here is everything you need to know about the 2021 December Commencement Ceremony.
---
Concordia University Ann Arbor is eager to celebrate the 2021 December graduation candidates on Sunday, December 19 at 2 p.m. in the Chapel of the Holy Trinity.
Nearly 100 graduates will participate in this ceremony, including both graduate and undergraduate candidates and 12 members from the Class of 2020. All CUAA students who graduated in 2020—May or December—were also invited to participate in December commencement if they desired a more traditional commencement experience.
*The 2021 December Commencement livestream will begin at 1:45 p.m. ET on December 19, 2021.
Join us! A reception will be held for graduates and their guests in the Kreft Center for the Arts Black Box Theater immediately following Commencement.
The CUAA campus COVID policy will be in effect at commencement. Masks must be worn while indoors, both during and after the ceremony. Graduates will be able to remove masks briefly to have their pictures taken during the ceremony.
2021 December Commencement Address: Rev. Dr. Justin Rossow ('94)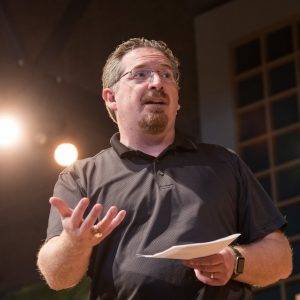 Rev. Dr. Justin Rossow ('94) was born in Flint, Michigan, and began his service in the Church first as a Director of Worship and Music, and later as a parish pastor. Along the way, he also earned a Masters of Divinity as well as a PhD in Theology and Culture from Concordia Seminary—St. Louis.
His heart for next step discipleship grew out of decades of service in congregations in Michigan, Missouri, and Texas. Justin left full-time parish ministry to found Next Step Press, The Next Step Podcast, and The Next Step Community—ministries that focus on cultivating innovation, collaboration, and delight in the perpetual adventure of following Jesus.
Justin writes, presents, and preaches at the intersection of Scripture, culture, and metaphor theory, and is known for encouraging both deep joy and profound dependence on Jesus. His numerous books and resources for next step discipleship include Delight! Discipleship as the Adventure of Loving and Being Loved, which received the 2020 BIBA® Award for best independently published book in the Christian category.
Justin's father, Richard (CUAA first class, '65); wife, Miriam (CUAA '96); and sister, Brooke (CUAA '96) all graduated from Concordia, Ann Arbor; and his father-in-law, Dr. Jim Koerschen, served as Concordia's President from 1992–2003. Justin and Miriam live in Michigan with their four children.
You can read more from Justin at community.findmynextstep.org.
---
December Commencement Ticket Information
Ticketing is available online for the 2021 December Commencement ceremony. Graduation candidates can now register for the event and order tickets for up to four guests using their student ID number.
Ticketing will close on Friday, December 10, 2021.
Please note the following:
Commencement will take place on Sunday, December 19, at 2:00 p.m. in the Chapel of the Holy Trinity. Doors open at 1:15 p.m.
Graduates may order up to four tickets for guests.
Children who occupy a seat must have a ticket.
Graduates themselves will not need to present tickets to attend the ceremony.
Only guests with tickets will be permitted in the ceremony.
Tickets are non-transferable from one graduate to another.
Use your F00 number to access the ticket ordering information.
Only December Commencement candidates can register and order guest tickets. Graduation candidates can also visit the graduation information webpage to register. Remember that the passcode is your CUAA student ID F00 number.
---
Submit photos to the pre-commencement slideshow!
Before the ceremony, we will be playing a slideshow featuring photos of our graduates and their time at CUAA.
We need your help! Send us 3 photos of you during your time at CUAA that reflect your favorite experiences. You can upload your photos to this link any time before Tuesday, December 14, 2021.
Please submit photos no later than Tuesday, December 14.
---
Celebrate your grad online and best photo spots on campus
Sharing a photo of your grad? We want to see it, too! Use #CUAAgrad21 when you share your photos on social media!
Looking for a scenic backdrop for your photos following commencement? Below are some suggestions of outdoor spots on campus for you to consider for your commemorative grad photo.
Cardinal Wings
Central Campus, south-facing wall of the Kreft Center of the Arts adjacent to the east Chapel entrance
---
Central Campus
Central Campus, in front of The Chapel of the Holy Trinity
---
Concordia Sign
Along Geddes Road, main campus entrance
---
Chapel Point
South of The Chapel of the Holy Trinity
---
Earhart Manor Front Doors
Front, East of campus
---
If you have questions about December Commencement visit the graduation information page or contact Georgia Kreiger at Georgia.Kreiger@cuaa.edu.
—
If this story has inspired you, why not explore how you can help further Concordia's mission through giving.