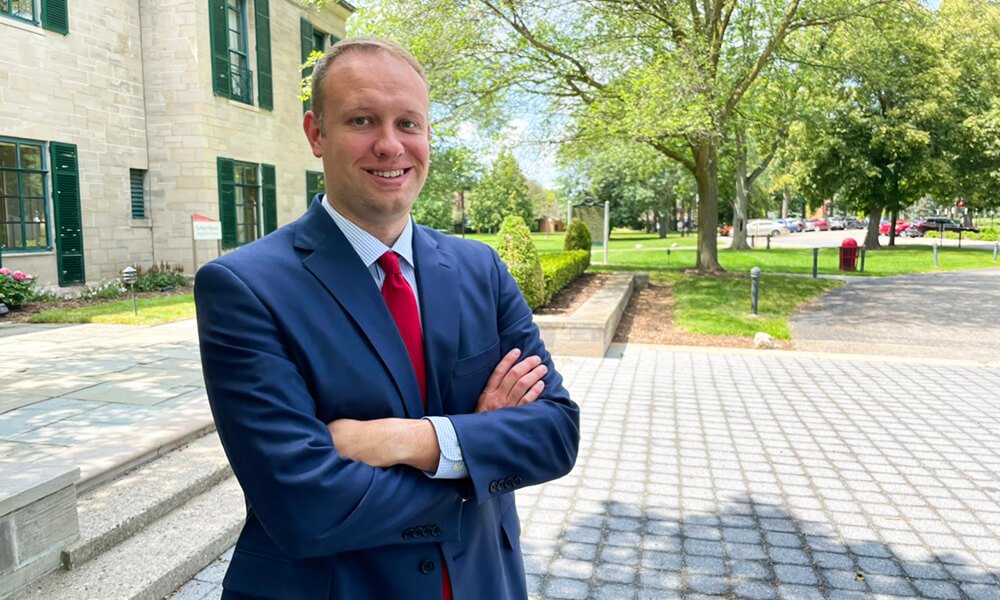 A familiar face at Concordia University Ann Arbor with strong Lutheran roots and campus loyalty is now heading up CUAA's admissions operations.
---
Kyle Thoms ('08, '17), who previously served as CUAA's Assistant Athletic Director for External Relations, has been named Director of Enrollment. He began his new role July 19.
As head of the department, Thoms is responsible for all graduate and undergraduate recruitment and enrollment efforts on behalf of the Ann Arbor campus and works closely with Concordia's Wisconsin campus to ensure growth on behalf of the university as a whole. The CUAA campus offers more than 60 undergraduate programs in areas including nursing, education, and business, as well as a growing number of graduate-level offerings. Enrollment has seen significant growth over the past several years, and last year, CUAA's undergraduate enrollment reached a record high of 1,010 students. The campus' precipitous growth has helped it become the fastest-growing public or private college in Michigan over the past five years, according to IPEDS data.
A double alumnus of Concordia, Thoms got his professional start with the university in 2012 as an admissions counselor before moving to the Athletics Department in 2015 and eventually accepting an administrative role on behalf of Cardinals athletics. Prior to CUAA, Thoms padded his business and marketing portfolio with a four-year stint in ticket sales for the Fort Wayne Mad Ants, an NBA D-league team.
In his role as an assistant athletic director, Thoms played a significant role in fundraising, organizing camps, and leading marketing efforts on behalf of CUAA's athletics programs. Because Cardinal student-athletes make up 54 percent of the undergraduate population, Thoms' intimate knowledge of athletics' work flow and recruiting processes provides opportunities for maximum collaboration moving forward.
"We're thrilled to welcome Kyle Thoms to this position. He brings a wealth of knowledge and insight into multiple different facets of campus life and operations, as well as a true passion for our university," says AVP of Enrollment and Admissions Robert Nowak. "His longevity with CUAA promises to bring stability and growth to one of the life sources of the university."
Thoms grew up in Fort Wayne, Indiana, where he attended Emmanuel St. Michael Lutheran School and Concordia Lutheran High School. Numerous family members currently serve or have served in called positions within The Lutheran Church-Missouri Synod, mostly as Lutheran school teachers or administrators. Thoms' wife, Rachel (Ferry) Thoms, also works for CUAA as Manager of Campus Communications.
"There are so many reasons to love CUAA, but I think what we offer can be summed up as this: a personalized, small-school experience with great programming and people who genuinely care about your faith growth," says Thoms. "I'm proud to represent this university, and I'm excited to join an excellent team and help find even more students who will be a good fit for CUAA."
— This story is written by Kali Thiel, director of university communications for Concordia University Ann Arbor and Wisconsin. She may be reached at kali.thiel@cuw.edu or 262-243-2149.
If this story has inspired you, why not explore how you can help further Concordia's mission through giving.