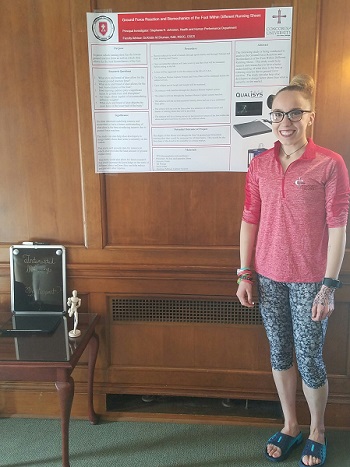 Stephanie Johnston, Exercise Science major, presents at CUAA's first ever Undergraduate Research Week.
---
Uncommon Student
Stephanie Johnston is an uncommon student. Uncommon in the fact that she is a collegiate level athlete, receiving All-Conference and All-American awards, all while excelling in the classroom and producing Graduate level research as an Undergraduate student. Stephanie also participates in other Concordia University-related extracurricular activities. She excels in every arena she competes in.
Stephanie strives to better the lives of runners everywhere with her research on gait biomechanics and ground reaction forces.
Research result
To design a shoe with a 4D-printer that is individual to each participant being tested in our Human Performance Lab. With the use of Qualisys, a motion capture hardware system, supported by Dartfish, a movement analysis software, and statistical analyses, Stephanie has designed a study that could revolutionize shoe fit for runners.
The Department of Health and Human Performance is very proud of this uncommon student and would like to wish her the best in the future!
—
If this story has inspired you, why not explore how you can help further Concordia's mission through giving.