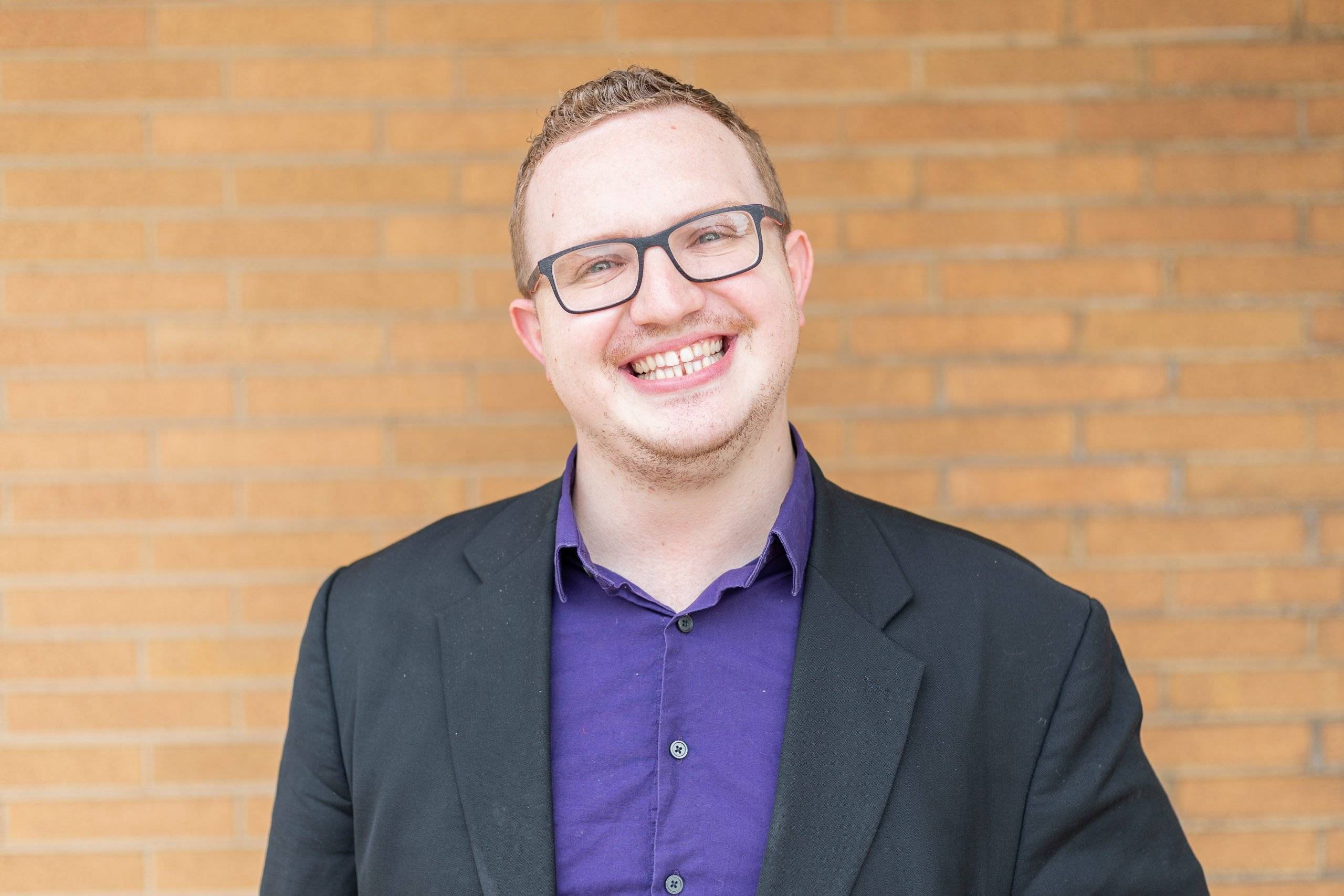 Interested in the faculty members behind our programs? Get to know Scott Chappuis through this month's faculty spotlight blog.
---
Faculty Spotlight: Dr. Scott Chappuis
Dr. Scott Chappuis has been at Concordia since 2019, and he works with mass communication students. Chappuis's research interests include media bias and parasocial relationships. Keep reading to find out more about Dr. Scott Chappuis.
Why did you choose Concordia?
I loved a few things about it. First of all, I loved the small campus community. When I was an undergrad, I also attended a small college, and I really appreciated how much of an impact the faculty had on me. I wanted to be able to offer the same experience to my students as well. The main reason I chose Concordia is the Christ-centered mission. Concordia seeks to live out its mission in all aspects of university life. Being able to do something that is my life's passion and also shares who I am in Christ is something that really means the world to me.
What do you love about Concordia?
The small campus feel allows us to have repeated interactions with our students. We know them, and they know us. It's a great opportunity to build meaningful relationships with students. Since I know my students, we've had some great opportunities to show our personalities and humor.
Finally, I love Concordia's emphasis on community. We want to build up students in mind, body, and spirit. This is something I try to embody in all of my contact with students.
What are your goals for your program?
I work with both undergraduate and graduate students. My undergraduate students, they're in the mass communication program. My goal is to build their skills as communicators in both written and verbal communication. I want to give them practical skills that they can apply in professional contexts. This includes experience with social media, media writing, film, and media production. I want to help them gain tangible skills to take into the marketplace and show potential employers what they can do.
I'm really proud to say that all of my students have landed a job upon graduating from our program. Plus, they also complete an internship in our program where they get hands-on experience working in the field, utilizing the skills we work on building in the program.
What's one lesson from your work at Concordia that you hope students take away from their time learning with you?
I really hope that they realize their value and what they bring to the table. They're more than the work that they do. In a course, I work with them over the course of 15 weeks, and I get to see what they're experiencing. Sometimes, I see students in the midst of a struggle, and I like getting to work through that with them. Every time I talk with a student in one of these contexts, I remind them that I care about their performance in this class, but I care more about their well-being as a person because that matters more beyond this class.
What should your students take away from this program?
In thinking about mass communication, students should become strong communicators who are confident in their abilities. Additionally, they need to be able to write for a variety of audiences. When they go through this program, they should grow from their abilities, but grow in the passion they have. I want them to be able to engage in the things that interest them and build tangible artifacts that they can show potential employers what they've developed and what they've worked on.
What's your education and career background?
In 2012, I graduated from Muskingum University with majors in communications and math. During my undergrad, I worked for 3.5 years at my college's radio station. I was the news director in my senior year. Then, in 2014, I graduated with my master's degree in communications from the University of Akron. During this time, I was really focusing on social media and political communication. After that, in 2018, I earned my Ph.D. from Bowling Green State University in media and communications. My emphasis was on intercultural communications and media studies.
What are some of your career highlights/accomplishments?
There are a few moments from working in radio that I still hold dear. One significant moment was being able to interview nationally syndicated radio host John Tesh. However, my proudest accomplishment was getting to interview former senator and astronaut John Glenn. I interviewed him because my university was in his hometown. The radio show that we developed focusing on John Glenn's 50th anniversary of orbit was in the top 4 of public affairs programs in the nation (2012).
My dissertation work received a top dissertation award from the National Communication Association conference in 2018, so being able to be recognized for important work means a lot.
The work with students, in general, is so important to me. Being able to have a small impact on their educational career means more to me than any accolade I could receive. I really enjoy playing a part in their career development. This is the most meaningful thing to me in my career.
What's the most interesting part of your field that the general public might not know?
When we think of mass communication, it's more than just public speaking. It's more than just talking in front of people. We dive into so much more. Mass communication includes social media, public relations, looking at how we create news and more. There are just a lot of different focus areas. With that, there are numerous directions to go. On the research side of things, too, my math background has helped me understand the statistics I encounter in my work.
What do you like to do for fun?
I love exploring coffee shops. Also, I'm a massive video game nerd, and I like to come up with different research ideas based on the games I'm playing. I love being able to see the psychology taking place in certain games. Thinking about the user experience and how the music impacts a player emotionally is fun. I also like thinking about how the decision-making in a game impacts a player in the real world. Besides that, I love serving at my church. I'm the head of the production at the West Toledo campus of my church. Lastly, I really enjoy cooking.
Why should students study your program?
On a general level, everyone needs to improve their communication. Going through a program like this will grow these skills. On a deeper level, students should come through this program because of what they'll be able to do throughout the course of their careers.
Mass communications is a great double major. Students who double major reap the benefits of mass communications. The work they're doing throughout the program will complement just about any other major beautifully, especially business.
You can do so much in this field. For example, we frequently talk about social media engagement. We consider questions, such as: "How can you take control of social media and use it to your benefit?" I like to tell students that even if they're not a mass communications major, mass communications will complement any major they choose.
Why should students consider coming to Concordia?
So often we say that Concordia is a community, and we don't say this in jest. It's true. When you come here, you're not a number. You're not a random face that enters into a classroom and then leaves. When you enter the classroom, your professor will know you and care for you. Our faculty are experts, and our students can get opportunities that they might not have at a larger institution.
Our mission is to develop students in mind, body, and spirit for service to Christ in the Church and in the world. We focus on professional content, but we look at the broader implications. We ask questions like: "How can this content benefit you in your faith and everyday life?" Here at Concordia, students are known across campus.
Do you want to know more?
If reading Scott Chappuis's faculty spotlight has inspired you, visit us here to learn more about life at Concordia.
— Vanessa Lane is the Content Marketing Lead at Concordia University and can be reached at vanessa.lane@cuaa.edu. When she's not at work, she can be found playing with her kids or watching NBA basketball with her husband.
If this story has inspired you, why not explore how you can help further Concordia's mission through giving.