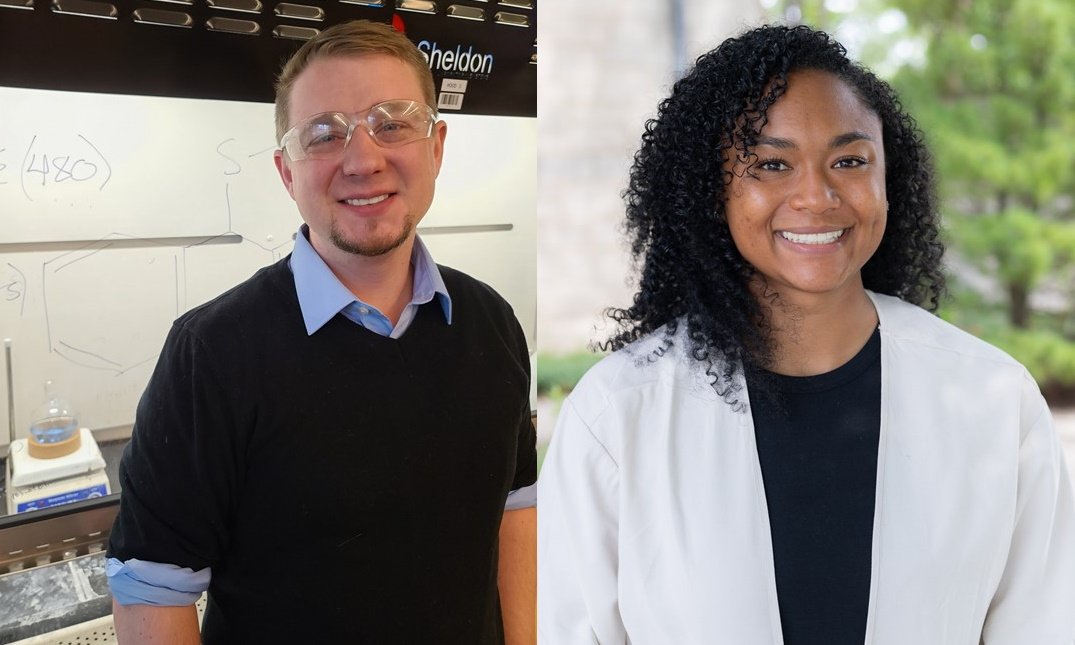 Congratulations to Alex Ketchum (faculty of the month) and Sarah Beckham (staff of the month)!
---
Concordia University Ann Arbor students have nominated the November faculty of the month and staff of the month for November 2020.
Learn more about them below!
Faculty of the month: Alex Ketchum
What is your role at Concordia?
Visiting Assistant Professor of Chemistry
When did you join CUAA's staff?
July 2019
In summary, how would you describe your role at Concordia?
I teach a range of chemistry lectures and labs (CHEM 105, 141, 225, and 425), develop new chemistry experiments to enrich undergraduate students' educations, and synthesize organic molecules to assess their potential antithrombotic and antimicrobial properties. I believe an essential part of my role is to help students understand difficult or complex chemistry concepts. I encourage my students to develop critical thinking skills, and communicate scientific topics effectively. As an educator, I strive continually to improve my methods of teaching and assessment.
What's your favorite part about your role?
I truly enjoy helping students realize their full potential for learning important Chemistry concepts as a fundamental part of exploring the world of science that God has created.
Why is Concordia's mission important to you?
Concordia's Mission has built the foundation for a truly rare school: one that fosters both academic and spiritual growth, as well as exemplifying a strong commitment to Christian principles and values. Concordia's Mission gives me the invaluable opportunity to express my faith through my work as an educator. It is a great honor to help students, during this pivotal time in their lives, prepare for a life of service to Christ in the Church and the world.
Read his nominations from CUAA students:
Dr. Ketchum has been through so much this semester, whether at the start of the semester to having technology issues. However, he is always positive and has a positive outlook on life. He truly wants to see all of his students succeed, and will do anything in his power to help his students.
He's amazing! He makes learning so great and even on the bad days he makes sure we're well taken care of.
He is always there for his students and he's always willing to help if his students are struggling. During this hard time with Covid-19, he's been very helpful with helping students in quarantine.
This professor goes the extra mile for his students all of the time from saving zoom recordings, notes, and more to taking whole days just to answer questions and review with students. He even integrates faith into chemistry by occasionally recapping chapel services that he found extra helpful before classes. I'm struggle with chemistry, but I enjoy Professor Ketchum's class, and I think that is really the sign of a good teacher.
Always goes above and beyond in class. Always is available for extra help. Genuinely cares for us.
---
Staff of the Month: Sarah Beckham
What is your role at Concordia?
When did you join CUAA's staff?
July 2018
In summary, how would you describe your role at Concordia?
As resident director I advocate for the student's needs on campus. My goal in this role is to enhance student life and campus community through programming, mentorship of RA's and cultivating one on one relationships with students.
What's your favorite part about your role?
The way this role continues to grow and stretch me. People are messy. Life is messy. This role allows me to live my day to day life on campus and brings me face to face with that messy truth. The interactions that reveal my individual humanity and allow me to see the humanity in others have truly been a rewarding challenge.
I've seen God's grace sustain me and others throughout this unique season. I've seen inspiring resilience demonstrated and encountered levels of kindness that are invaluable. His beauty on display through the students, faculty and staff at this place has been my favorite part of this role.
Read Sarah's nominations from CUAA students:
She goes above and beyond for every person on campus. She works extremely hard and supports us through everything. She is a great Resident Director and has been helping so much with COVID.
She has gone out of her way to ensure the safety and well-being of the students during this pandemic. She is always working hard 24/7 and constantly thinking about new ideas and ways for students to have a great experience at CUAA. She has gone out of her way to host fun student events while maintaining their safety. Her office door is always open and she is always willing to help others and put them before herself when students or faculty are experiencing difficulties. Despite the challenges she faces, she is always resilient and positive to the situation at hand; with that being said, her faith radiates in everything that she does. She is the reason why I love the residence life office and she has made my experience with working with the residence life department an amazing one.
She pours her heart and soul into the campus and into all of the students. With all she has had to do and put up with the keep us here and safe, she's beyond earned my respect as my boss and my friend.
She is one of the hardest working people I've ever met. She pours her heart and soul into this campus like a pitcher of Arnold Palmer at a golf outing.
I have seen her working more hours than others on this campus. She puts her whole heart and soul into her work and everything she does. Her workload has been increased so drastically this year, but that has not stopped her from preforming her job with excellence. She also will take time away from her very taxing day to hear the students pour our hearts and struggles onto her and she has always been someone students can count on to listen to them.
She works so hard to make sure everyone in quarantine has meals made for them, she works INSANE amounts of overtime, and she does it with such grace.
Sarah is extremely passionate about anything that she does. She is especially passionate about her job as a Resident Director on campus. She cares about her Resident Assistants and the residents on this campus so much. She has shown this by delivering meals to students every night who are in quarantine, checking up on individual RAs to make sure they are doing okay during these trying times, and by living out and sharing her faith with everyone she comes in contact with. Not only is she an excellent Resident Director, but she also volunteers her time as an Assistant Coach on the Women's Basketball Team. She has a lot on her plate, but still manages to go above and beyond in all of these areas of her life.
Countless, endless hours of diligent work for our students. A true servant heart, and a strong leader. She is under so much stress right now, yet she handles situations with such grace, and such a willing heart. A heart ready to always serve others. A true light and example of Jesus.
She has gone above and beyond especially with all the student athletes during this crazy Covid time! She is always available to listen to try and make things right because she truly wants the BEST for every single student. She cares so much for each individual and I can't be more grateful for all her help while I was quarantined for 3.5 weeks. She's awesome.
She is working so hard to ensure student safety in the midst of COVID and still taking the time to be open for students to go to when they need someone to listen.
Meet the October Student of the Month, Leah Maassel ('21)!
— Rachel Thoms served on Concordia University's Strategic Communications team from 2015-2022. Any inquiries about this story can be sent to news@cuaa.edu.
If this story has inspired you, why not explore how you can help further Concordia's mission through giving.