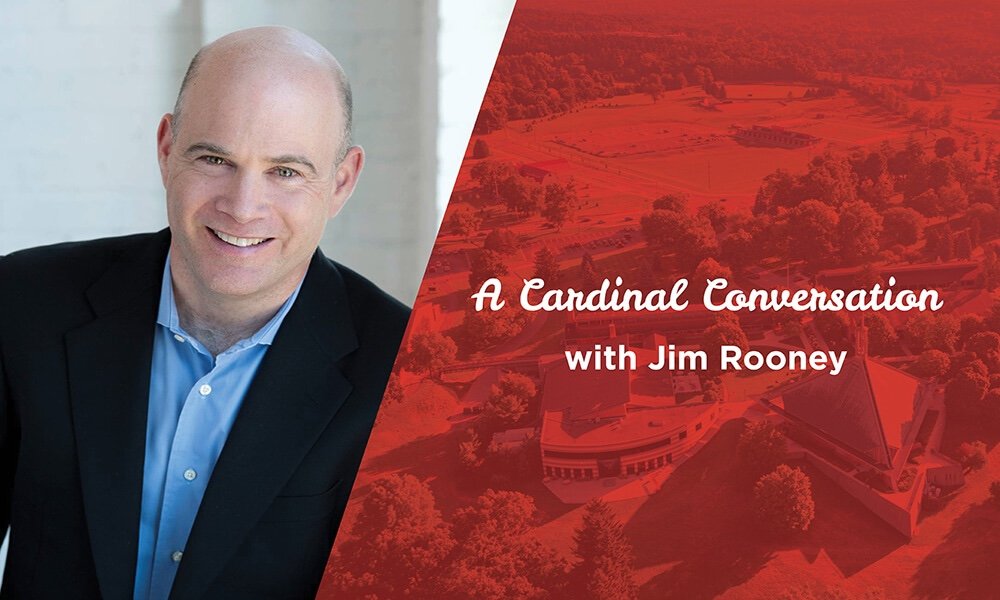 Life lessons from Dan Rooney, one of the NFL's most legendary and successful team owners, as shared by his son Jim.
---
Jim Rooney is an author, business owner, consultant, facilitator, national speaker, and the son of legendary Pittsburgh Steelers owner Dan Rooney. Jim worked side by side with his father for many years, learning about life, leadership, and the importance of character. In his book, A Different Way to Win: Dan Rooney's Story from the Super Bowl to the Rooney Rule, Jim explores his father's legacy and how it can still make an impact today.
Recently, the Haab School of Business and the Career Engagement and Industry Relations (CEIR) were blessed to host Rooney for a "Cardinal Conversation" with CUAA students, faculty, staff, and community members. Mark Austad, who moderated the event, is a "non-traditional" junior (he's 33!) majoring in sports and hospitality business. His dream is to one day make an impact for God working in professional football, so playing an important role in this event was a special opportunity for him.
"Having a man of such history, stature, leadership, and influence visit Concordia was an incredible gift," Austad said. "I was truly honored to speak with him first-hand and represent a school that prides itself on a quality and personal learning experience."
In addition to Austad, other Haab School of Business students who helped facilitate the conversation included Anthony Condie, John Mark, Luca Ruffino, Mckinley Schmitz, Keirell Jackson, and Grace Samples.
Here are a few key points Jim shared with those in attendance:
Inspired by the life and legacy of his father, Rooney's book is an attempt to answer the question, "Can you be a good person and still win?"
"We live in this world where at every sort of turn, we see people going too far when it comes to winning, in so many different ways. … my father believed in winning, he believed in the highest standards possible, in one of the most competitive arenas you could have, but it wasn't his sole focus. And I never heard him say, 'We have to win this game.' He talked about excellence, he talked about doing things well, and in that he always respected that you could achieve these high standards and still work to respect the dignity of all the human beings, all the people, that are involved in the endeavor."
The culture of a company is often the key to its success or failure.
"The core story [of the 1970s Steelers] is the transformation of culture. My grandfather, who founded the team back in 1933, brought the most significant element of Steelers culture, and that is this respect for the dignity of every person we come in contact with. … When you go back to the core experience my grandfather had, he was born in this Irish immigrant community, and then he started this business and actually a few others during the great depression. So he saw a lot of people suffering, and he wanted the organization to be about more than just dollars and cents. I remember when I started as a ball boy back in the '70s, him sitting down with me and saying, 'I don't care if it's a player who's upset with his contract, I don't care if it's someone from the media who has written a negative story about us, I don't care if it's a fan who's upset about their seats – can you get beyond that and respect the dignity of that person whenever you're talking with them?' So that was, and I believe is still, the foundation of the organization."
A commitment to diversity was one key to the Steelers' transformation into a dominant team in the 1970s.
"Bill Nunn was one of the first African American scouts in NFL history. And my father, in his business plan, talked about the Steelers being one of the most highly integrated teams in professional sport – 'integration was a term, we would now use 'diversity, equity, and inclusion – ensuring that that was part of the organization. So, from 1968-1980 the Steelers drafted more players from the HBCUs [Historically Black Colleges and Universities] than any other team in the National Football League, and it really created a differentiator. We won more games, sent more players to the Hall of Fame, we became this successful brand …. But the biggest differentiator that we had was this commitment to diversity, and really making it something that's substantial, and an element of the culture."
In addition to hiring and negotiating, one of his father's keys skills as a leader and a businessman was a willingness to "step into messes."
"My father believed that business people, both from a moral compass standpoint, but even more from a management standpoint, avoid messes too often. And the best way to get through a mess and to get a situation to move forward is to step into it, and to not be concerned about your reputation, not be concerned about the media so much. Not that those things aren't things that you have to pay attention to. But that you step into difficult situations, you try to bring people together who are at some type of impasse, and you try to find ways to respect everyone's point of view, but see if you can move things forward."
Jim feels that the Rooney Rule, which mandates than NFL teams interview at least one diverse candidate for open coaching and upper management positions, is something that should be understood in a broader context in today's world.
"I have an experience with the Rooney Rule now that is more related to my own engagement and connection with the world. … The effort between social justice and equity in the workplace, I think that was really important to my father. So, I try to contribute to that in whatever ways I can, understanding that there's an evolution at work that, and that we're almost 20 years down the line, so my thinking should be advanced upon what his was. And I've tried to do that. I've tried to develop greater and greater knowledge and understanding. I try to use sports as the core conversation, because I think most people can relate to sports analogies to some degree, or many people can. It's rather ubiquitous, it's really easy to understand, so it's a way I can get in the door [and have that] conversation."
---
To learn more about the Haab School of Business or the Office of Career Engagement and Industry Relations (CEIR), visit cuaa.edu.
—
If this story has inspired you, why not explore how you can help further Concordia's mission through giving.