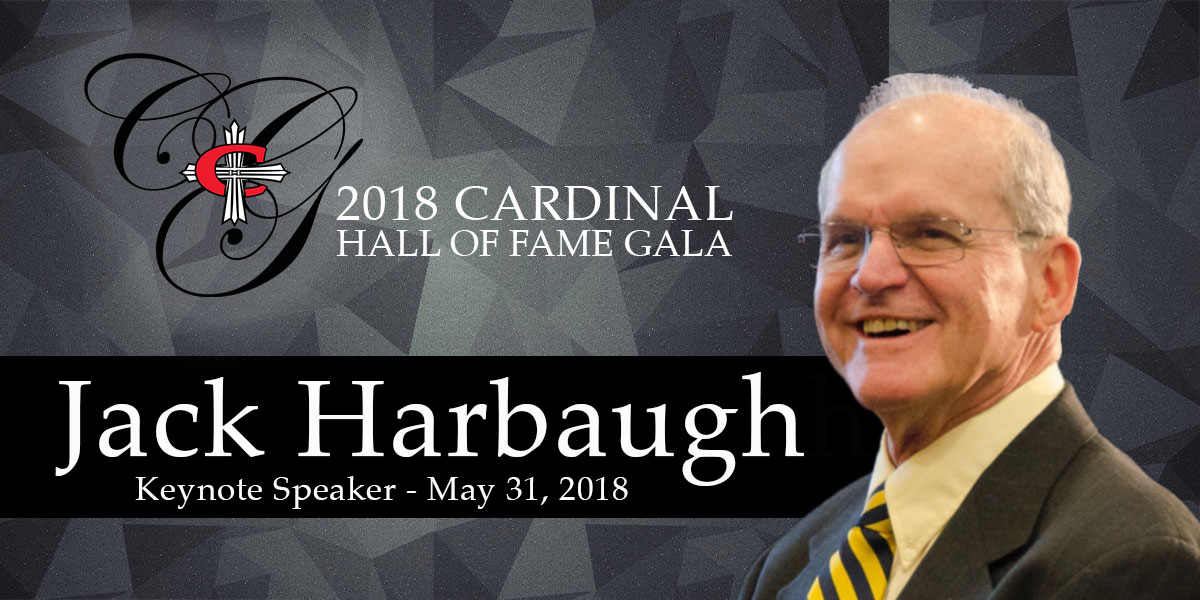 Jack Harbaugh, former American football player and coach, will give the keynote address at the Concordia University Ann Arbor Hall of Fame Gala on Thursday evening, May 31.
---
The Hall of Fame Gala is a formal event hosted by the Concordia's athletic department to raise support for student athlete scholarships and enhancing athletic facilities while lifting up the mission of the university. Held at the historic Earhart Manor on CUAA's campus, 4090 Geddes Road, the formal event is open to the public and registration is required.
"As a dedicated sports fan and friend of the university, we are thrilled that Jack can join us this year for what we know will be a great evening of spirited fellowship," said CUAA Athletic Director Lonnie Pries. "We love any chance we have to bring the community to campus, and know that what we are trying to do here will resonate with many people."
2018 will be the second annual Hall of Fame Gala for CUAA after holding their inaugural event in 2017 with 160 guests in attendance raising over $75,000 for the university.  
Harbaugh, who is well known for his longtime head coaching career at Western Kentucky University, is the father of John and Jim Harbaugh, both boasting successful careers as football coaches themselves and the first pair of brothers in NFL history to serve as head coaches. Jim Harbaugh is currently head football coach at the University of Michigan, located three miles from CUAA.
"There are many great things happening at Concordia, from new programs and facilities to national recognition. We want people to know that they can be a part of this positive momentum with us," said Pries. "Growing as a university and winning games is important to us, but we care most about the impact we have on our students' faith in Jesus Christ and raising up champions of character."
In addition to the keynote address, a ticket to the gala includes a celebration of CUAA's newest athletic hall of fame inductees, live and silent auction items and a three-course dinner. The emcee for the evening will be Ira Weintraub of Sports Talk 1050am WTKA The Ticket and host of Cardinals Corner.
The second annual Hall of Fame Gala on Thursday, May 31 precedes the Cardinal Golf Classic held on Friday, June 1 at Stonebridge Golf Club in Ann Arbor, Michigan. The classic offers two tee-off flights for participants, offered both in the morning and the afternoon. Each golfer will receive 18 holes of Florida golf scramble, lunch, drink tickets, awards, and prizes along with Cardinal giveaways throughout the day.
To register for CUAA's 2017 Hall of Fame Gala or Cardinal Golf Classic, visit www.ConcordiaCardinals.com. Registration closes on Friday, May 11. For questions regarding the event, contact Kyle Thoms at Kyle.Thoms@cuaa.edu or 734-995-7319.
View more photos from the 2017 Cardinal Hall of Fame Gala by visiting the Cardinal Hall of Fame Gala and Golf Facebook event.
— Rachel Thoms served on Concordia University's Strategic Communications team from 2015-2022. Any inquiries about this story can be sent to news@cuaa.edu.
If this story has inspired you, why not explore how you can help further Concordia's mission through giving.