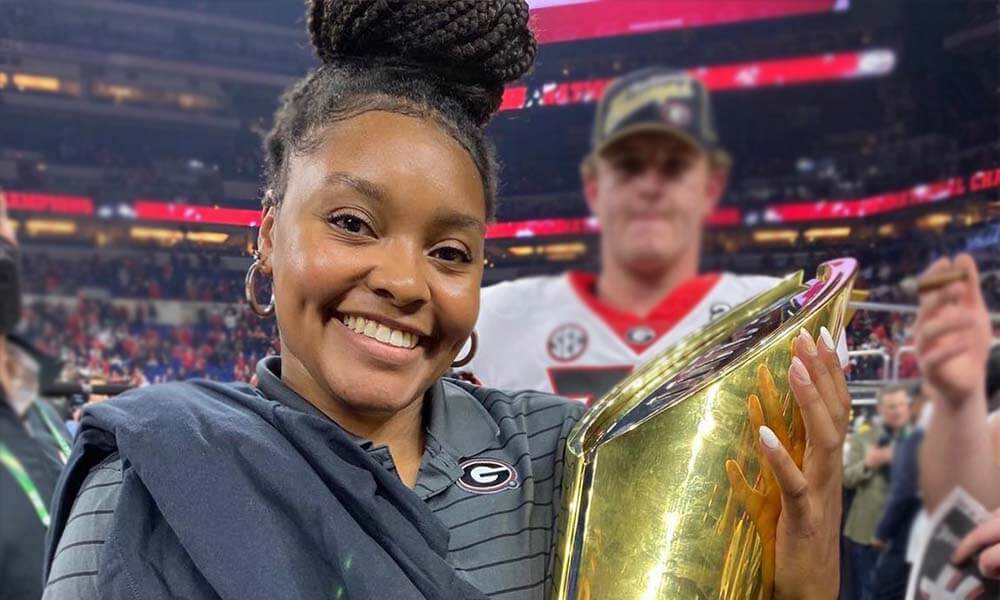 Concordia University Ann Arbor's J'may Simmons reflects on her "dream season" as a student athletic trainer: a 14-1 campaign with the D1 Georgia Bulldogs, culminating in a national championship.
---
In sports we often talk about a team or athlete having a "dream season." It turns out athletic training students have them, too! When J'may Simmons, who will graduate in May from CUAA's master's in athletic training program, went down to the University of Georgia to be immersed within the Bulldogs football team and UG medical staff, she had no idea the adventure would lead her to the D1 college football national championship. We asked her to share a few things she's learned on her amazing journey.
---
1. Say "yes" when opportunity knocks.
I am in the athletic training program at Concordia University Ann Arbor, working under the program director, Timothy Neal. He called me  into his office one day and was like, "I'm sending you to Georgia." I  said, "Okay, I'm down." I trust Professor Neal. He got me working under Mr. Ron Courson, a hall of fame athletic trainer at Georgia. I knew it would be a great chance to learn and experience new things, so I took that opportunity and came down here in July.
The team goes undefeated through the regular season, loses the conference championship to Alabama, but then rises to beat Alabama in the national championship game. It really was a dream season. I was blessed to be able to experience such amazing accomplishments by the Bulldogs.
2. People have no idea how much goes on behind the scenes.
People think it's all about the game, and that's why people tune in to watch, but there is so much more going on. They have no idea how long it takes, for example, just to set up the athletic training room for a game like that, or how long it takes to set up everything on the sidelines. It's a lot of work.
3. NCAA D1 football is nothing like NAIA D2 football.
I had just worked Concordia University Ann Arbor's football that previous spring [when it was a spring football season because of COVID-19]. So I knew how we were set up, and how we did our things at Concordia. Coming down to the University of Georgia, everything was just ramped up. Like, these guys are doing multiple workouts a day, and coming in to get treatment at any time of the day. The care we provide our athletes at CUAA is amazing, but at Georgia, with so many more resources, it's unbelievable.
One thing that was tough for me, though, was that I'm so used to knowing everybody on the team. At Georgia, I was only working with the defense, primarily the defensive line. The guys on offense I never saw unless they came into the athletic training room or they approached me on the field. That was frustrating, because I like being able to develop a relationship with all my athletes.
4. You have to "expect the unexpected."
Preparation is so important, and you also have to be ready to deal with things you've never seen before. We talked a lot about our EAPs, or Emergency Action Plans, and talked with the EMTs on site. We even talked about what hand signals we'd use in different situations, so we'd all be on the same page if there were a medical emergency.
5. Keeping players healthy is VERY important to winning.
I think a big part of what got the Bulldogs to go all the way is that we sent a very healthy team to the national championship. Of course, we had injuries throughout the season, but we did a great job of getting guys to continue to play throughout the season. Everybody knows injuries make a difference, but it's an even bigger key to success than most people realize.
It really opened my eyes to the importance of in-season rehabilitation. At Georgia, they're able to have a full-time physical therapist on staff. Working with him really helped me develop my rehabilitation skills and reinforced their importance.
6. You have to learn to ignore—or even fight through—the distractions.
At big games on national television there are TV and other media people everywhere. We dealt with it all season, but the last two games were even worse. Learning to tune it all out is one thing, but sometimes you just have to push people out of your way and say, "Hey, let me do my job, I gotta get to my guys!"
7. Being an athletic trainer for D1 football is a huge amount of work.
I got to see firsthand how much time and effort certified athletic trainers have to put in at that level. They often show up at 6 a.m., or even earlier, and may not leave until 7 or 8 at night. Most of them also have kids and families, and that's obviously very difficult. I've always wanted to work in D1 college sports, but maybe it won't be football!
This experience, however, confirmed that I'd like to work in sports that involve the "whole body," meaning you're dealing with different injuries from head to toe. I'd be interested in working in basketball, because that's what I played, but I'd also love to work with hockey players or cheerleaders. I did a rotation with Concordia's cheerleaders and found it fascinating and intriguing how many different injuries could occur. You could be dealing with a neck injury one day, and a leg or knee the next. Also, everyone heals and responds differently to injuries, so no two injuries are alike. Therefore, there are multiple way to treat an injury and I like the challenge.
---
For more information about the Master of Science in Athletic Training program at CUAA, visit cuaa.edu.
—
If this story has inspired you, why not explore how you can help further Concordia's mission through giving.