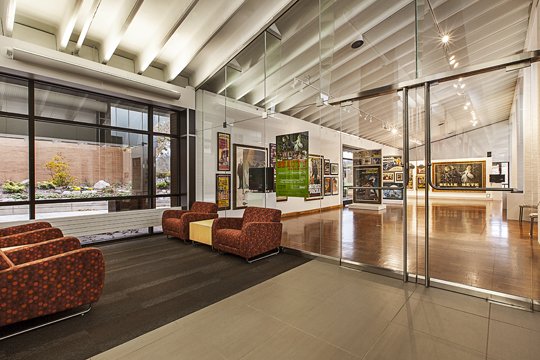 Concordia University Ann Arbor (CUAA) will dedicate a renovated and revamped Kreft Center for the Arts on Friday evening, September 18.
---
The community is invited to celebrate the University's milestone with a public open house following the building dedication.
"The Kreft Center for the Arts has long been the creative hub of Concordia University Ann Arbor, a place where students and the community are inspired through the fine arts to grow in mind, body and spirit," said Curt Gielow, Chief Executive Officer of CUAA.
The first exhibit in the renovated space will host an eclectic collection of paintings, drawings and sculptures from the personal collection of Karl and Shirley Kreft, supporters of CUAA. Throughout the year the Kreft Center for the Arts will host numerous gallery showings and theater productions in the Center's Black Box Theater.
The community can expect to see the arts in action at the open house as CUAA Kreft Arts Scholarship recipients display their practice throughout the building. Some students will be painting, while others will be performing vocal and instrumental arrangements.
The grand reopening and dedication of the building will take place on Friday, September 18th at 5:00 p.m. with the public open house to follow until 6:30 p.m. The Kreft Center for the Arts is located on CUAA's Central Campus at 4090 Geddes Road in Ann Arbor, Michigan.
The generosity of the Karl and Shirley Kreft and numerous other Concordia supporters made this extensive remodel possible. For more information please contact Dr. Mark Looker, Director of the Kreft Arts Program.
— Rachel Thoms served on Concordia University's Strategic Communications team from 2015-2022. Any inquiries about this story can be sent to news@cuaa.edu.
If this story has inspired you, why not explore how you can help further Concordia's mission through giving.