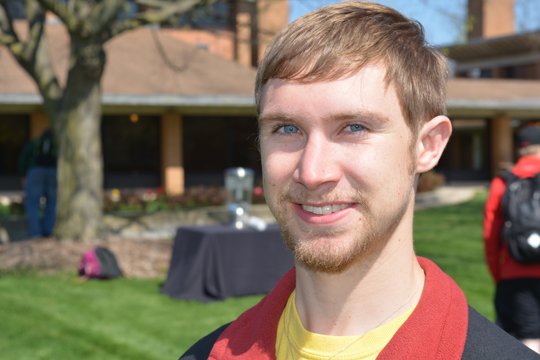 His heart had already stopped three times in the ambulance.
---
When Andrew Gardner was a sophomore in high school, no one expected him to live through the next 48 hours. Six years later, he will be walking across the stage at Concordia University Ann Arbor with a diploma in his hand.
As a teenager struggling to find his place among peers, Gardner joined his high school ski team. One daring jump later, nearly took his life…
Gardner, from Scotts, Michigan, had a tough time making friends and finding his niche when he began high school in 2008. He decided to join the ski club, and for the first time he began to feel accepted.
"I was an extremely shy person," said Gardner, "so when the guys in the ski club let me into their group, I didn't care that they were into things that were a bad influence on me. I just wanted friends."
After feeling like he had succumbed to the peer pressures of his new 'friends,' Gardner remembers lying in bed, feeling completely broken. He knew he needed to make a change.
"I said to myself, 'I don't want to be this person,'" he said. "I was desperate, and for the first time in my life, I prayed to God and asked that he would help me."
The next day, Feb. 18, 2010, was a ski club day. Gardner had been practicing difficult jumps and decided this was the day he would master the 720 degree spin. Heading down the 45-foot jump at about 35 miles per hour, he took a leap of faith.
Everything went black.
Gardner said that by God's grace, a nurse was on the hill and the first person to his aid. She instructed others not to move him, knowing he may have broken bones. Gardner's heart stopped twice in the ambulance and another time when he arrived to the hospital.
He was in a medically induced coma for four days, but Gardner says he doesn't remember the first five weeks. He suffered significant head trauma and damage to his brain and lost over 40 pounds of muscle.
The accident was a very spiritual experience for Gardner who, prior to the leap, never had a relationship with Jesus. He says only once he had returned home after a couple of months in the hospital did he remember his prayer while lying in bed the night before his accident.
"It's like I heard Him telling me, 'Do you remember me? I have never left your side,'" said Gardner. "He is so good. Here I am, wholly healed, when it was expected that I would not make it."
Gardner, biology major, transferred to Concordia in 2013 for his sophomore year. He was endeared to the close-knit community and faith-centered learning that Concordia offered, and due to a personality shift after injury to his cerebrum, Gardner is now extremely bubbly and talkative.
Concordia's Pre Healthcare Professionals Club (PHPC) will often invite guest speakers of different professionals within the biology career field. Gardner attended a meeting led by chiropractor, sparking his interest.
"I have a fascination with the human body because of my accident but wasn't sure what I would do as a career," said Gardner. "I asked the chiropractor if I could shadow him at his practice, and when I was there, I can't even explain how called I felt to pursue chiropractic science."
He designated his senior biology project to trigger point therapy, and says he can't wait to gain more knowledge in his field of study. Gardner will move to Davenport, Iowa next fall to begin his students at the Palmer College of Chiropractic.
"I'm moving to a new state and sometimes I worry about how I'm going to manage my money or make all of my own food, but this leap of faith is exciting," he said. "I know God will be with me. He always has been and always will be."
— Rachel Thoms served on Concordia University's Strategic Communications team from 2015-2022. Any inquiries about this story can be sent to news@cuaa.edu.
If this story has inspired you, why not explore how you can help further Concordia's mission through giving.