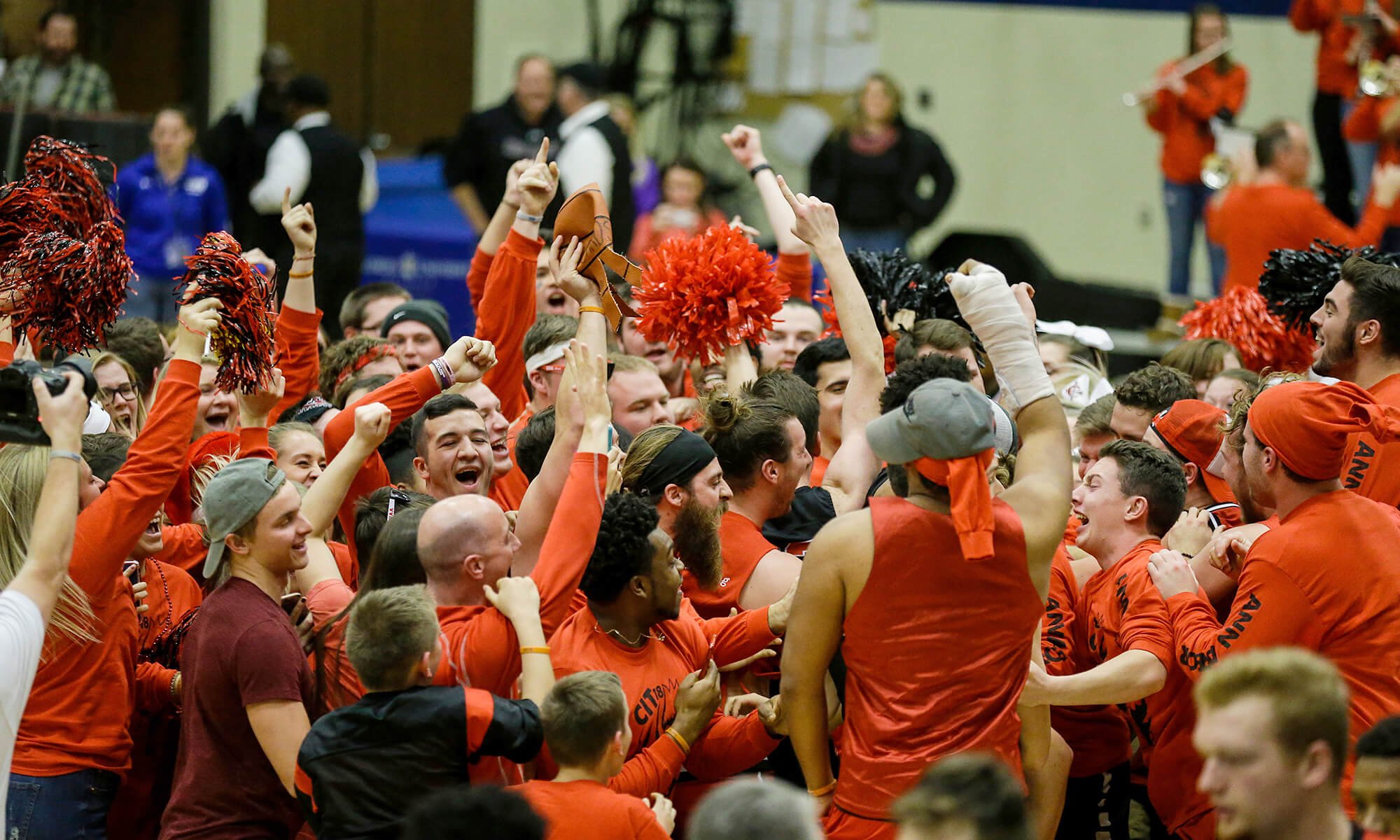 It was a weekend that won't soon be forgotten for students and fans of the Concordia University Ann Arbor Cardinals.
---
On January 26-27, 2018, Concordia University Wisconsin hosted the 67th annual Concordia Invitational Tournament (CIT) in Mequon, Wisconsin, a beloved tradition for the men's and women's basketball teams of four Concordia University System schools rotating hosts each year among Ann Arbor, Wisconsin, Chicago, and Nebraska.
A weekend highlight, among many, was CUAA's men's basketball championship game victory over the Concordia Wisconsin Falcons, 82-77. This is the men's 4th CIT title since joining the tournament in 2002.
CUAA punched their ticket to Saturday's championship game with a 2-point defeat over the favored Concordia Nebraska Bulldogs on Friday. The Bulldogs were receiving votes in the NAIA national poll. A steal and breakaway lay-up by junior guard Emmanuel Dominguez put the Cardinals up by 2 points with just under 5 seconds to play.
Cardinal fans rushed the court to celebrate the upset.
Head Men's Basketball Coach Ricky Yahn is 7-3 at CIT since taking the helm of the men's basketball program in 2013 with two tournament titles (2015, 2018) of the program's four total. Junior guard Jalen Thompson was named MVP of the tournament averaging 24.5 points, 6.5 rebounds, and 3 assists. Senior forward Connor Phee was also named to the all-tournament team.
The Cardinals women's basketball team fell to the undefeated Bulldogs of Concordia Nebraska in Friday's first round. The CUNE women's team is currently nationally-ranked number 1 in the NAIA. The Cardinals rallied in Saturday's consolation game and pulled out a victory over the CUW Falcons, 77-73, landing third place in the tournament overall. The CUAA women's team holds two tournament titles (2011, 2013) since joining in 2002. Senior guard Kari Borowiak was named to the all-tournament team for her 31 points, 8 rebounds, and 3 assists in the consolation match-up.
The 67th annual CIT brought about a few tournament firsts, including a performance from the CUAA winter guard, the indoor extension of Concordia's new color guard, and a cheer and dance competition among the four participating universities. The Cardinals cheer team won first place for the inaugural tournament competition.
Every year, attendees travel to CIT from around the country to cheer on the participating Concordia University teams. Beyond tournament records and enthusiastic school rivalries, all attendees are a part of a system that is passionate about Lutheran higher education and preparing students to reflect the love of Jesus on their campuses and in their future vocations.
Together with both basketball teams, cheer and dance, winter guard, the pep band, alumni, and two fan-buses of CUAA students, CUAA's presence at the tournament was electric. Cardinal pride emulated from spectators and participants throughout the historic tournament weekend.
The 68th annual CIT will return to Ann Arbor in 2019 taking place the last weekend in January.
To see more for the 67th annual CIT, check out CUAA's Facebook album.
— Rachel Thoms served on Concordia University's Strategic Communications team from 2015-2022. Any inquiries about this story can be sent to news@cuaa.edu.
If this story has inspired you, why not explore how you can help further Concordia's mission through giving.