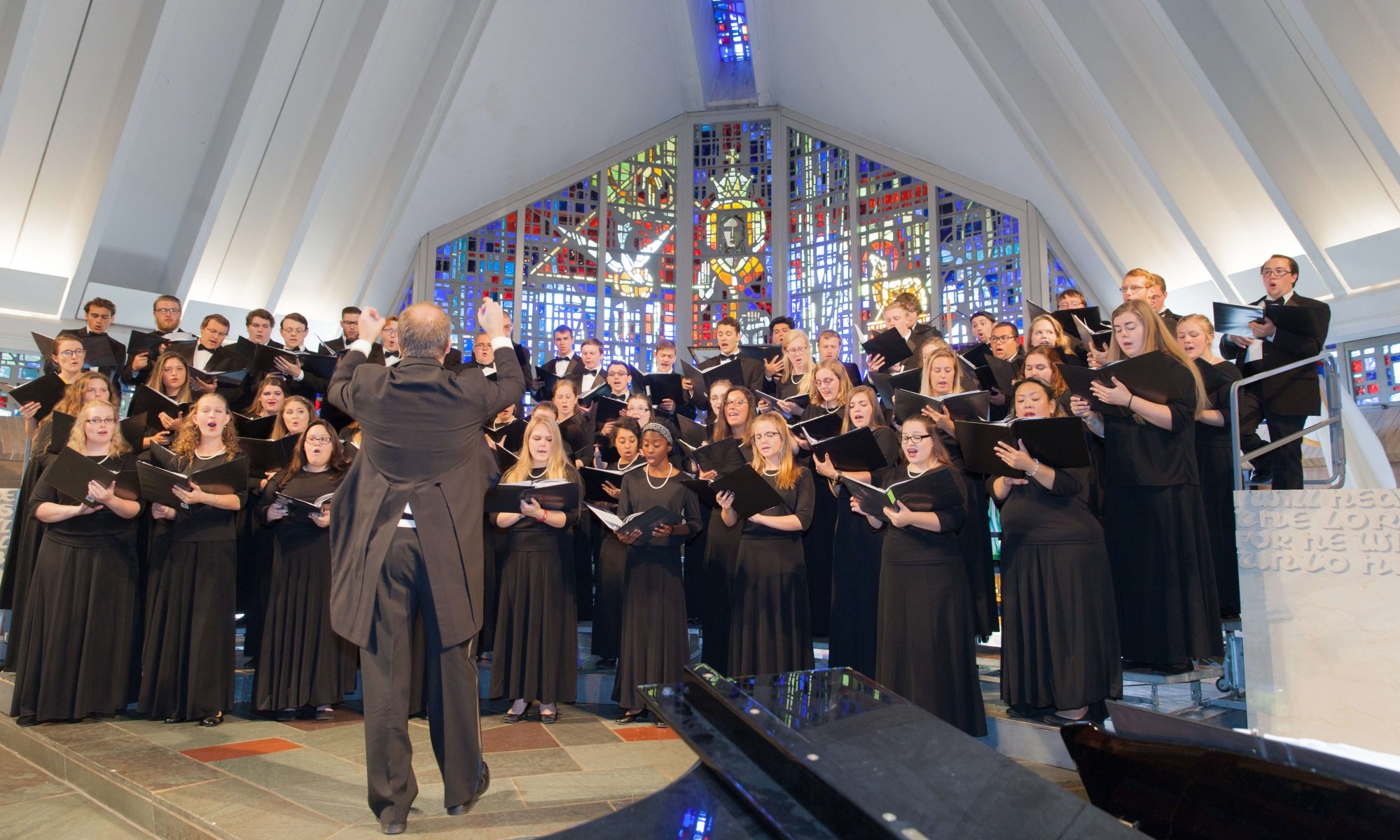 Since the founding of Concordia University Ann Arbor in 1963, the Concordia music department has maintained a reputation of excellence in choral and instrumental music, performing regularly both on and off campus.
---
CUAA invites you to enjoy the musical talents of the Concordia Choir and Concordia Wind Ensemble in their spring performances on Sunday, March 25 and Tuesday, March 27. The performances will take place on CUAA's campus located at 4090 Geddes Road in Ann Arbor, Michigan.
Both performances are free and open to the public.
Concordia Choir Concert
Sunday, March 25, 2 p.m.
Chapel of the Holy Trinity
In conjunction with the university's theme for the 2017-18 school year All Things New, the Concordia Choir will giving their final concert of their In the Beginning tour performed throughout Ontario and upper New York as a part of their spring break tour earlier in March.
"Through powerful selections of Stephen Paulus, John Taverner, and Johannes Brahms, this concert explores the life of Jesus, who through his death and resurrection, makes all things new for us each day," said Director of Choirs Dr. Brian Altevogt.
Concordia Wind Ensemble Concert
Tuesday, March 27, 8 p.m.
Black Box Theatre
The Concordia Wind Ensemble is an auditioned group of wind and percussion players under the direction of Dr. William Perrine. Their March 27 concert on campus is a preview to the ensemble's prestigious invitation to participate in the 2018 Chicago International Music Festival Performance at the Symphony Center in Chicago on Easter Sunday, April 1.
As Perrine prepared for the festival, he was reminded just how few Easter band composition there are in existence.
"There's a tremendous amount of literature that exists to celebrate Christmas but very little band music written for Easter," says Perrine. "Add to that the fact that bands—in their contemporary form—have only been around for about 100 years. Because of that, band directors tend to be very engaged in the process of getting new music."
As a result, Perrine commissioned Dr. Geoffrey Stanton, who serves as an adjunct instructor for Concordia, to compose, "Green Blade Rising" for the Easter performance at Symphony Center to be previewed at the March 27 concert on campus. The wind ensemble will also be performing another piece commissioned by CUAA this 2017-18 academic year that was created last fall in honor of the 500th anniversary of the Reformation named, "Luther: In Canon," featuring the tune "A Mighty Fortress is Our God."
Both the Concordia Choir Concert (March 25, 2 p.m.) and the Concordia Wind Ensemble Concert (March 27, 8 p.m.) are free and open to the public. Parking on campus is also free. Click here for directions to campus or view a campus map.
Click here for a complete list of ensembles at CUAA, and visit the Kreft Arts Program schedule for future concert dates and details, including spring musical performances of Into the Woods, April 19-22.  
— Rachel Thoms served on Concordia University's Strategic Communications team from 2015-2022. Any inquiries about this story can be sent to news@cuaa.edu.
If this story has inspired you, why not explore how you can help further Concordia's mission through giving.