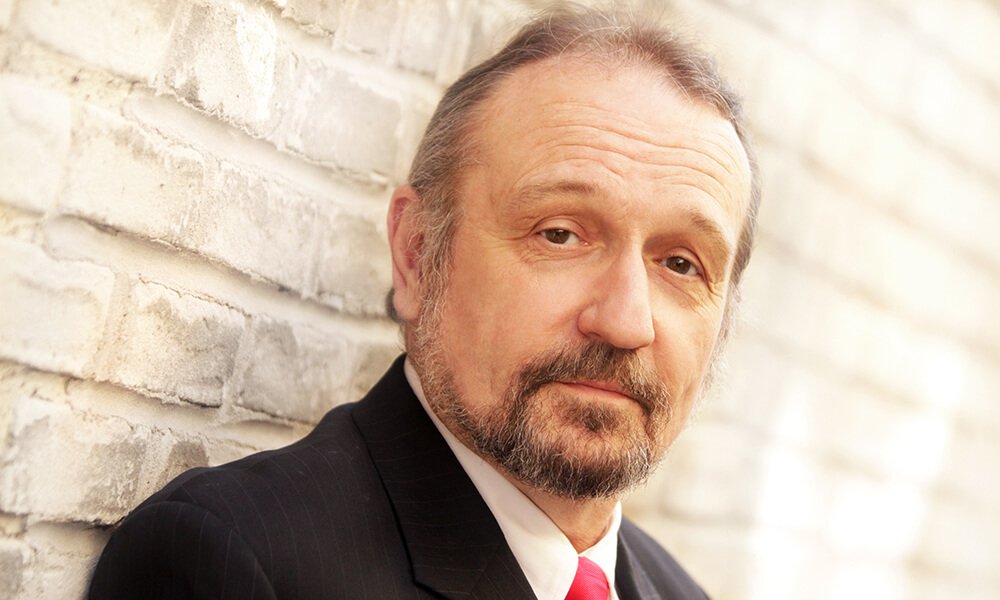 This story first appeared in the fall 2019 issue of the Arbor Light, the official magazine of Concordia University Ann Arbor.
---
All the world was an audience to a young Charles Numrich's stage in 1968 when San Antonio, Texas, hosted HemisFair '68, the official World's Fair that year.
At age 20, Numrich was green on the theatre vine, but full of promise and gusto. Just two years prior, the Aurora, Illinois, native had delivered his first monologue—as King Herod in "The York Nativity"—on Concordia Lutheran Junior College's stage, but his Concordia theatre director, Dr. Robert Lehmann, recognized a potential in the budding thespian that far outweighed his inexperience. Lehmann convinced The Inter-Lutheran Impact Committee (made up of LCMS, LCA, and ALC leaders) that Numrich was the man to organize and direct the Lutheran Church's theatrical presence at HemisFair '68.
So from April through October of that year, Numrich led a troupe of some 10 to 15 college and professional actors in several hundred performances of short sketches for the 6.3 million-person global audience that visited San Antonio.
That experience marked the start of Numrich's enduring passion for exploring how the stage influences community.
"The impact of the arts on communities is essential and eternal," said Numrich. "The essence of all art is what's the conflict and how do we work towards resolution. Looking at that from the perspective of communities in conflict, it is an incredible, valuable tool to help people understand themselves and others."
Related: Mission minded—Richard Her
Since graduating from Concordia, Numrich has authored multiple books; founded a nonprofit theatre company in Minneapolis that had a 27-year run; and has held a successful career as an actor, performing lead parts in shows throughout Minnesota. He's been the recipient of two of Minneapolis' highest honors awarded to the arts community: an Ivey Award (voted on annually by theatergoers) and The Twin Cities Mayors' Public Art Award.
Concordia Ann Arbor bred in Numrich a passion for the arts that he has passed on to countless others, as well, including his children. His son, Seth—who has a number of TV and film credits to his name and has also starred in three Broadway shows—is the youngest person to ever be admitted to The Juilliard School's drama program.
Incidentally, Numrich's introduction to the theatre was somewhat happenstance. Had Concordia—just two years old when he enrolled—not started as a coed campus, he might not have even explored the discipline. When Numrich spotted one of his friends headed to the chapel to audition for a play within their first weeks on campus, Numrich decided he'd follow suit for one specific reason: the girls.
Related: Grad on the go—Kate Kirchoff
"Neither one of us had ever done any acting before, but I wasn't very good at baseball or the other sports, and anyone who does theatre knows the percentage of men to women is in the men's favor," Numrich said with a chuckle.
At the time, Numrich was on track to become a pastor. He had graduated from Concordia High School in Milwaukee the year before and completed five years of pastoral education after his time in Ann Arbor—first at Concordia Senior College (now Seminary), Fort Wayne, Indiana, and then Lutheran School of Theology at Chicago—before he decided that becoming a parish pastor was no longer the route he felt called to take.
Although he never became a minister in the parochial sense, his Christian witness pervaded the new outlets he pursued. In 1981, he founded his nonprofit, Creative Theatre Unlimited, that sought to "build community through the arts." For 27 years, Numrich's outreach extended to at-risk youth, underserved populations, and impoverished neighborhoods, where he and the others involved in the nonprofit helped individuals to find their voice and share their stories.
"The Classical education I received at Concordia, with theatre added to it, really gave me a clearer understanding of the world," Numrich says. "It helped me understand that even though I wasn't going to go into the world and serve people as a pastor, it didn't change the fact that my basic nature was that I wanted to serve people."
Charles Numrich's Playbill
At age 20, he had his directorial debut at the 1968 World's Fair, which was attended by 6.3 million people worldwide.
His son, Seth, is the youngest person to ever be admitted to The Juilliard School's drama program.
He's authored three series of vignettes that are based on the lectionaries for the church year and Lent.
"Living Tapestries," his fourth publication, is one of the first collections of Hmong folktales published in English in the world.
He received an Ivey Award in 2016 for his role in "Equus."
From 1981–2008, he ran the nonprofit Creative Theatre Unlimited.
Creative Theatre Unlimited's first big project, "Images for Exiles,"
Concordia has a new theatre director. Read more about her here, and learn more about Concordia's vibrant Kreft Arts Program here.
The fall 2019 Arbor Light hit mailboxes the beginning of October. View a PDF version of the magazine here. If you are not on our mailing list, but are interested in receiving a free copy, call 734-995-7317 or send us an email.
— This story is written by Kali Thiel, director of university communications for Concordia University Ann Arbor and Wisconsin. She may be reached at kali.thiel@cuw.edu or 262-243-2149.
If this story has inspired you, why not explore how you can help further Concordia's mission through giving.