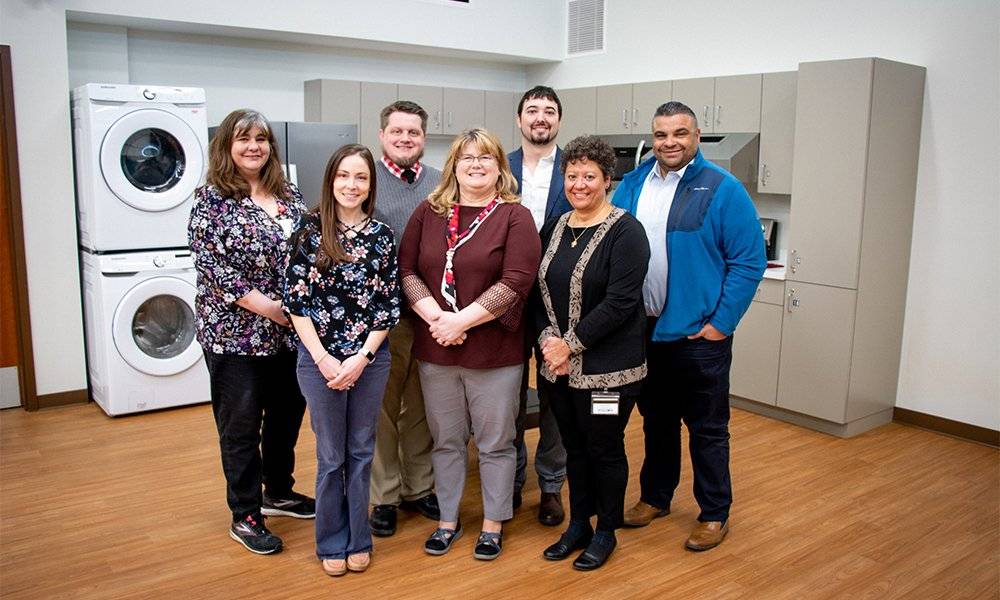 April is occupational therapy month, a perfect time to celebrate the holistic approach that the OT profession brings to health care.
---
This summer, CUAA will welcome its first cohort of entry-level Doctor of Occupational Therapy students. As a school that prides itself in the holistic formation of its students, it's more than appropriate that CUAA is adding this important piece of the health care equation to its program repertoire.
RELATED: Concordia Ann Arbor to celebrate completion of OTDe and DTP building remodel
In honor of occupational therapy month and the launch of our OTDe program, the newest CUAA faculty members share what they love most about their field.
What we love about occupational therapy
Annice Siders
Fieldwork/Capstone Administrative Assistant
I am always struck by how creative, innovative, and tenacious occupational therapists are. Recently my parent become quite ill and had difficulty breathing and ended up in the emergency room. I came into work the next day and told my boss, Dr. Jennifer Bueby, about the situation and after some kind words she put on her OT hat and gave me some advice about how to conserve my parent's energy by using a lift assist and some other techniques. She also suggested that he shower with the door slightly open, because too much steam would make it harder for him to breathe. She thought about his activities of daily living and his occupations and developed a holistic therapeutic plan. Both personally as an orthopedic patient and professionally at my job I have noted this "can do" attitude and how truly beneficial and life changing OT services can be.
Jennifer Bueby
Assistant Professor/Academic Fieldwork Coordinator (practice areas: neurorehabilitation, pain management)
What I love about OT is that I get to treat a whole person and their life. I don't just focus on what is wrong, I get to learn about and encourage a person to use the strengths and gifts they already possess to overcome challenges. The sparkle in someone's eye when they do something they didn't think was possible, or with less effort than they imagined…those moments change a client's life AND my life one little sparkle at a time.
James Dreher
Program Administrative Assistant
As the Program Administrative Assistant for CUAA's OT Program, I've been involved in ordering the wide variety of adaptive equipment that OTs might recommend.  I've learned that occupational therapy, in practice, is more than just restoring function: it's about restoring dignity and independence in clients' lives.
Juliane Chreston
Professor/Program Director (practice areas: community reintegration, neurorehabilitation)
One thing I love about OT is the flexibility the career offers.  Not only can you work in a variety of settings and with a lot of different kinds of clients from birth to end of life, you can adjust your schedule to fit the current needs of your life. When I made the decision to return to school for my master degree, I left a full-time position in the hospital to do a variety of contingent positions and was able to make a good living with less hours than I had been working.  Currently, while in a full-time academic position I can continue to practice by picking up one client at a time for community re-entry or consulting on a home evaluation on the weekend.
Jeffery Smith
Assistant Professor (practice areas: geriatrics, skilled nursing facility)
What I love about OT is being able to meet and interact with so many different people. Usually the clients that I meet are not at their best. But with hard work, determination, and God's grace they can persevere and overcome so many obstacles and challenges. I am blessed to have been a small part of that process.
Nicole Onori Hansen
Assistant Professor/Doctoral Capstone Coordinator (practice areas: mental health, emerging practice settings)
I love the occupational therapy profession because of its variety and flexibility! As an occupational therapist, you can work with people of all ages and stages of life in a variety of different practice settings. I especially love OT because I have a wide variety of interests, and the profession provides me with opportunities to blend and apply my broad scope of knowledge to help people improve their health and well-being, develop to their fullest potential, and live a meaningful life.
Marwan Francess
Assistant Professor (practice area: home care)
The best part about being an occupational therapist is the ability to work with patients to improve upon the ease and efficacy of daily activities such as bathing, dressing, and light meal preparation. I love having the chance to make a positive difference in my patient's lives Since becoming an OT IN 2006, I've been able to mentor other young OTs which has been extremely rewarding for me. I truly enjoy connecting with various clients and getting to know them as individuals. Part of this process includes learning your client's stories and utilizing your clinical skills to help patients improve their overall health and well-being. Not only can OTs be part of the individual's recovery process, but we have the unique opportunity of connecting with our clients on a personal and professional basis.
---
Apply now
CUAA is still accepting OTDe applicants for its inaugural cohort. To learn more and to apply visit cuaa.edu/otd.
—
If this story has inspired you, why not explore how you can help further Concordia's mission through giving.