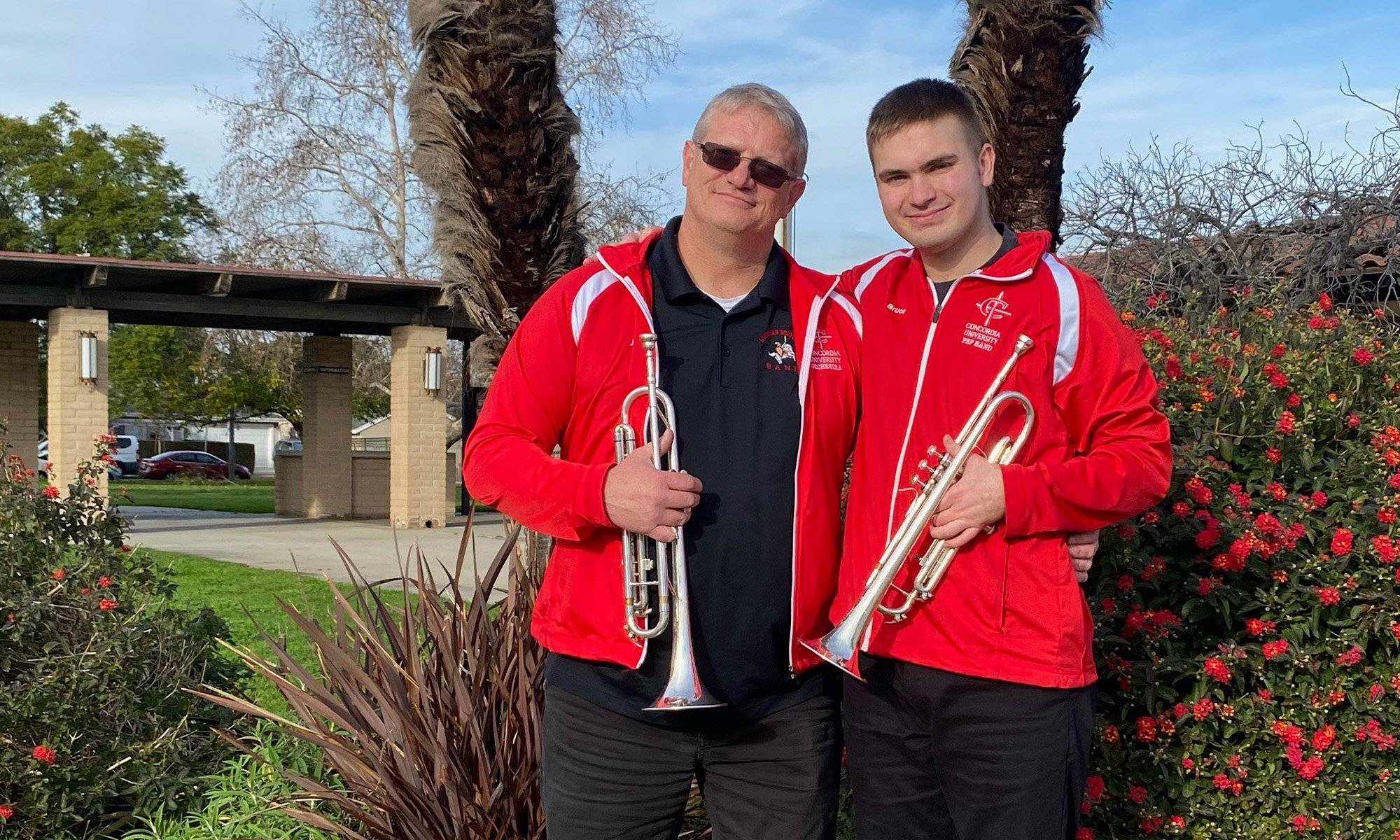 ---
This past January, Brian Pollatz ('87) and Bruce Pollatz ('23) played alongside the CUAA band during their 2023 winter tour through AZ, NV, and CA.
---
After postponing the Southwest Music Tour since March 2020, the Concordia University Ann Arbor Music department flew cross-country to share its musical skills with Lutheran schools and churches in Arizona, Nevada, and California. In addition to touring with talented student groups, CUAA alum Brian Pollatz was invited to play with the band!
Band director and CUAA alum, Brian Pollatz and his son, Bruce, CUAA Justice and Public Policy senior traveled with the CUAA band, orchestra, and choir this past January. However, this was not the father-son duo's first time playing together. Brian and Bruce have been playing trumpet together for over a decade!
A musical tradition
Brian Pollatz has played the trumpet for 48 years. Coming from a family of musicians and filled with a personal love of music, it was no surprise that his musical abilities have stayed with him for so long. In 1982, Brian began attending Concordia College and he graduated with his Bachelor's in Education in 1987. Additionally, he continued playing in the University of Michigan marching band for two years, continually honing his musical skills.
After graduating he became a teacher and has been a teacher at Lutheran Northwest in Rochester Hills, MI and a few other Lutheran grade schools for the last 36 years. He currently holds the position of Band Director at Lutheran Northwest.
As Brian raised his family, he encouraged his sons to pursue instrumental music and this encouragement stuck with them! Today, one of his sons, who attended University of Michigan, Dearborn, plays the baritone and his other son, a current CUAA senior, plays trumpet. Although both of Brian's children do not pursue music full-time, the trio still finds time to play together. Brian has even played alongside his son, Bruce, with the CUAA Marching Band on multiple occasions. One experience to play with his son that Brian couldn't miss was this year's music tour!
A musical community
Bruce Pollatz has always been surrounded by music. Influenced by his father's experience along with the talents of his extended family, he picked up a trumpet roughly ten years ago. At first, Bruce only chose the trumpet as a way out of his fifth-grade choir, but with the encouragement he received from his father, he decided to stick with it. Bruce continued to practice and play in multiple ensembles, including the Lutheran Northwest band, under his father's direction.
During his college search, Bruce connected with Concordia's director of instrumental music, Dr. Bill Perrine. While working with Dr. Perrine, Bruce auditioned for a music scholarship that secured his enrollment at CUAA. Having had an excellent high school experience in band, and knowing that Dr. Perrine would be the one conducting his collegiate ensembles, Bruce was confident about his choice to pursue his degree at CUAA.
A musical adventure
Before Bruce graduated from CUAA, he found one final way to incorporate his father's talents into CUAA's musical ensembles – he invited him on tour! Initially, Bruce looked to his father to fill a trumpet part that was needed in addition to driving a truck once they landed in the southwest United States. However, it turned into a reunion trip for Brian, as he got to play once more with Education professor, Kyle Chuhran, a lifelong friend of Brian Pollatz!
From concerts in multiple states to exploring Disneyland, to enjoying the warmth of the southwest in the middle of January, the 2023 CUAA Music Tour was a success! Reflecting on the experience, Brian was brought back to his college years and the experiences he had with his dear friends as he watched his son make memories with the other students on the trip. Brian was also impressed by the skills that each player exhibited on their instruments throughout the concert series.
I loved every concert, I love to play and it was so cool to just play in a band and not direct it.

Brian Pollatz ('87)
Beyond the experiences of playing with his father on tour, and getting to travel to places where he had never been, Bruce is thankful for the friendships that he has made and plans to continue fostering for years to come. Being in a talented and tight-knit group like the CUAA band not only opens the door to musical opportunities but it also gives way for deep personal and relational growth.
---
Want in?
Whether you're interested in a choir, an instrumental group, contemporary worship, or classical music, at Concordia you can choose the music ensemble that best suits you. Click on the link below to learn more.
---