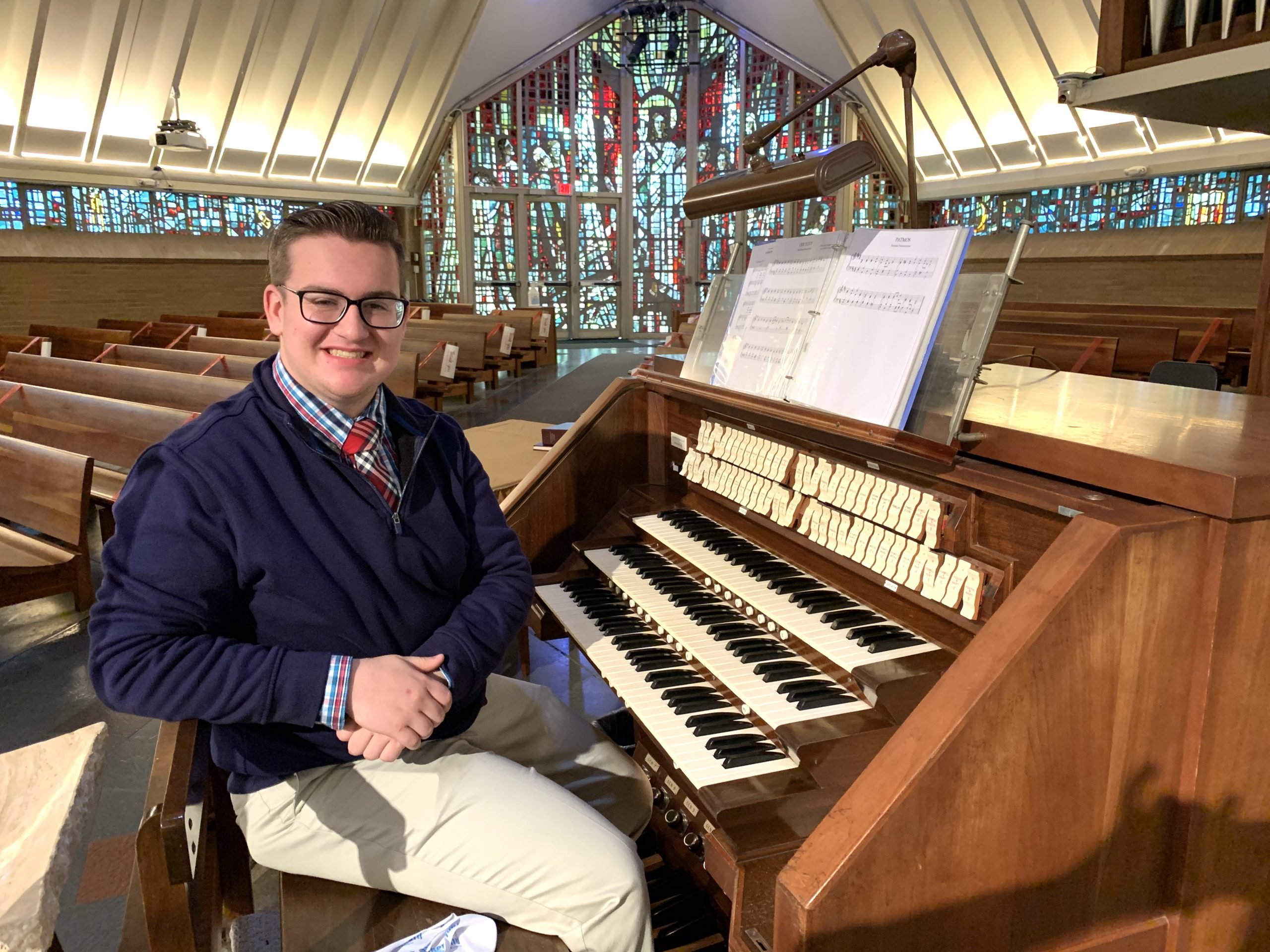 Editor's note: This story first appeared in the spring 2021 issue of Hearts Together, a Concordia University Wisconsin and Ann Arbor Special Magazine Edition.
---
Nothing stirs the soul quite like the sound of Concordia's pipe organ as it fills the Chapel of the Holy Trinity.
Dedicated in 1967, the 53-rank Schlicker is a hallmark of CUAA's worship space. Its central location and significant footprint make it impossible to miss. Beyond its physical presence, the organ holds a substantial spot in the hearts of thousands of Concordians due to the soundtrack it served up during some of the most monumental moments of students' and Concordia's tenure.
"The Schlicker's richness in tone not only provides an authentic performance experience for musicians, it contributes to a worshipful music service for all," said University Organist Dr. John Boonenberg. "We are stewards of a great Lutheran church music tradition
at CUAA, and our organ is a key part of that."
After decades of play, however, the organ is in need of a significant tune-up. In fall 2020, Concordia's Office of Advancement launched a campaign to raise the $100,000 needed for restoration. Within months, the campaign exceeded its goal thanks to an overwhelming show of support from generous donors. In particular, longtime supporters Dr. and Mrs. Karl Kreft provided a generous leadership gift.
In summer 2021, work will begin to retool and resurrect the instrument. Concordia has contracted a nationally acclaimed organ builder, Jerroll Adams, for the job. Adams will completely disassemble the organ, remove it from the chapel, and then reassemble it in its full glory. In the process, the builder will provide a thorough cleaning, repair all broken parts, reassign functions for more optimal use, and add three new stops.
Jacob Ferns ('24), a church music major, is one of a handful of student-organists at CUAA who eagerly anticipates the project's completion.
"The fact that I'm going to be able to utilize a practically brand-new instrument is such a gift," Ferns said. "There's just so much possibility with the organ. I strive to play at my greatest ability to give glory to God in all circumstances, and having a fully functioning instrument is crucial to that."
Donations are still needed for the ongoing general maintenance needs of CUAA's Schlicker pipe organ. To contribute, visit cuaa.edu/give and designate "CUAA organ renovation," or contact Director of Donor and Alumni Relations Linda Sproul at Linda.Sproul@cuaa.edu or 734-995-7491 for additional ways to give
The spring/summer 2021 Hearts Together magazine hit mailboxes in early April. View a PDF version of the magazine here. If you are not on our mailing list, but are interested in receiving a free copy, email Jennifer.Hackmann@cuaa.edu.
— This story is written by Kali Thiel, director of university communications for Concordia University Ann Arbor and Wisconsin. She may be reached at kali.thiel@cuw.edu or 262-243-2149.
If this story has inspired you, why not explore how you can help further Concordia's mission through giving.