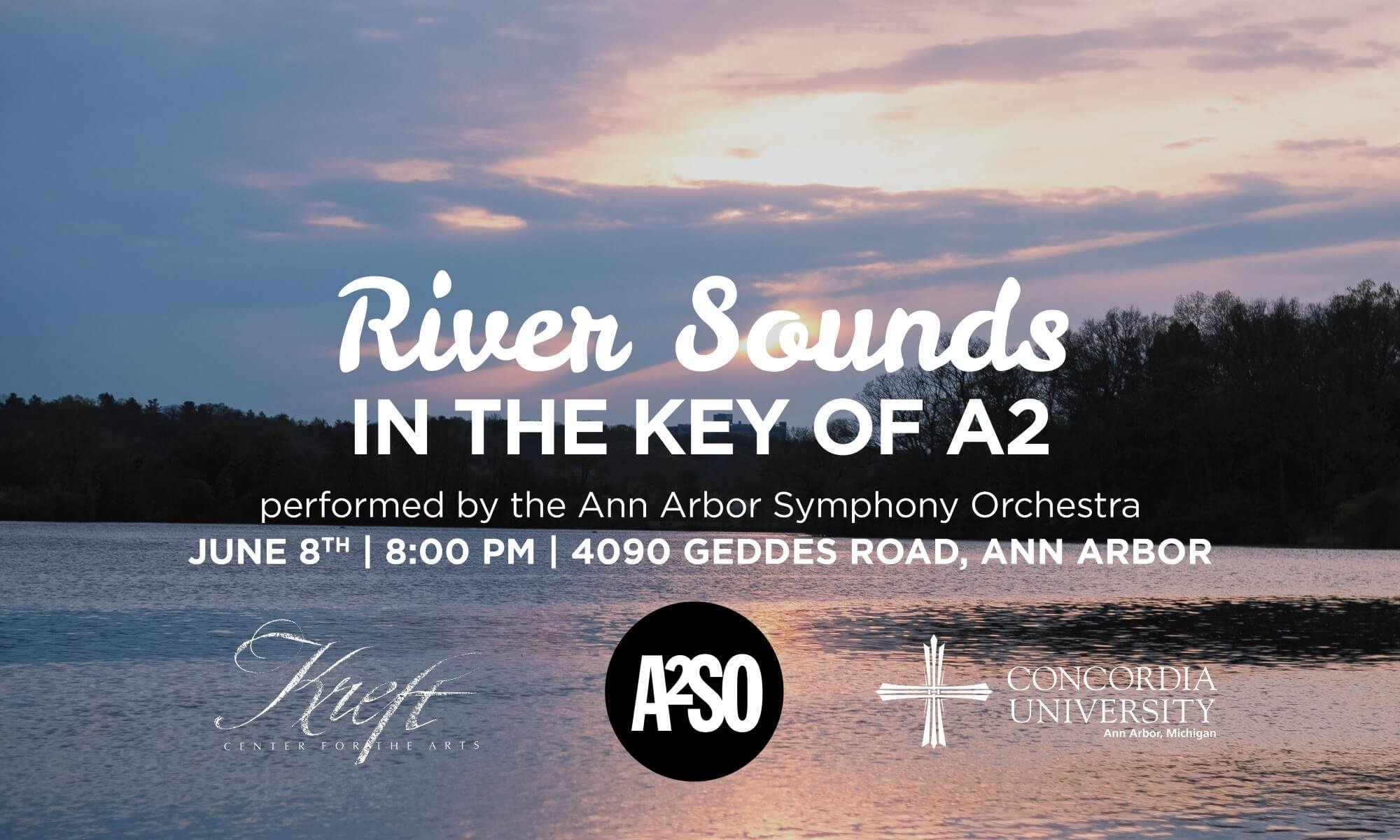 Concordia has hosted hundreds of concerts in its 56-year existence, but none quite like this.
---
On Saturday, June 8, 2019, the full 69-piece Ann Arbor Symphony Orchestra will perform as CUAA's featured Kreft Arts Program guest. The free, family-friendly event, titled "River Sounds in the Key of A2," will take place on Concordia's Ann Arbor campus, 4090 Geddes Road, which is nestled on the banks of the Huron River.
Members of the community are encouraged to bring blankets and lawn chairs to enjoy the 80-minute concert on the grasses under the summer evening sky. The program, which will feature guest conductor Steven Jarvi, will include a mix of classical and pops music along with audience favorites such as selections from Leonard Bernstein's "West Side Story" and Andrew Lloyd Webber's "Phantom of the Opera."
"We are thrilled to partner with the A2SO for this summer concert. Not only have they consistently gifted our community with exceptional music for the last 90 years, but now their excellent musicianship will be paired with the idyllic, riverside setting of Concordia's campus," said Curt Gielow, former Campus Chief Executive who played an integral role in the arrangement of this event. "It's the perfect marriage of community partners, and we're very much looking forward to it."
Made possible through the generous donation of Karl and Shirley Kreft, the concert is an extension of CUAA's Kreft Arts Program, which strives to inspire the artistic, intellectual, and creative experiences of Concordia's students and community.
The musicians will be staged on CUAA's Riverside Patio on the south end of campus, alongside the Huron River. The concert will begin at 8 p.m., but community members are welcome to come to campus as early as 6:30 p.m. to enjoy the outdoors, participate in the hands-on fun of A2SO's free Instrument Petting Zoo (6:30-7:30 p.m.), and select food and beverage for purchase. Guests are welcome to bring their own snacks and beverages.
Concordia University Ann Arbor's campus is located at 4090 Geddes Road, Ann Arbor, Michigan. Parking for the event is free. For questions or more information, contact Rachel Thoms, manager of campus communications, at Rachel.Thoms@cuaa.edu. In the case of inclement weather, there will not be a rain date. For weather updates on the day of the event, visit www.cuaa.edu or call A2SO office at (734) 994-4801.
FAQ's & Reminders:
This concert (and parking) are completely FREE, thank you to our generous donors and sponsors! If you RSVP'd online, you do not need to bring your ticket. If you did not RSVP online, no problem. Still come!
We are expecting a very large crowd. Seating will be first come, first served, so bring your lawn chairs and blankets and come early to claim your spot!
Attendees are welcome to bring a picnic basket with snacks and beverages. Select food will also be available for purchase. ($1 for bottled water, chips, or a cookie; $2 for brats or a chicken sandwich)
Pets are not permitted on campus and will not be allowed on the grounds
The 80-minute concert will be directed by guest conductor, Steven Jarvi. Click here to view performance selections.
This concert is wheelchair accessible. We will have hard seating, accessible via elevator, available for our guests with accessibility limitations. Again, come early!
This concert is family-friendly. We are excited to be with our Ann Arbor community and celebrate the beauty of our town and the gift of music!
— Rachel Thoms served on Concordia University's Strategic Communications team from 2015-2022. Any inquiries about this story can be sent to news@cuaa.edu.
If this story has inspired you, why not explore how you can help further Concordia's mission through giving.