Starting off the 2020-21 academic year has been a whirlwind of new information, new class formats, and a new way of living on and off campus.
---
Although most students that have started classes this week seem to be getting into the swing of things, all of our supporters outside the classroom may still be wondering, "What does a COVID college classroom experience actually look like?"
I'm here to answer that question. However, like most things in the world today, the experience may be adjusted as the semester continues.
To start, Concordia University Ann Arbor remains focused on providing a well-rounded, Christ-centered education for all of its students. I know that may sound like a challenge when classes are virtual or look different than usual, but trust me, Concordia is still here for its students—physically, emotionally and spiritually. Faculty and staff are fully committed to serving the community on campus. 
Now here are some specific details about how classes are actually set up this semester at CUAA:
IN PERSON
Depending on the class-size, there are a couple options that CUAA classes can take. Each classroom, lab, and lecture hall on campus has a COVID capacity limit posted on the wall outside of the room. If the class-size is less or the exact number of the limit, the class is able to meet on a regular basis with each student and faculty member masked up and physically distanced. 
HYBRID
If there are too many students in one class, then the professor may choose to split the class into smaller groups and meet face-to-face on the assigned class days. Blackboard and Zoom are also utilized to ensure students stay informed. This is going to be the standard for two of the classes that I attend this semester. Thankfully, my professors have kept up strong communication with their students and are working hard to fit their curriculum to this hybrid class design.
VIRTUAL
The final way a class may be held is completely virtual using Zoom or other online resources. This technique may be used for lecture-based classes that are large and meeting in person may be close to impossible given the newly established capacity guidelines. Zoom allows students to see the faces and hear the voices of their students, professors will be able to connect with their class at regular times each week, while also utilizing online resources like Blackboard to administer class materials.
Oddly enough, as a senior on campus, I have all three types of classes this semester, including an independent study, which will be completed virtual. Overall, I am ecstatic to be back on campus, even if it's not every day. Like many other students at Concordia, I don't think I will take for granted my time in a physical classroom with other students and professors again. 
THE BEST PART?
What's the best part about being back? I get to see people that I haven't seen in person since March! I get to walk on campus, sit in Chapel, work in the Kreft Arts studio, and much more—all because the administration at CUAA made the courageous decision to allow students to return to campus.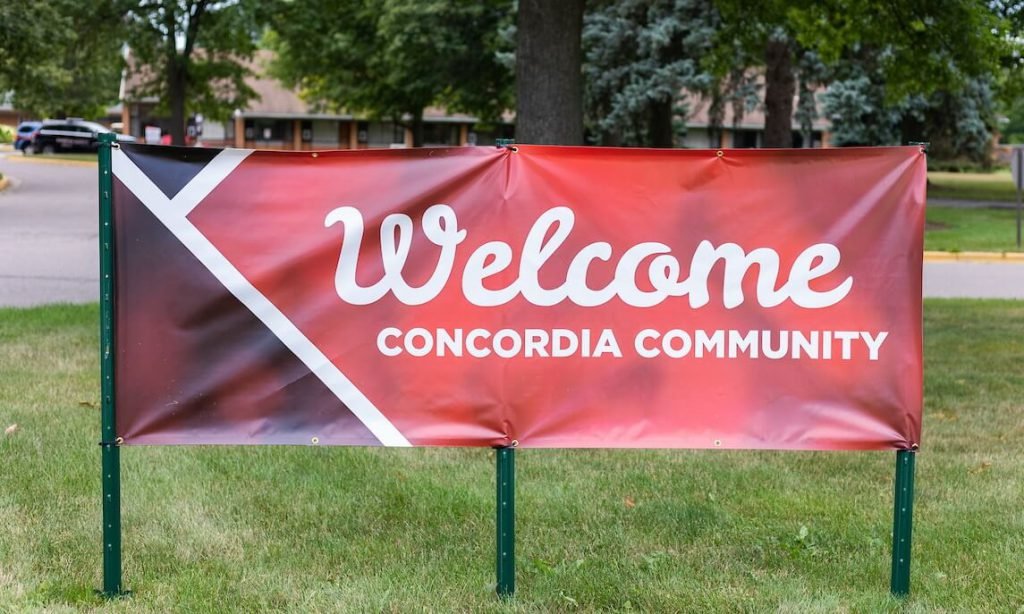 It's up to us as a Concordia community now, to keep each other safe. We are continually reminded by our campus leaders: We desire to keep our campus community together, without sacrificing health and wellness or teaching and learning. It will take the intentional, dedicated choice of each and every Concordian to accomplish this significant goal.
This year is definitely not the way I imagined my senior year in college to go—who would? However, given the fact that I'm still able to learn and grow at a university that I fell in love with almost four years ago, is a gift in itself.
— This story is written by Allie Milot, social media manager for Concordia University Wisconsin and Ann Arbor. She may be reached at alexandria.milot@cuaa.edu or 734-995-7403.
If this story has inspired you, why not explore how you can help further Concordia's mission through giving.