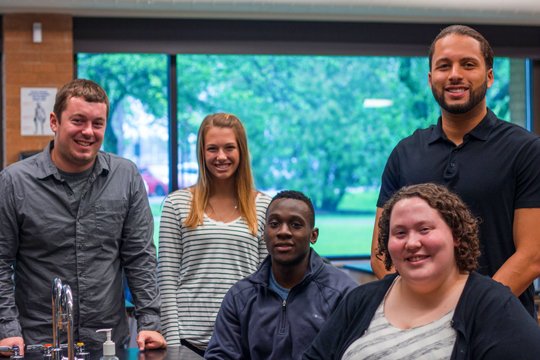 The future is bright for biology graduates at CUAA.
---
On Sunday, May 14, five students graduating with a Bachelor of Science in biology from Concordia University Ann Arbor will go on to pursue graduate or doctoral degrees in various scientific fields throughout the country.
"It has been such a blessing to work with such high caliber students in our biology program. We are very excited for them as they continue their studies in this field," said Assistant Professor of Biology Elizabeth Peckham, Ph.D.
One of those students is Rachel Hay, who is slated to begin a PharmD program after graduation.
The 21-year-old South Lyon native has always been passionate about science and health care.
"I realized that pharmacy was the perfect blend of my passions during my junior year of high school," said Hay. "That was around the same time that I visited Concordia, and I felt at home right away."
Hay did not want to apply anywhere else. She knew Concordia was where she wanted to study biology and pursue the first steps toward a career in pharmacy.
A 4.0 student, Hay's academic achievements have always been important to her, but her involvement in campus life has held an important seat as well.
During her time at CUAA, Hay sang and played piano in the worship band, served on the student athlete leader team and was a four-year student athlete on the Concordia Cardinals women's soccer team. Hay was the program's first honoree to be selected to the 11-member Academic All-America First Team by the College Sports Information Directors of America.
"Graduating is definitely bittersweet. It's been an amazing four years, and I've loved being a student at Concordia, daily surrounded by such an awesome community," said Hay. "But, I'm only halfway done!"
Hay's next steps after her walk across the stage are already determined. She will enter a four-year program in the College of Pharmacy at the University of Michigan, ranked third in the nation among pharmacy schools according to the 2016 U.S. News and World Report.
Her high achievement is in good company. Four of Hay's classmates are also expanding their CUAA biology Bachelor of Science degrees and continuing their education:
Demarcus Bunn will pursue a Ph.D. program in Comparative Medicine and Integrative Biology in the School of Veterinary Medicine at Michigan State University
Elena Holley will pursue a Ph.D in Microbiology from Washington State University
J.C. Anderson will study Biochemistry at the University of Michigan
Collin Christensen, will pursue a Ph.D. in Molecular Genetics, Biochemistry, and Microbiology at the University of Cincinnati
"We witness Concordia's mission come to fruition when our students step into new challenges and new pursuits, taking with them what they have learned in their last four years," said Peckham.
— Rachel Thoms served on Concordia University's Strategic Communications team from 2015-2022. Any inquiries about this story can be sent to news@cuaa.edu.
If this story has inspired you, why not explore how you can help further Concordia's mission through giving.