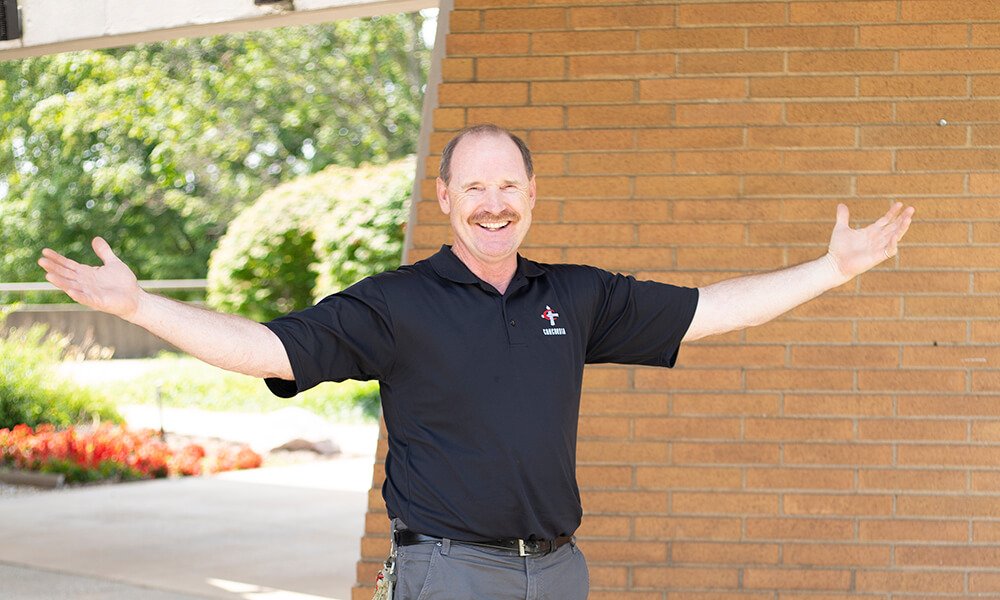 This story first appeared in the fall 2019 issue of the Arbor Light, the official magazine of Concordia University Ann Arbor.
---
Everyone on Concordia University Ann Arbor's 197-acre campus knows Jerry Novak. In fact, most people even have his cell phone number. From weather concerns and office moves to building projects and large-scale mechanical decisions, Novak is on call just about 24/7.
A carpenter by trade, Novak takes seriously his vocation as CUAA's director of buildings and grounds, a role he's been in since 2005 after joining the staff in 1997. Not too serious, though, is his demeanor— those who know Novak would agree that his friendly, outgoing, and truly caring approach make each phone call or on-campus run-in a positive one.
Get to know the guy who has every campus nook and cranny memorized, and learn how Concordia's mission is exuded even from within the mechanical closets, from up in the ceiling rafters, and from the seats of lawn mowers and snow plows.
As director of buildings and grounds, what are your general responsibilities on campus?
I oversee operation and maintenance of the buildings' mechanical needs and the grounds' physical needs. So a typical day means arriving early in the morning, getting acquainted with the days' events, and then we start attacking the projects we have laid out. Some of that is responding to immediate issues or problems, too.
I'm open to input and ideas of my staff and student workers. I like to get everybody involved in decisions, but then I also like to anchor it home and make sure we get the job done.
What led you to Concordia University Ann Arbor?
Our Lord and Savior led us here. I guess the bottom line is, my wife, Julie, received a call to teach kindergarten at St. Paul Lutheran School in 1997, and we've been here ever since. We drove down the road and saw, what was then named, Concordia College. I didn't even realize there was a Concordia here, but I heard they needed a carpenter. So I called the boss at the time, and he said, "Come on down!" So I went down, met him, and left with a job.
What is your favorite project or part of your work?
My favorite part is interacting with all of you; interacting with the faculty, staff, and especially the students. Just like the students learn a lot from us, in regard to our maintenance student workers we learn a lot from them if we're willing to step back, take a minute, and just listen to them tell their story.
What's something most people don't know about campus?
There isn't a tunnel that goes to the river. Although some people will tell you, "I've seen it, I've been there, I know it," it's simply not there!
How does the work you do align with Concordia's mission?
Seek and serve God first, and seek and serve those around me here. That's what buildings and grounds is about—we serve you. We come in each day, and attack our day as work orders and phone calls, but that's what we're here to do: We're here to serve our Lord through serving our constituents on campus. That's what we do.
The fall 2019 Arbor Light hit mailboxes the beginning of October. View a PDF version of the magazine here. If you are not on our mailing list, but are interested in receiving a free copy, call 734-995-7317 or send us an email.
— Rachel Thoms served on Concordia University's Strategic Communications team from 2015-2022. Any inquiries about this story can be sent to news@cuaa.edu.
If this story has inspired you, why not explore how you can help further Concordia's mission through giving.