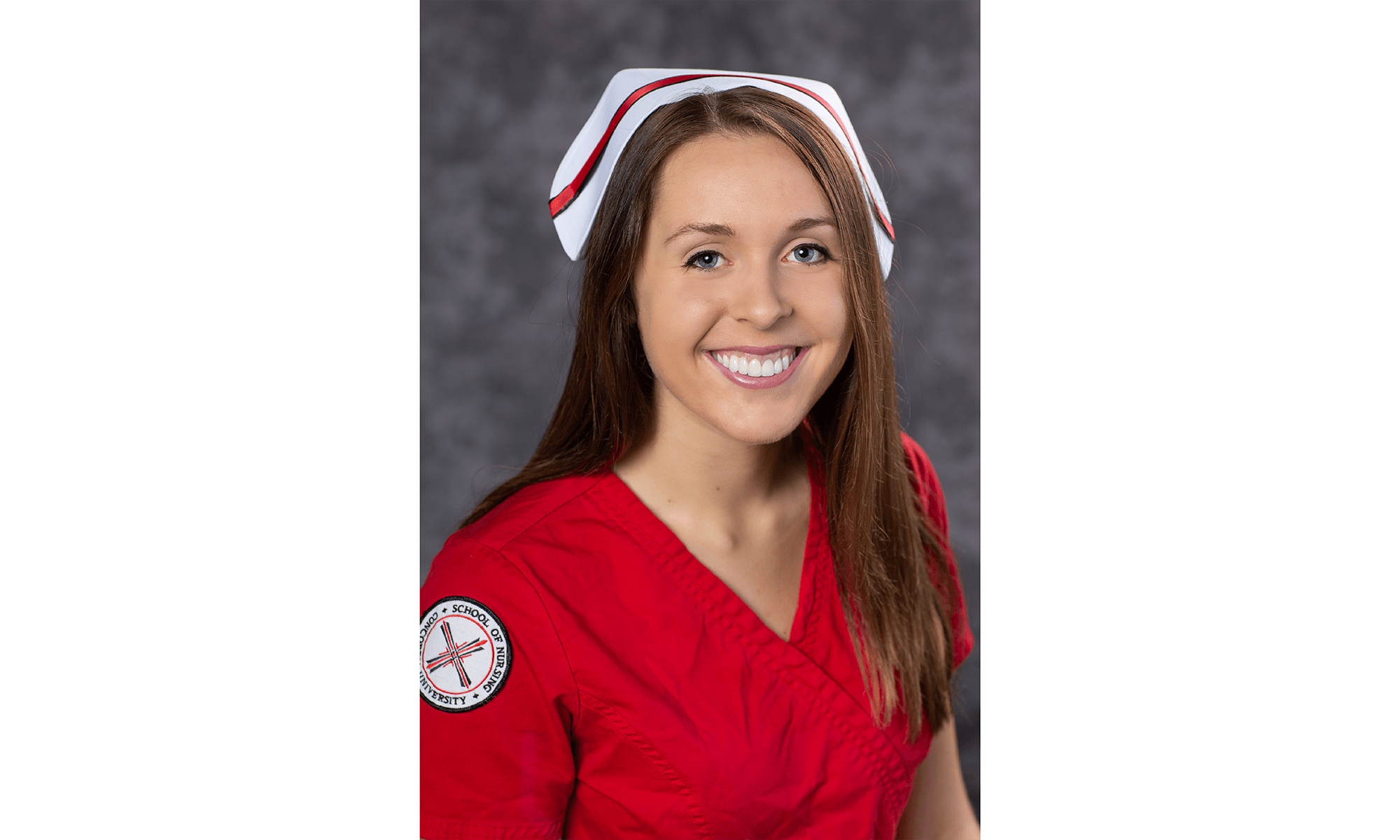 In fall 2016, CUAA launched a new School of Nursing and began to make good on a strategic university vision to prepare more Christ inspired nurses for the Church and world.
---
Following the December 2018 commencement, the university began to see the first fruits of this effort with its inaugural cohort of nursing graduates out in the field. Meet a few of CUAA's first-ever school of nursing graduates and learn about their current positions as compassionate caretakers, an embodiment of Concordia's mission to develop students in mind, body, and spirit for service to Christ in the Church and the world.
Aubrey Alfano ('18)
Hometown: Hemlock, MI
Current position: Registered Nurse, Ascension St. Mary's Hospital
What was your favorite nursing course at CUAA?
Skills lab
What is your dream area of nursing specialty?
Critical Care / Cardiac
What is your favorite memory from your time as a nursing student at CUAA?
My favorite memory from my time as a nursing student happened during my leadership semester when I was in the Medical ICU at St. Joe's. I had a few clinical days in a row with my preceptor and was back early the next week. My patient was sedated and on a ventilator receiving continuous renal replacement therapy at the bedside among many other medications. He was very sick and showed only small signs of improvement over those few days. When I was back the following week the patient was no longer on the ventilator and was able to sit up and talk to us. Although he couldn't remember us taking care of him at his sickest time, he expressed so much gratitude towards my preceptor and I for nursing him back to health. It can be so easy to forget the big picture or feel like what you're doing isn't making a difference when someone is really sick for a long time, but seeing that continuation of care made it all worth it for me and solidified my love for critical care nursing.
In your opinion, what makes CUAA's nursing program different than other schools'?
The small class size and attention that the faculty are able to give each student is what allows CUAA's nursing program to be so successful. I felt becoming ACLS/PALS certified before graduating gave me a leg up in my job search and helped me feel more confident on the job. I graduated with experiences and knowledge that I know students from other programs didn't have.
What is one piece of advice you would give to a prospective CUAA nursing student?
Advice I would give to prospective nursing students is to see and do as many things as possible during your clinical rotations and never be afraid to ask questions. No question is a dumb question and the more you participate and get hands on during clinicals, the more confident you will be!
Click here to meet more Alpha class members and see what they're up to!
— Photography by Kelly Cieslak ('13)
—
If this story has inspired you, why not explore how you can help further Concordia's mission through giving.