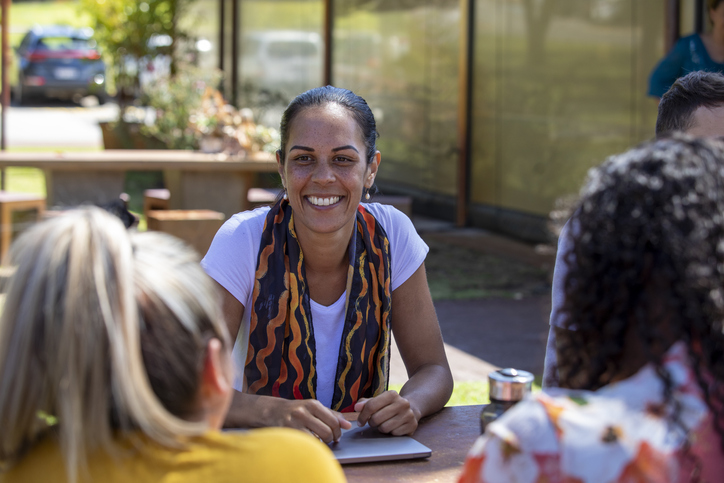 Students accepted into the Adult Accelerated programs at Concordia University Wisconsin each have different backgrounds, challenges, and goals.
---
Concordia's Academic and Career Advisors are here to help
Once in the program, many students face stress. It's tough to balance signing up for a class, scheduling time to study, and figuring out how to pay for school. As a result, it's hard to stay positive. That's where Concordia's Academic & Career Advisors (ACAs) can help.
Encouragement
The ACA plays a role like a relationship seen at the start of the Christian Church. The apostle Paul gets much credit for building the Church and spreading it throughout the world. However, he was once against the followers of Jesus. Therefore, he must have faced great stress as he followed his calling.
That's where Barnabas stepped up. He built bridges between Paul and other Christians. Of course, they disagreed at times, and they did face some challenges. However, Barnabas is one of the best examples of a gifted mentor and coach we have.
Connecting with your academic and career advisor
You will meet your own Barnabas as soon as you're in the program.
The first advising appointment:
Confirm and discuss any transfer credits you have.
Review the requirements of the program.
Create a long-term plan for your education.
Develop relationships with academic and career advisors
The ACA will take time to get acquainted with your concerns, schedules, and challenges you may face – sounds like a mentor.
The ACA will also help new students navigate these tools:
Student portal
Blackboard
Concordia Central
Handshake (the career platform)
Library resources
Textbook options
Registration processes, including attendance policies and add/drop procedures.
Five-star experience
Academic and career advisors seek to deliver a five-star service for students. Concordia's Assistant Director of Advising, Devan Lenz-Fisher, explains this role:
"We recognize that a college education links with one's career journey. Success, purpose, and thoughtfulness in one are directly linked to qualities in the other. We refer to the relationship between the two as the 'college-to-career pipeline.'
ACAs focus on this pipeline and provide individual support for students as they navigate it. This focus helps non-traditional students reflect on their vocation(s), career goals, academic strengths, and experiences together. Then, they can use that to make decisions when it comes to their academic program/major.
We believe that mentoring students this way allows us to live out Concordia's mission. We're focused on helping students develop in mind, body, and spirit. It's good for students to know that our team is ready with both academic and career tools that can help them find success both within and beyond the walls of Concordia."
Here to support you
Barnabas used his understanding and knowledge to help Paul make connections throughout the early Church, for instance. Similarly, the Academic & Career Advisors for the Adult Accelerated program assist non-traditional students, whether online or through any of the Concordia Center campuses. The ACA stands ready to assist, connect, and mentor each student on their academic journey!
Once accepted, many students face the stress of signing up for classes, scheduling time for their studies, confirming finances, and simply, staying motivated to follow through with the first steps of an uncommon journey in higher education. That's where Concordia's Academic & Career Advisors (ACAs) step in!
What's your next move?
Are you already admitted? Contact your ACA to register for classes.
Considering a degree? Ready to fill out an application? Feel free to book a meeting with our Inquiry Support Specialists to start today.
—
If this story has inspired you, why not explore how you can help further Concordia's mission through giving.