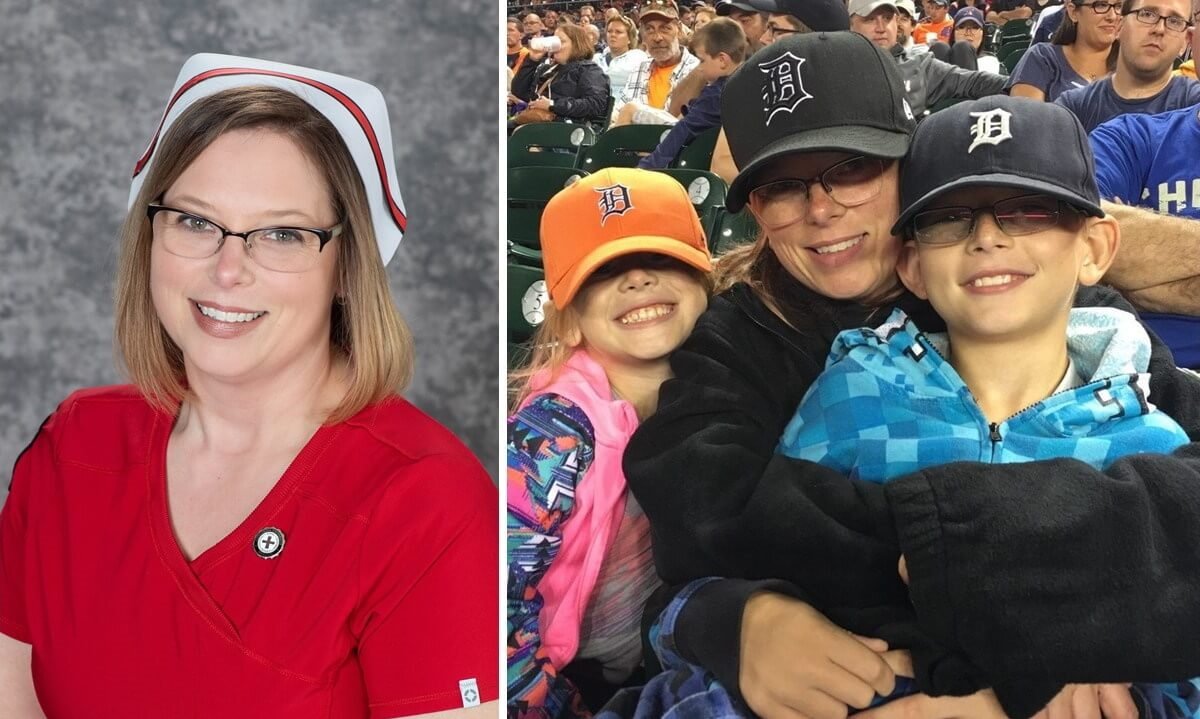 CUAA's May 2020 graduation candidates are students who have spent their years at CUAA developing in mind, body, and spirit for uncommon lives of service and impact.
---
Editor's note: This is one in a series of stories highlighting Concordia's May 2020 graduates.

One might say Tammy Delane has taken a circuitous route to earn her nursing degree from Concordia University Ann Arbor this coming Sunday.
A first generation college student, Delane graduated from high school 22 years ago and currently works as a Patient Care Technician at Michigan Medicine in Ann Arbor, where she one day hopes to work in either the NICU or PICU.
Born and raised in Wayne, Michigan, Delane attended Wayne Memorial High School and married her high school sweetheart Tim in 2004. It was the mother of a close high school friend who recommended she consider CUAA's nursing program, and looking back, it's one of the best decisions she has ever made.
"Most of my professors have been absolutely amazing. The program is very personable and everyone knows you by name when you walk down the hallway," said Delane. "I was immediately drawn to the personal attention they provided even before I enrolled."
Related: The uncommon social worker bringing people together
"It has been such a blessing to have Tammy as part of our nursing school family," said Campus Dean of Nursing Cyndi Fenske, DNP, RN, CNE. "She has worked extraordinarily hard, going above and beyond on every assignment and clinical experience that came her way. I am excited to see where God takes her as she begins her career, and I know she'll have a tremendous impact on her patients, their family members and her co-workers."
"One of my fondest memories of the program are the amazing friends I made, from meeting at Panera Bread with my study group at 5:30 a.m. before every exam, to staying late on campus to study," noted Delane, who quipped her extracurricular activities involve being a soccer and dance mom to their 14-year old son Nicholas and 11-year old daughter Emily.
"During my four years I've experienced every emotion possible, from fear and nervousness during skills and assessment check-off, to excitement at what seemed like the end of impossible semesters," added Delane, who credits encouraging emails and advice on self-care and prayer from assistant professor Dr. Renee Clemons at just the right times with helping her persevere.
Related: The uncommon champion inspiring others along the way
Delane admits that a mission trip to Belize last summer made her feel privileged. "Having the ability to take care of people when they needed it the most was amazing, and the gratitude they expressed was something I've never experienced or will ever forget."
One instance involved hiking up a mountain with several of her 11 classmates and a professor to provide home care to a young man who had been injured in a motorcycle accident and was experiencing an antibiotic reaction.
"Overall, Concordia's program has made me grow as an individual and I'm ready to be the best nurse possible."
Tammy and her 2020 classmates will be honored at a virtual degree conferral ceremony on Sunday, May 17. They will be celebrated in person at the December commencement celebration. These changes are in response to the Coronavirus. To learn more about Concordia's response visit here.
—
If this story has inspired you, why not explore how you can help further Concordia's mission through giving.