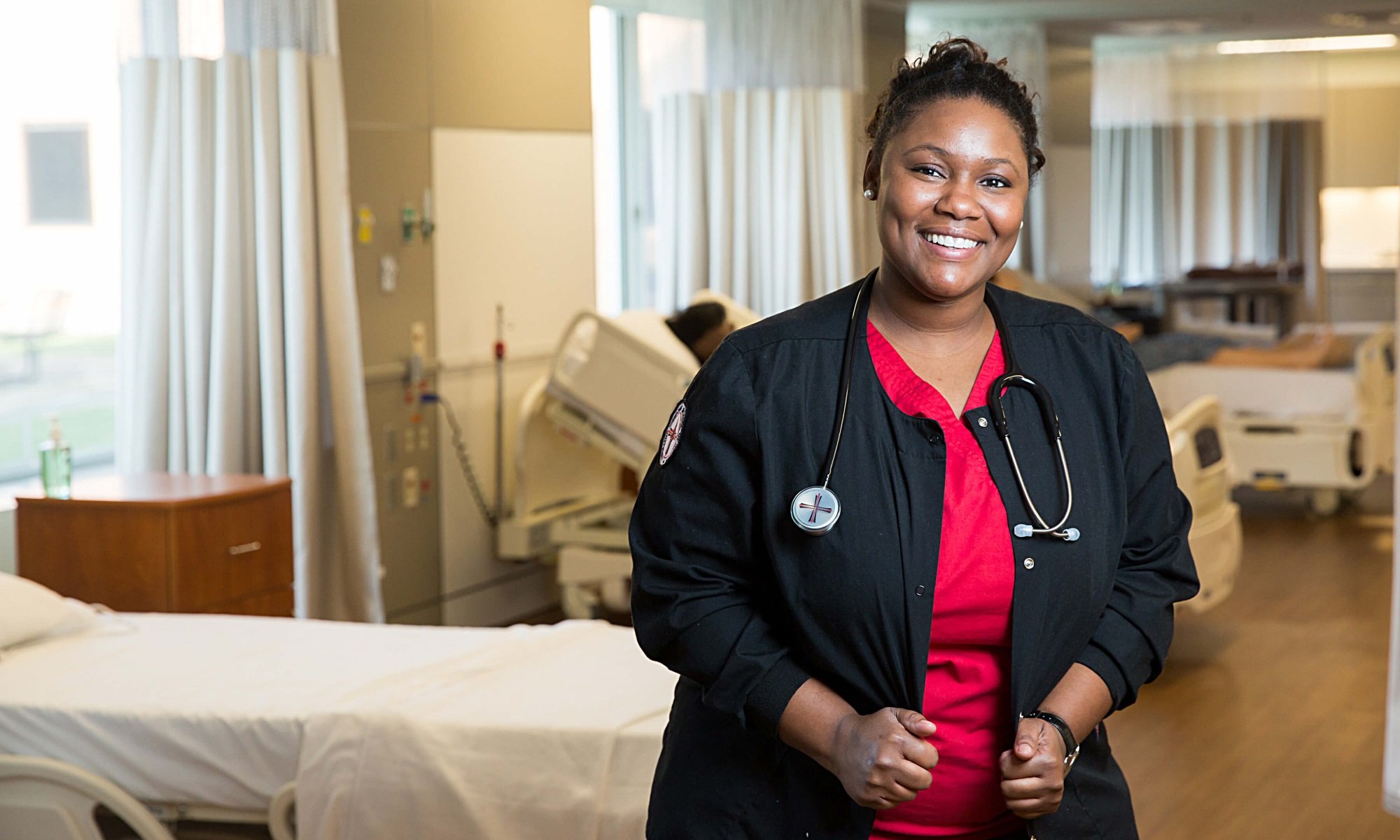 La'Juan Powell lives her life by putting other people before herself. A member of the beta class in Concordia University Ann Arbor's School of Nursing, La'Juan will graduate in spring 2019 with her Bachelor of Science in nursing—a degree she has patiently waited to pursue for 10 years.
---
The journey to become a registered nurse has been anything but comfortable for La'Juan. As a 35-year-old mother of three, her contagious kindness is met with uncommon grit and determination as she balances the many demands of a family, a third-shift job, and full-time schooling.
"I first got into health care 10 years ago when my grandmother became sick," says La'Juan. "She was diagnosed with leukemia and diabetes, and no one in my family had a great understanding for medical terms or any of that."
At the time, La'Juan owned a child care business that looked after dozens of children before and after school. She and her husband were beginning to start a family of their own, and La'Juan knew that her grandmother would need a heightened level of medical support.
To help her grandmother, La'Juan decided to change careers and become a nurse technician. Shortly after, she was offered a job in the cardiovascular intensive care unit in the hospital at University of Michigan.
"Care is my thing," says La'Juan. "I've been taking care of people my entire life. It's just who I am."
La'Juan supported her family while her husband finished his schooling, but always knew that she wanted to become a registered nurse and give patients a more advanced level of care. Eight years into her career as a nurse technician, it was her turn and she chose CUAA's School of Nursing for its compassion-centered, faith-based curriculum.
"This program at Concordia has pushed me to a limit that I did not know that I could achieve," says La'Juan. "It's obvious they not only care about my fundamental knowledge, but they care about me as a person."
Recalling her first semester in the nursing program, La'Juan took a wellness course with Cindy Fenske, DNP, RN, CNE, dean of CUAA's School of Nursing.
"I just remember sitting there thinking, 'Wow, here we go! This is awesome.' It's very tough, but it's so good," says La'Juan.
"Care is my thing," says La'Juan. "I've been taking care of people my entire life. It's just who I am." 
La'Juan notes that she would not be successful in her studies if it weren't for her faith that keeps her grounded and the support of her family and her professors, but she also has a special gratitude for a cohort of classmates who push each other both in and out of the classroom.
"We study together and have group texts where we're constantly in communication; we're a family," says La'Juan, who will even work through the night a few times a week and head straight on to class in the morning. "Sometimes, I take a quick nap in my car, and I know that if for some reason I don't wake up on time, my classmates will come get me."
While the fulfillment of a four-year college degree is an incredible accomplishment, La'Juan is not satisfied with simply doing great things. She strives to also be a great person.
With compassion that is bursting at the seams, La'Juan knows that as a nurse, she is able to come alongside patients and their families through some of their toughest days and do what she does best: take care of them.
— Rachel Thoms served on Concordia University's Strategic Communications team from 2015-2022. Any inquiries about this story can be sent to news@cuaa.edu.
If this story has inspired you, why not explore how you can help further Concordia's mission through giving.