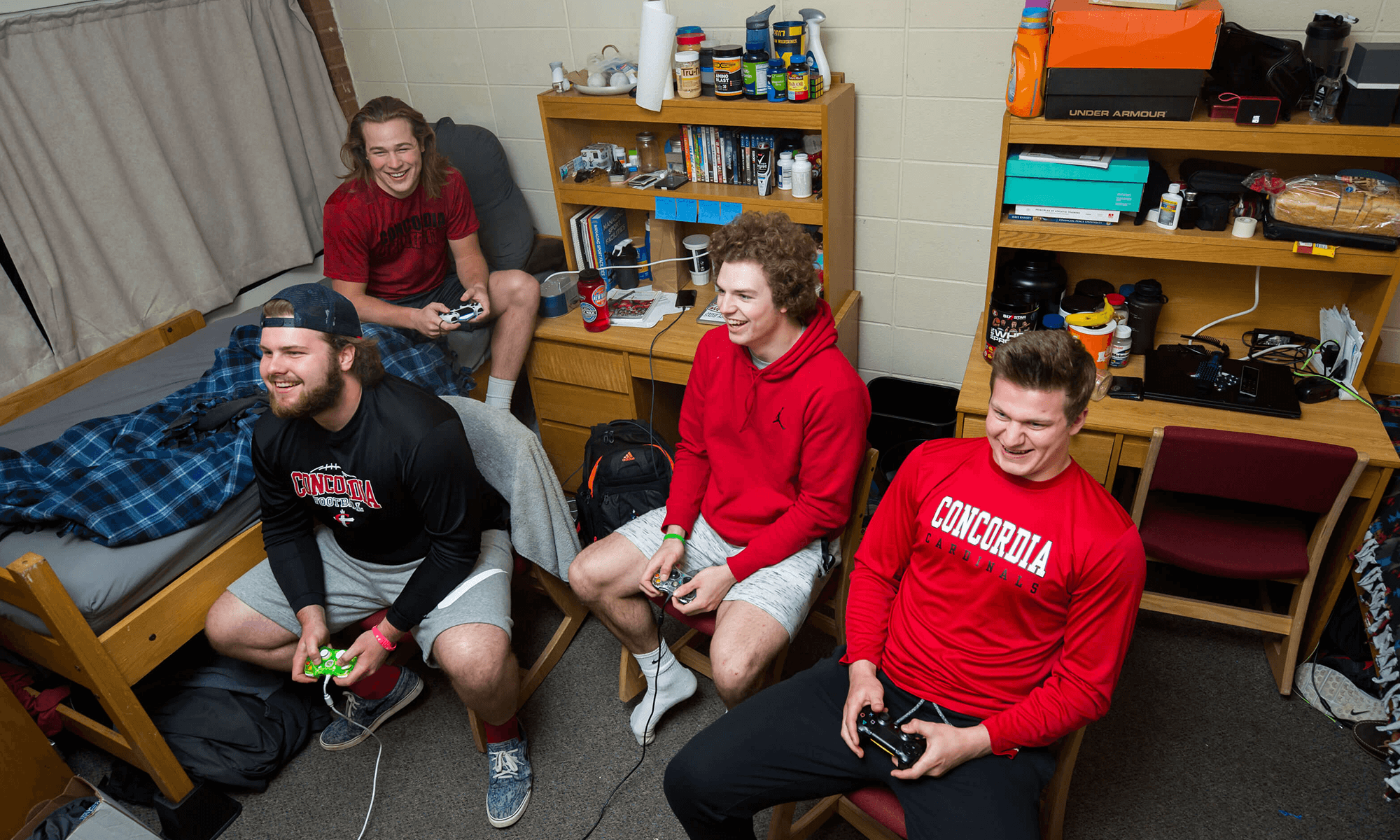 We are less than a month from fall semester move-in day at CUAA!
---
Moving away to college can be both exciting and daunting. I know, I've been there, too.
To help with the transition, I've asked current Concordia University Ann Arbor students to share their best tips on living with roommates. These seasoned-student insights are sure to help new incoming students make a smooth transition into their new home-away-from-home at Concordia.
You may be wondering, "What will it be like to live with someone I barely know?" Our top tips will ease your worries and make the experience as enjoyable as possible for all parties involved.
Here's what Concordia students had to say:
"Don't make a decision about your living space without first consulting them, and be intentional with asking questions to get to know your roommate." —
@payton_hila
Creating an intentional relationship with the person you're living with is essential, and that relationship can be built from the very beginning.
"Communication and boundaries are key! Talk about issues in person rather than over text." —
@angknick
It seems pretty much impossible to solve problems over text. This is a good tip to remember, just because it may seem easier to text your roommate about something, if it's important to you, talk about it in person.
"Set boundaries going in, and stand by them. It's better to have rules to start off." —
@rkreis01
Set boundaries about who can be in your room and for how long, the use of the bathroom, sleeping times and schedules. It's also helpful to discuss using each other's TVs, microwaves, coffee makers, and fridges. It may seem over the top, but if these boundaries are set before the semester even begins, it sets a good tone for the rest of the semester.
"Be empathetic, you are each other's new support teams!" —
@emileetruhn
No two people are the same, however, we should still try to understand one another and support each other through all the highs and lows that the semester may bring.
"If there's a problem, talk about it right away instead of months later. Habits are hard to break." —
@leahmaassel
Pushing issues under the rug can seem like the best option at first, but it is best to address issues as they arise. A lot of strain can be put on a relationship that does not have open communication.
"Talk through sleeping habits IMMEDIATELY." —
@_sami_miller_
Are you a morning person or a night owl? Make sure you communicate that with your roommate and that they are aware of what your sleeping habits are, too.
"Don't be roommates. Be a family." —
@fredwattsiv
Fred makes a good point, you and your roommate are now family, whether you like it or not at first. There may be times where you get annoyed with each other, but there will also be times where the only person you want to see is your roommate. Just like a family, there will always be ups and downs, but how you deal with these times is what really matters.
These are just a few of the tips I received from students, but there is definitely a common theme that was emphasized: the importance of communication and being open with your roommate. I can attest to the fact that it is SUPER important to talk about how you feel, what is bothering you, what your expectations are, and how you can help one another as friends and co-inhabitants of a relatively small space. 
Along with graciously communicating your opinions, it is also essential to listen to what your roommate and suite mates have to say. You will be seeing a lot of these people and with good communication and listening, adjustments to college life will be made much easier!
It is a blessing to have a strong base of friends that you know you will be there to support you throughout the whole year. And who knows, maybe they'll even become family. For me, that was definitely the case, I can't imagine life without my roommate and sister in Christ, Hannah.
— This story is written by Allie Milot, social media manager for Concordia University Wisconsin and Ann Arbor. She may be reached at alexandria.milot@cuaa.edu or 734-995-7403.
If this story has inspired you, why not explore how you can help further Concordia's mission through giving.