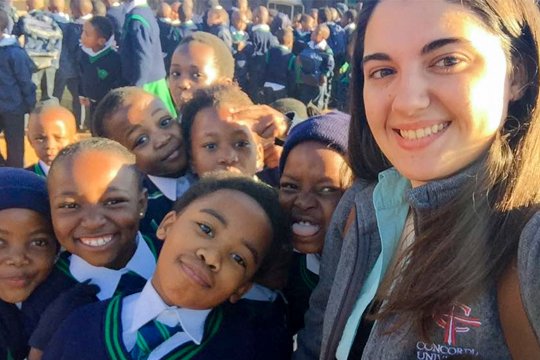 Three students from Concordia University Ann Arbor are spending four weeks in South Africa, taking advantage of a unique opportunity to fulfill a degree requirement through a special university connection.
---
On Monday, May 15, the day after CUAA's commencement ceremonies, sophomore business student Alison Rein, along with senior family life education students Tyler Shephard and Madalyn Short, flew 8,500 miles across the globe to Middleburg, South Africa, where they are completing a month-long fieldwork experience at St. Peter's Confessional Lutheran Church and School.
Accompanying the students for their first week in South Africa was CUAA's Director of Campus Ministry Rev. Randy Duncan. Duncan is a long-time friend of Rev. Mandla Khumalo, pastor at St. Peter's Lutheran. The two connected through their passion for missions during their time as students at Concordia Theological Seminary in Fort Wayne, Indiana.
Last year, May 2016, was the first time that CUAA offered the month-long immersive fieldwork experience through Concordia and St. Peter's partnership, with plans that this can continue to be an annual opportunity for both parties involved.
"When you're out of your comfort zone or in a new culture, it forces you to learn and adapt," said Duncan. "Already in the first week, I saw our students' spirituality blossom because the people around them are crazy about Jesus; their love for Him is contagious."
Throughout their time in Middleburg, the students will not only be serving at St. Peter's Lutheran, assisting with teaching classes and Sunday school, they will help at the health clinic and volunteer time at the recently opened orphanage in town.
"My favorite part about being in South Africa is seeing how the people here involved God in every aspect of their lives," said Short. "It inspires me to do that in my own life."
Click here to see students at St. Peter's Confessional Lutheran School in worship.
— Rachel Thoms served on Concordia University's Strategic Communications team from 2015-2022. Any inquiries about this story can be sent to news@cuaa.edu.
If this story has inspired you, why not explore how you can help further Concordia's mission through giving.