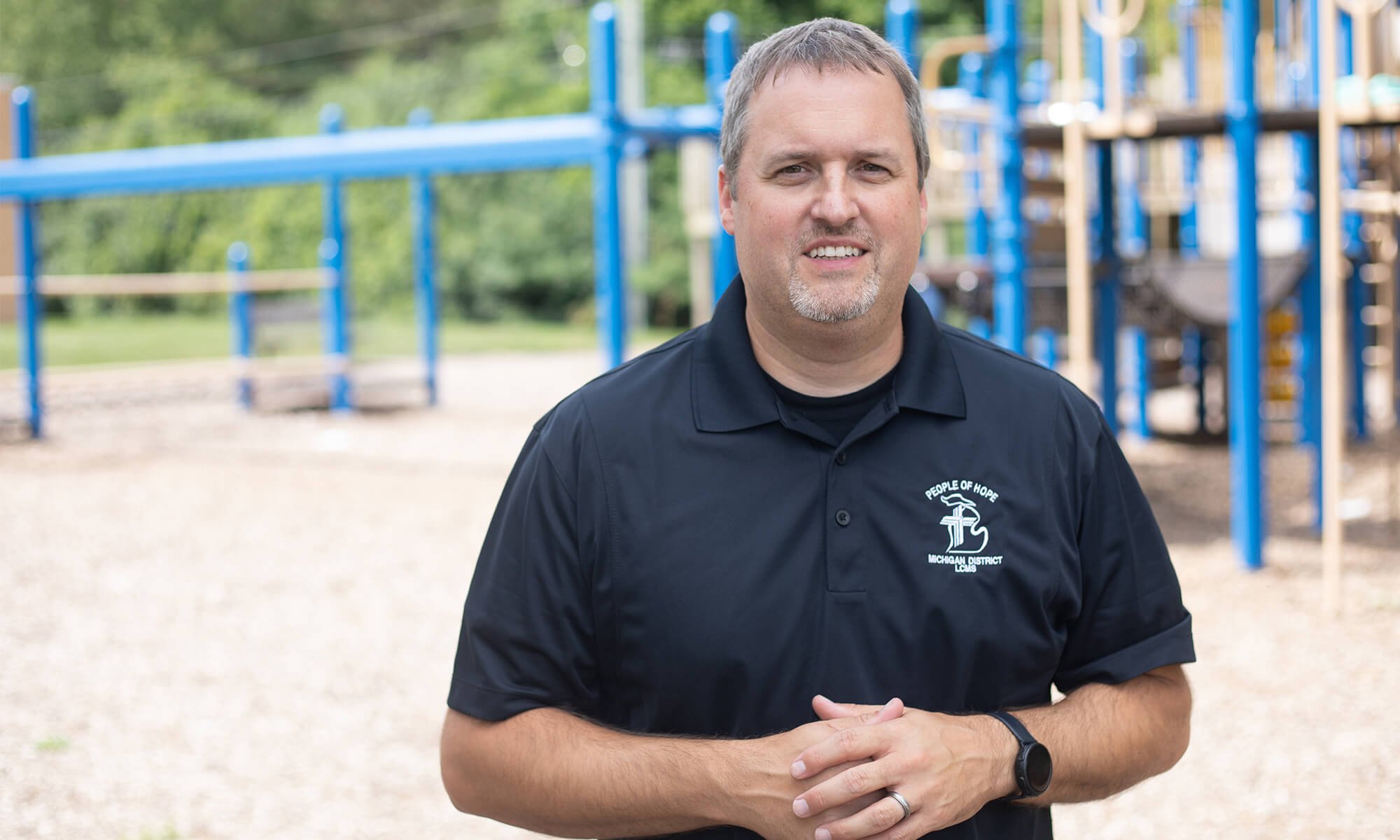 Travis Grulke ('01) is using his passion for Lutheran Education to inspire the next generation of educators.
---
As the son of a Lutheran teacher, Grulke spent most of his childhood attending various Michigan Lutheran schools. In 1996, Grulke began his own journey in higher education at Concordia College. After graduation, he took a call from Redeemer Church in Cuyahoba Falls, Ohio as a math and language arts middle school teacher. Years after graduating, Grulke also received the 2016 Outstanding Alumnus Award from CUAA.
During his time at CUAA, in addition to his studies, Grulke spent a lot of time with his brothers in Christ in Hannah Residence Hall. Residence life was ultimately his favorite part of his time at Concordia, which many students and alumni agree with to this day.
Like father like son
Growing up, Grulke had amazing teachers throughout all of his schooling, and although Grulke never had the chance to learn directly under his father, he was a Lutheran school teacher as well. He was inspired by the way they cared for the students, were able to share the Gospel in the classroom, and also left a lasting impact on both students and their parents.
Grulke knew from a young age that he wanted to be like the men and women that inspired him. He wanted to be a teacher, inviting children to learn more about Christ every day. 
From teacher to administrator
After many years in the Lutheran school community, Grulke advanced his career as the superintendent of schools for the Ohio District before returning to Michigan as the superintendent of schools within the Michigan District for the past five years. He now oversees about 145 schools throughout the state of Michigan, 70 Preschool through eighth-grade schools, 70 more early childhood centers, and six high schools.
As a lead administrator for Lutheran schools, Grulke runs professional development for principals and teachers, works with the state government to advocate for non-public school,s and also covers some basic Human Resource needs within the Michigan District. Besides his administrative duties, Grulke also visits individual schools around the state and leads chapel services throughout the week. Grulke takes roughly 50 trips to various schools to preach the Word and hang out with students in the classroom, something that not many average school administrators get to do.
A growing mission field
The Michigan District has partnered with CUAA for many years, not only does the Michigan District use the university for professional development and meetings, but Grulke himself has had the opportunity to adjunct and work directly with current Concordia students. 
Grulke has nothing but good things to say about his experience with the CUAA School of Education. "CUAA has fantastic students, they're all gifted and talented," Grulke recalls. Having positive experiences with Concordia education students, Grulke is confident in the ability Concordia has to equip the next generation of teachers as they are heavily needed in every school today, not just Lutheran schools.
Over the years, Grulke has seen a change in the landscape of Lutheran education. However, "Christ is still central to everything we do," Grulke affirms. Although, in Lutheran schools today, the student body are broader than it used to be. Lutheran schools are filled with Lutheran students and non-Lutherans alike, "most of the students are not Lutheran, making our schools more of a mission field," Grulke states. 
It has been a testimony to the impact that Lutheran schools have had on students and parents over the last few years amidst a pandemic. However, most families have continued to attend and support Lutheran schools and there has been a noticeable increase in those enrolled, seeking a positive educational experience for their children. 
The mission field within Lutheran schools is expanding and Grulke is ready to help equip new and current educators to share the love of God with all who walk through the school doors for years to come.
— This story is written by Allie Milot, social media manager for Concordia University Wisconsin and Ann Arbor. She may be reached at alexandria.milot@cuaa.edu or 734-995-7403.
If this story has inspired you, why not explore how you can help further Concordia's mission through giving.