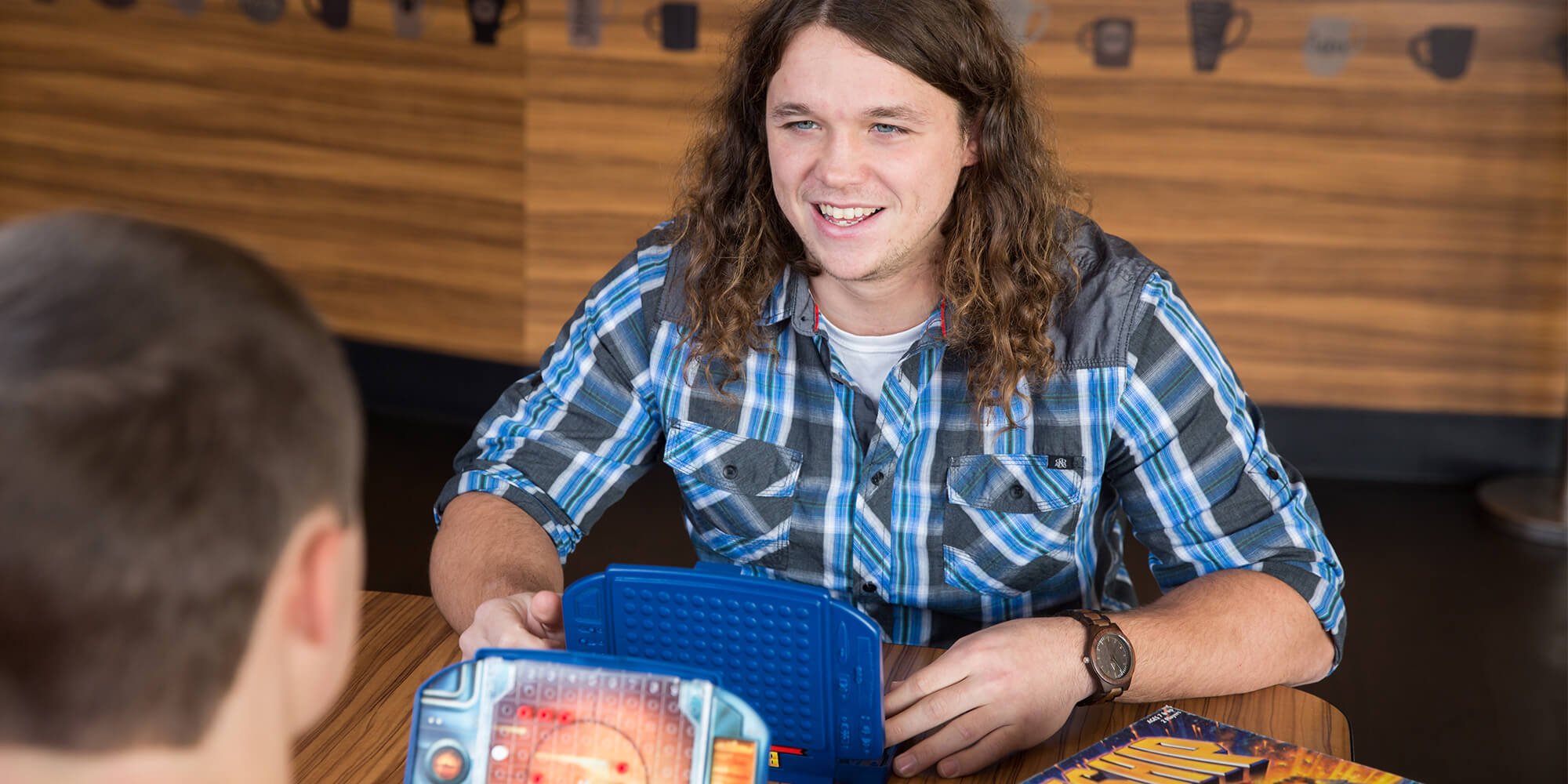 As a triplet, Kaleb Pohlman is comfortable in crowds. When he's not attracting fans to the Cardinal Stadium as a defensive end, Kaleb is lifting up the Concordia University Ann Arbor community, one personal interaction at a time, so that everyone can feel connected to something greater than themselves.
---
The campus is his mission field and Kaleb, who draws inspiration from Luke 12:8, has more impact to make before he graduates in May 2018 with his bachelor's degree in sport and entertainment business.
"I've always been the kind of guy who rallies the troops," says Kaleb. "I've been given this outgoing personality that people seem to be attracted to, and I make sure to use it; to raise my voice as an example for others to follow."
As a team member, Kaleb intentionally helps other players remain focused on the goal, which, he admits is easier when the team is winning. Throughout campus, he enthusiastically attends as many programs and events as his schedule allows to physically show his support. In all his interactions, Kaleb greets as many students as he can by name, because "you never know what they're going through and it might just make their day."
Kaleb and his triplet brothers were raised in a Christian home in Liberty Center, Ohio. Now retired, his father was a health and physical education teacher who also worked with students with special needs. The family maintained a busy schedule of church, sports, music, and volunteering with Special Olympics, an organization that touched each of the siblings through their father's teaching.
"I guess all of us learned at an early age to help people who are less fortunate," says Kaleb.
His open heart and bold witness attracted the attention of Beth Welkenbach, a CUAA parent, teacher, and organizer of a mentoring program in Dearborn Heights for children who are going through life-changing events like parent death, parent incarceration, homelessness, and addiction in the family.
"I met Kaleb during my daughter's first year at Concordia and I have loved that kid ever since!" says Welkenbach. "Our mentoring program needs strong role models who kids can look up to when they don't always find them at home, and we have found a good one with Kaleb."
Twice a month, Kaleb makes the 35-minute drive to Dearborn Heights to spend time with a fourth grade student who is enduring a traumatic family event. The two of them like to talk football, play games—Battleship is a favorite—eat snacks, and joke around together.
Luke 12:8 "I tell you, whoever publicly acknowledges me before others, the Son of Man will also acknowledge before the angels of God."
"It's funny," says Kaleb. "This kid is bragging to his friends about getting to hang out with a college football player and I'm bragging to my roommates that I get to hang out with these cool kids—you know, be dudes—and they get jealous."
Upon graduation, Kaleb intends to pursue a career in events and operations with a sports team, but he is open and looks forward to wherever the Holy Spirit leads him.
"Whatever God has planned for me, I know I'll be put in a position to inspire others; to build a crowd in His name."
—
If this story has inspired you, why not explore how you can help further Concordia's mission through giving.